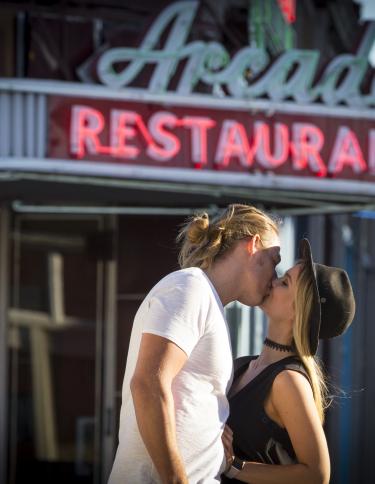 Whether you're on your honeymoon, an anniversary vacation, a romantic getaway or celebrating Valentine's or Galentine's Day, Memphis brings inspiration for date nights (and days!). From food tasting tours and romantic riverboat dinners to music history attractions and late night Beale Street adventures, we're here to help you plan the perfect getaway or unique date night for two!
Music/Performing Arts
For Music Lovers
If y'all love music, Memphis is the place for you! Couples can spend days exploring the city's rich music legacy. 
For more music hot spots, click here.
For Fans of the Arts
From ballet and theater to galleries and musicians, couples who enjoy the arts will have plenty to do in Memphis.
Overton Square Theater District - Head to the Overton Square Theater District to catch a show at Playhouse on the Square, Hattiloo Theater or Ballet Memphis. Afterward, catch live music at Lafayette's Music Room or sing a duet together at the Zebra Lounge piano bar.
Crosstown Arts - Whether it's catching a live performance at Crosstown Theatre, listening to a music group at The Green Room, or simply enjoying pieces from resident artists while sipping a cocktail from Art Bar, Crosstown Arts is a one-stop-shop for couples who enjoy the arts.   
Theatre Memphis - Theatre Memphis is celebrting its 100th birthday. In honor of its centennial, the theater is currently undergoing renovations for better guest accomodation. Theater fans should keep their eyes peeled for the 2020 season announcement coming in March.
Opera Memphis - Opera fans will love Memphis' very own opera house. Opera Memphis' eight-month season features some of the most talented performers from the area, as well as nation-wide.
The Orpheum Theatre -  From concerts and comedy shows to touring Broadway productions, The Orpheum Theatre is a must-see attraction for fans of the arts. You and your partner won't regret scheduling your trip around an upcoming show. Want to know more about the theater? You can learn about this theater's 90-year history on an Orpheum tour.
For more art options, click here. For more theater options, click here.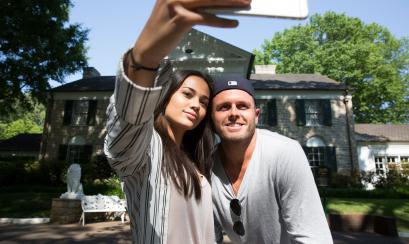 Outdoors and History
For Nature Lovers
From river walks and bike trails to paddle boats and kayaks, the Bluff City offers all sorts of adventures for you and your loved one. With one of the largest urban parks in the nation and access to the Mississippi River, Memphis is an ideal travel destination for couples who love the outdoors.
For more outdoor date ideas, click here. 
 
For History Buffs and Sight Seers
Are you a couple that likes to explore and get a sense of the town's history? Memphis has a bevvy of tours and attractions that history buffs will adore.
Victorian Village - Surprise your love with a stroll through the heart of Victorian Village, a neighborhood lined with historic mansions that were known as "Millionaire's Row" in the Gilded Age. Soak up some Southern charm with a tour of the Woodruff-Fontaine House Museum, with its French Victorian architecture and splendid collection of antiques, and the Mallory-Neely House, which retains its original furniture and artifacts.
Mud Island Park - Discover the history of the Mississippi River at Mud Island Park and the Mississippi River Museum. The park and museum feature 18 galleries covering everything from settlement to music, as well as a scale replica of the Mighty Mississippi—and don't forget to snap a photo with the 50-foot MEMPHIS sign. When this unique park is open, it's the perfect spot to take a picnic or watch the sunset over the river. 
Backbeat Tours - Whether you're into music, sightseeing or hunting for ghosts, Backbeat Tours has you covered! This tour company offers a handful of tours, including a Historic Memphis Walking Tour, a Beale Street Walking Tour, a Memphis Discovery bus tour, Memphis Ghost Tour and a Memphis music Mojo Tour. 
Memphis Heritage Trail - African-American achievement helped shape Memphis into the culturally rich and diverse city it is today. Couples can follow this achievement through the Memphis Heritage Trail, a self-guided walking tour that covers everything from the civil rights to music history.

Amazing Scavenger Hunt Adventure - Memphis - Let the games begin! Amazing Scavenger Hunt Adventure - Memphis is an absolute must for partners who love games. Couples will use their smart phones to explore Memphis through a series of clues and riddles. Are y'all up for the challenge? 

Carriage Company - Catch the sights and sounds of downtown Memphis from the back of a horse-drawn carriage with the Carriage Company. Whether you're on a historical tour of downtown Memphis or just enjoying an intimate, evening carriage ride with the one you love most, you'll always cherish the memories made on these carriage rides. 

Find more tours and attractions here.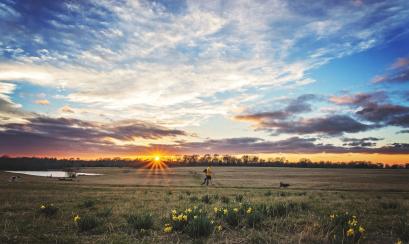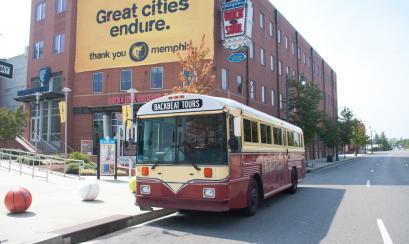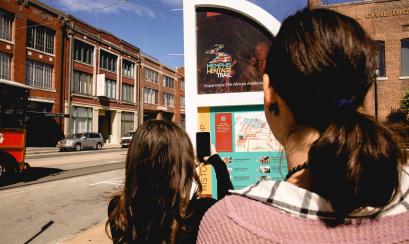 Book a romantic meal for two in Memphis
From fine-dining experiences to prime steak houses, Memphis has dozens of must-try restaurants for your next date night!
Restaurant Iris, a cozy fine-dining space in an elegant bungalow in midtown,  offers a creative Creole-French cuisine that has garnered accolades for "Best Restaurant," "Best Service" and "Best Chef," so reservations are recommended.
 
Flight, in downtown Memphis, is one of the most popular fine-dining experiences in town. Whether you mix and match a flight of small plates or order individual entrées, couples will share a truly unique dining experience—and be sure to ask your waiter about the wine flights.
 
If you're looking for a true Memphis dining experience, there are none more authentic than a barbecue dinner on a Memphis Riverboat. Take a two-hour cruise on the Mighty Mississippi while feasting on a BBQ buffet and enjoying the house blues and jazz band.
More Romantic Dinner Dates You'll Love
Mollie Fontaine Lounge - Get cozy and enjoy conversation over tapas and drinks at Mollie Fontaine Lounge, a bar and restaurant owned by an award-winning Memphis chef and housed in a beautifully decorated historic home.

Itta Bena - Stroll hand-in-hand down Beale Street, America's Most Iconic Street, on your way to experience 

Itta

 

Bena

, a posh restaurant tucked away on the top floor of B. B. King's Blues Club. The azure-tinted windows mean that everywhere you look, you see "the blues" of Beale Street, and the mood lighting gives off an exclusive, speakeasy vibe. After dinner, head downstairs to one of the city's best live music venues showcasing legendary musicians.
South Main Arts District - If you're downtown, take the trolley to the South Main Arts District, where you can explore a number of art galleries and public installations, shops, bars and historic sites. Enjoy the backyard at Loflin Yard, where you can relax on the porch in rocking chairs while sipping on a julep. For an elegant dinner, make reservations at rustic-chic Rizzo's, where the creme brulee—along with the company—will have you floating on Cloud 9.
Folk's Folly – Grab your favorite mixed drink or cocktail, sit back and enjoy live piano music in The Cellar Lounge, before digging in to one of Folk's Folly's prime cut steaks. Private dining options paired with mouth-watering cuisine make this East Memphis steak house a local favorite.
For more dining options, click here.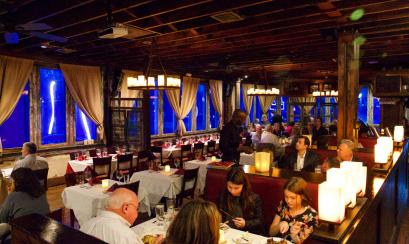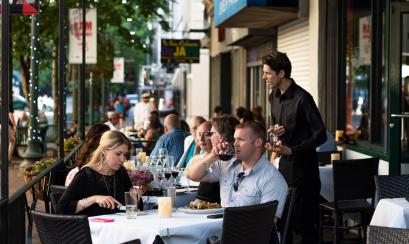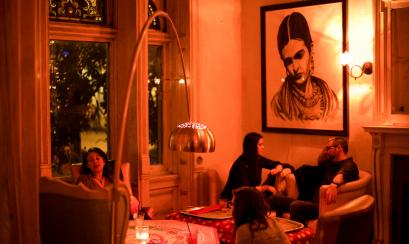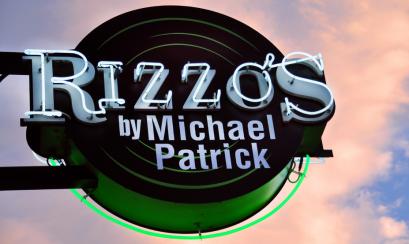 Check into these romantic Memphis Hotels
If you're the couple that likes to spend a lot of time in your room, Talbot Heirs is a great choice. Located in the heart of Downtown Memphis, this trendy bed and breakfast will make you feel like royalty – right down to stocking the kitchen with items from your personal shopping list. If a boutique hotel is more to your taste, let the River Inn of Harbor Town pamper you with Champagne, wine, gourmet breakfast, and chocolate truffles at turn-down – all complimentary. 
No trip to Memphis is complete without a visit to Graceland, home of Elvis Presley. Let the King love you tender with an intimate view of his career, life and legacy. We guarantee you won't be lonesome tonight after Elvis serenades the stress away. Stay in one of the VIP suites, designed by Priscilla herself, at the Guesthouse at Graceland, have a Southern dinner at Delta's Kitchen, and then relax in the hot tub by the pool. 
More Hotels You'll Love
Looking for more lodging options? Find your perfect stay here.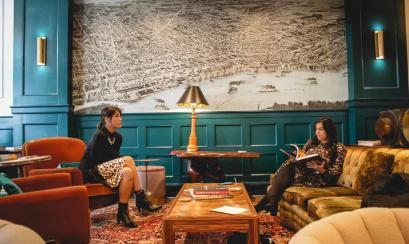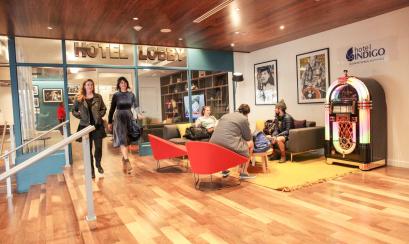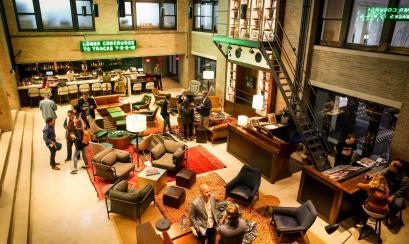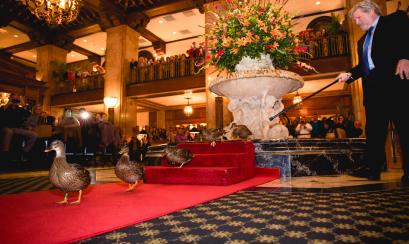 Here for Galentine's?
From boutique shopping to nail bars—and some unbelievably tasty cuisine—Memphis is the perfect destination for a treat yo'self girls' trip! 
Start your trip off right at one of Memphis' fantastic weekend brunch options! Try Automatic Slim's, in downtown Memphis, for a delicious brunch (and did we mention $2.50 mimosas and bloody Marys?).
After brunch explore the South Main Arts District's various art galleries and boutique shops. Stop by Stock & Belle for Memphis-inspired arts and goods, as well as clothing and jewelry. Ditty TV's Vibe and Dime offers Americana- and Roots-themed clothing and memorabilia. Visit Art Village Gallery to browse interational fine art exhibits and galleries. 
Then grab lunch at one of the city's favorite sushi joints, South Main Sushi. After lunch, head across the street to Prima's Bakery and Boutique, where you can shop Latino culture-inspired goods and clothing, while snacking on a sweet treat from the bakery—the macarons are to die for! 
Next, head over to Crosstown's Gloss Nail Bar where you get a complimentary beverage with your nail service. 
At night, enjoy a multi-course Italian dinner (with a Southern flair) at the very popular Catherine and Mary's, before heading down to historic Beale Street. From blues bars to hip hop dance clubs, no matter your style, Beale has a club for your group. 
And we hope you brought your dancing shoes because no night out in Memphis is complete without a stop at Paula & Raiford's Disco. 
For more girls' trip to Memphis ideas, click here.