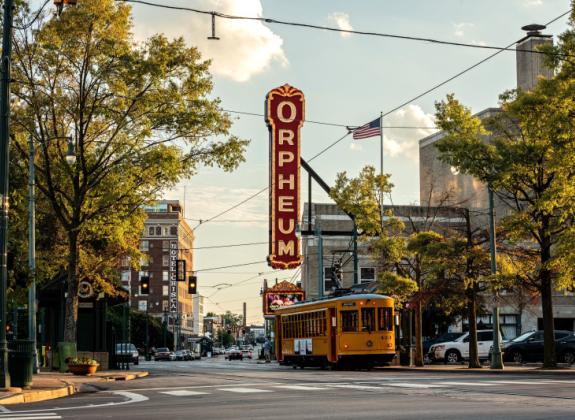 Part of the Orpheum Theatre Group, the historic Orpheum Theatre has been the Mid-South home of touring Broadway productions since 1977. The Orpheum has been dazzling patrons with crystal chandeliers, gold leaf, original 1928 fixtures, a Mighty Wurlitzer organ, and architectural beauty.
In addition to the annual Broadway Series, which has boasted the best of Broadway with titles such as Disney's The Lion King, The Phantom of the Opera, Wicked, and Hamilton, the theatre hosts performances by Ballet Memphis, various concerts and comedians, and local cultural and community events such as Memphis in May, the International Blues Challenge, and the National Civil Rights Museum Freedom Award.
Save on tickets to the Broadway series lineup and select productions with a group of 10 or more. The historic Orpheum also offers the perfect venue for parties, weddings, group outings, corporate events, and community-led programs.
For information about the Broadway season or to purchase tickets for upcoming events, visit Orpheum-Memphis.com. For group tickets and pricing, call 901.529.4226. To inquire about renting the Orpheum Theatre, call 901.529.4234.
Amenities ▲ Meeting Space ▲
General Information

Accessible
Family-Friendly

Neighborhoods
Parking

Parking Lot
Street Parking
Room
Sq. Feet
Banquet Capacity
Classroom Capacity
U-Shape Capacity
Reception Capacity