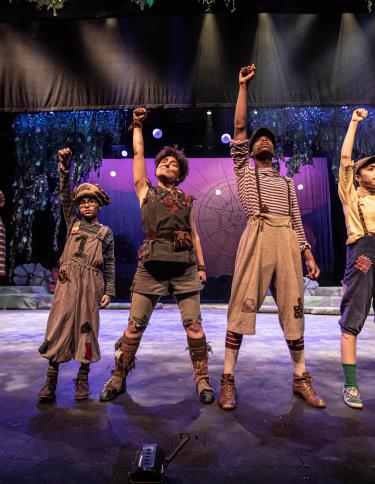 The live music scene in Memphis is world-famous, but our city is a place where all art forms grow and thrive. Experience the incredible Memphis theater scene while you're in town, from beloved Broadway musicals to breathtaking ballet to experimental productions featuring emerging local talents. Memphis theaters are highly diverse, extremely talented and focused on providing great performances. Whether you prefer classical music, contemporary dance, or exciting dramas, be sure you catch a show while you're in town.
DOWNTOWN
Orpheum Theatre
A stunning jewel among the theaters of Memphis, the Orpheum Theatre was originally built in 1890 as the Grand Opera House on the corner of Main and Beale. More than a century later, a rebuilt and newly renovated Orpheum still stands as one of the South's finest theaters, having hosted world-class entertainment such as Jerry Seinfeld, Bob Dylan, and Arcade Fire. The Orpheum's Broadway Series brings popular musicals and dramas to the gilded stage each season.
The 2023 - 2024 Broadway Series includes Funny Girl (October 2023), Beetlejuice (October - November 2023), SIX (November 2023), Les Miserables (February 2024), Wicked (April 2024), and more. See the full Broadway schedule here. 
In 2015, the Halloran Centre opened next door to the Orpheum Theatre as an additional performance and conference space in a luxurious modern venue. The 2023-24 season features a six-part music series, three-part Illusions series, The Orchestra Unplugged, and the Memphis Songwriters Series. See the full lineup here.
For a quintessential Orpheum experience, grab pre-theatre drinks at Bar Ware or enjoy modern gastropub fare and cocktails at South of Beale. If the night is still young when the final curtain closes, take your group and head to one of Memphis' late-night dives for post-show drinks.  
Cannon Center For Performing Arts
As one of the nation's best acoustic facilities, the Cannon Center in downtown Memphis is a magical experience for witnessing both classical and popular musical performances. Most notably home to the Memphis Symphony Orchestra, the Cannon Center hosts the MSO from October to May each year. Check out the Cannon Center events calendar here. 
Before your evening at the Symphony, enjoy fine dining with 117 Prime and don't forget to head to the back for a cocktail at Memphis' hidden whiskey bar in an alleyway Belle Tavern. If you're feeling indecisive, try all the things at Flight Restaurant.
Make a weekend of it with a downtown hotel stay and exciting ways to explore downtown Memphis.
OVERTON SQUARE PERFORMING ARTS District
Playhouse on the Square
Playhouse on the Square is the city's professional resident theater, anchoring the Overton Square Performing Arts District. 
Catch Broadway and off-Broadway productions like Schoolhouse Rock, Live! (November - December 2023), The Wizard of Oz (November - December 2023), Charlie and the Chocolate Factory (January - February 2024), and many more during the theater's 55th season. See the full schedule here.
Elevate your evening at the theater with a southern steakhouse experience at Porch & Parlor, a NOLA inspired meal at The Second Line or hit Overton Square's rooftop bar and restaurant: Tiger & Peacock.
Circuit Playhouse & TheaterWorks
For more art-house fare, intimate dramas and musicals and original productions, head to Playhouse's affiliate theaters, The Circuit Playhouse and TheaterWorks @ The Square. After the show, enjoy a local beer at Boscos Squared or wind down with imported cheeses and a cocktail from one of Bari Ristorante's talented mixologists down the street.
Ballet Memphis
Memphis' professional ballet company beckons performing arts lovers to its new midtown home in Overton Square. The modern architecture of this new community and performance space was unveiled in mid-2017. Ballet Memphis' Overton Square location hosts dance classes as well as modern performances performed at downtown's Orpheum Theatre.
Hattiloo Theatre
Hattiloo Theatre is the only freestanding Black repertory theatre in five surrounding states, offering an incredibly unique performing arts experience in the heart of Memphis' Overton Square Performing Arts District. Each season brings powerful dramas such as Between Riverside & Crazy, Urban Nativity, and Detroit 67. Look for original productions by Hattiloo's founder Ekundayo Bandele and award-winning playwright Katori Hall. See the schedule here. 
With a new boutique hotel and some of the city's most authentic eats, drinks and shops, you can easily plan a weekend getaway to Memphis' Overton Square Performing Arts District.
Collage Memphis
As one of the largest dance companies in the country, Collage Memphis increases the diversity of dance with expanded access to classical training to communities of color. Through their new state-of-the-art facility, Collage provides more programming including adult classes. The annual Memphis Dance Festival is one of the largest free celebrations of dance complete with performances.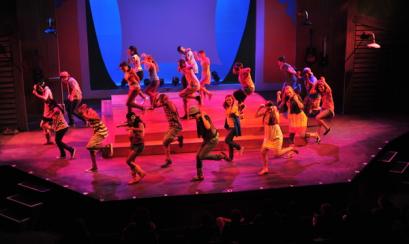 EAST/SUBURBS
Germantown Performing Arts Center
Venture outside of the city core to Germantown for even more unique theater options. The Germantown Performing Arts Center, or GPAC, is one of the finest spaces in the region to find performances of musicians, dancers, singers and actors. With nearly perfect acoustics, GPAC's season is often an eclectic collection of performers, including classical, jazz, singer-songwriter, swing-revival, and kid-friendly artists. You can also enjoy theatre, live music, movies and more in a park-like setting at The Grove, GPAC's new outdoor event space. The Grove features a food truck area and covered bar, and can accommodate about 1,200 guests.  
If you haven't checked off The Germantown Commissary off your list of Memphis barbecue to try, this is the perfect time to do so. For an upscale pre-theater dinner, visit the Southern Social fine dining restaurant in the heart of Germantown. 
Theatre Memphis
Don't underestimate the talent and charm of Memphis' longstanding community theatre when it comes to heartfelt drama and fun, beloved musicals. To celebrate its 100th anniversary, Theatre Memphis recently completed major renovations, including a redesigned lobby and a larger common area. View the 2023-24 season here.
Take your theatre date to dinner at Memphis favorite Andrew Michael Italian Kitchen for inventive, award-winning Italian cuisine, or go for artisan cocktails and modern American fare at Acre.
Tennessee Shakespeare Company
See live performances of the works of Williams Shakespeare in Cordova from the Tennessee Shakespeare Company. Catch classics like Macbeth, Julius Caesar and Romeo and Juliet, as well as works from other famed playwrights and composers, from this professional troupe. See the full schedule here. 
While in Cordova, stop into the taproom at Meddlesome Brewing Company for craft brews, like the 201 Hoplar IPA and Broad Hammer brown ale. While the brewery doesn't serve food, you'll find food trucks parked right outside the taproom almost every night of the week. 
Should you choose to come for the theater and stay for all things Memphis, check out these area hotels.