Rock 'n' roll and soul live in South Memphis, so come on over to add your name outside the gates of Graceland, eat your meat-and-three, and drive by funky recording spots where history was made and new generations are grooving to their own beats.
Whether you're into the original or the riff, it'll feed your soul. Just plan accordingly: Elvis fans can spend a full day or more experiencing the attractions on and around the grounds of Graceland and Elvis Presley's Memphis; soul fans will want to devote a half-day to dance through the Stax Museum of American Soul Music. In between, make time for tasting authentic Memphis barbecue and soul food, and for making unexpected discoveries, from a pay-what-you-can, state-of-the-art climbing gym to a Victorian-era cemetery where guided tours and photography walks are popular.
Find South Memphis Attractions & More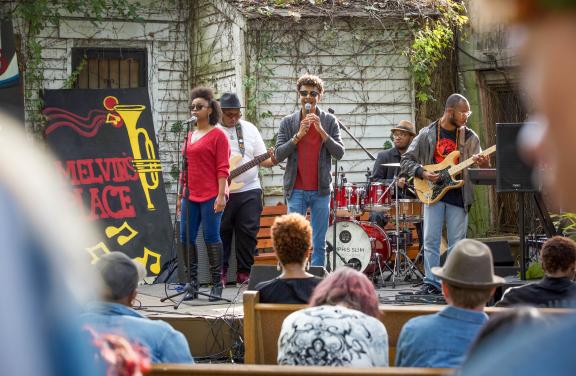 Get That South Memphis Swagger
We've curated the best things to do in South Memphis so you can walk the dog, shake your hips or make your own moves through the neighborhood.