Heading south on Bellevue Boulevard to East McLemore Avenue, you'll know you've hit Soulsville when painted portraits of Al Green, Otis Redding and other Memphis soul artists flash past. 
The neighborhood got its nickname shortly after the global soul music explosion ignited here in the middle of the 20th century, but its credentials go way back. W.C. Handy, Memphis Slim and Memphis Minnie lived here before Aretha Franklin, Maurice White and Isaac Hayes would be associated with the neighborhood.
Intrigued? Experience the full story of Soulsville on this day-long walkabout:
MORNING: Check out Historic Landmarks
Do a DIY walking tour of Elmwood Cemetery (or splurge for the $10 audio tour available during office hours). Established in 1852, the site is full of Victorian-era statuary and monuments that tell the stories of musicians, civil rights leaders, outlaws and millionaires under a canopy of ancient trees.
Elmwood practically shares a border with another Memphis landmark: LeMoyne Owen College. Snap a pic on the campus of Memphis' only historically Black college, which began its life in 1862 as a school for freedmen and runaway slaves.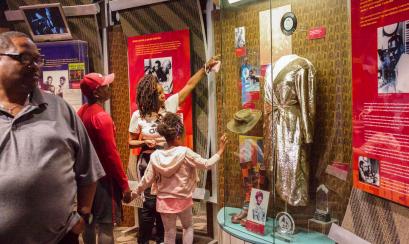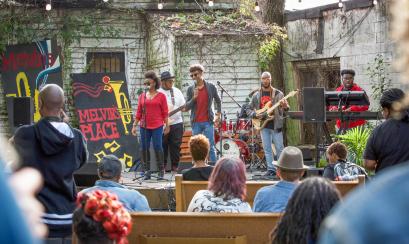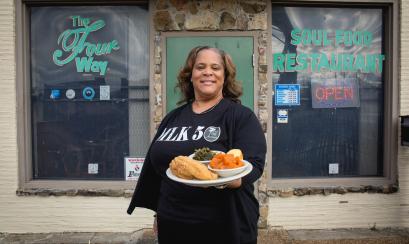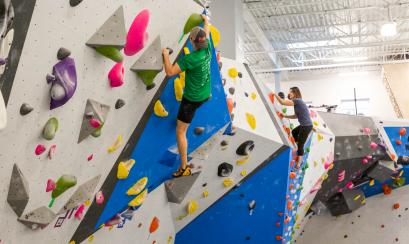 AFTERNOON: Visit the Stax Museum of American Soul Music
In a neighborhood stacked with so much homegrown talent, Soulsville was predestined. It didn't hurt when, in the late 1950s, two recording studios opened within its bounds. 
At Hi Records, Willie Mitchell called on his experience as a trumpeter and big-band leader to hone a sound he called "sophisticated funk." You know it by its vanguards Al Green and Ann Peebles. Today, Willie's son Boo mans the studio, recording the likes of Bruno Mars, Drake and fresh local talent. Drive by (1320 Willie Mitchell Blvd.) and snap a pic of the folk-art painting of Papa Willie on the front door.
At Stax Records, locals from Rufus and Carla Thomas to Booker T. and the MGs to Isaac Hayes walked in off the street and made music history. Out-of-towners including Otis Redding, Sam & Dave and The Staple Singers soon joined them. Today, the Stax Museum of American Soul Music walks you through the history, though it's really more of a dance. Seriously, YOU try taking in the soundtrack and video footage looping through this place without busting a move. Listen up for periodic concerts and other after-hours events at the museum, sometimes featuring the students and alumni of Stax Music Academy, a music training program located on the museum campus.
P.S. See the mod house across College Street from the Stax Museum? That was Memphis Slim's place, now the Memphis Slim Collaboratory, a gathering spot for workshops and occasional live music.  
EVENING: Climb Memphis Rox
Wondering what's with the giant, mural-covered building across from the Stax Museum? That's Memphis Rox, the only nonprofit climbing facility in the U.S. (the mural paints the history of the Soulsville neighborhood). As a nonprofit, Memphis Rox is able to offer pay-what-you-can admission—in a state-of-the-art facility. Shoes are provided and you'll find your choice of bouldering and belaying walls for any skill level. 
EAT!
Need a boost? Head to Juice Almighty inside Memphis Rox, a casual, counter-service spot that emphasizes fresh, organic food by blending up smoothies and crafting sandwiches and colorful salads to-order.  
For heartier fare, head to The Four Way. Since 1946, the institution has fed Dr. Martin Luther King Jr. and other civil rights leaders, soul musicians and neighborhood folks craving real-deal soul food. Order a meat-and-three for the ultimate taste, and save room for dessert. One no-fail combo: golden-fried salmon croquettes served with sweet peas and creamy mashed potatoes, followed by tangy lemon meringue pie.
Check out Soulsville's newest spot to eat at The Art House Cafe located across the street from The Four Way. The concept of Arthouse Café is to be a hub of artistic goods from local artists from books, paintings, jewelry, and music.