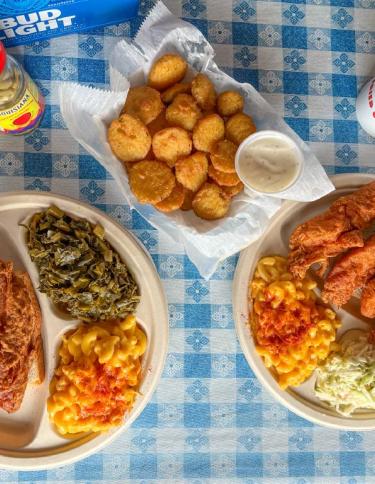 Home-cooked, meat-and-three, Southern cookin' – whatever you want to call it, Memphis is a natural at serving traditional Southern classics made with love. If you haven't had a good sit-down, unbuckle-your-belt, nap-inducing meal lately, then read this guide for Memphis favorites that feed the belly and the soul.
THE FOUR WAY 
998 Mississippi Blvd. - 901-507-1519
A can't miss lunch spot after a visit to the Stax Museum of American Soul Music. The Four Way has been dishing up scrumptious soul food to locals and visitors since 1946. Famous for being one of Dr. Martin Luther King's favorite spots to grab a bite to eat where he would often dine with other Civil Rights leaders. Mouthwatering favorites include the fried catfish sandwich with fries plate, the turnip greens and fried green tomatoes.
LUNCHBOX EATS
288 S. 4th Street - 901-526-0820
At Lunchbox Eats, entrees come on compartmentalized trays, and the menu is written on a chalkboard. You can order by taking your "quiz," and hand it off to your server to get "graded." While you're waiting for your food, take advantage of Lunchbox's lemonade of the day. The dishes have really fun names and their takes on southern classics are equally inventive. Take for example, the Homeroom Chicken & Grids, which sandwiches deep fried chicken between golden cheddar waffles topped with muenster cheese.  
SOUL FISH
862 S. Cooper Street - 901-725-0722
4720 Poplar Ave. - 901-590-0323
8413 US-64 - 901-207-1583
With multiple locations in Memphis, Soul Fish offers traditional Southern comfort food for a great price. Just as the name describes, you won't want to miss their catfish any way you want it - fried, grilled or blackened. 
ALCENIA'S
317 N. Main Street - 901-523-0200
Alcenia's is a newly renovated soul food restaurant in the Pinch District of downtown, and the owner, B.J., is just as famous for her hugs as she is her comfort food. There are two things you should know before you head into Alecina's: the food is decadent and delicious, and it's going to be a leisurely lunch. Everything is made-to-order so come hungry and be prepared to relax and socialize with a cup of their world-famous Ghetto-Aid. You know what's begging to be ordered here: fried chicken with a side of lima beans (you can get it with or without okra).
Inspire Community Cafe
510 Tillman Street, Suite 110 - 901-509-8640
Grab a seat on the patio and dig in to some BBQ chicken nachos or a Costa Rican black bean quesadilla from Inspire. This Binghampton eatery offers an eclectic menu with everything from all-day breakfast to homemade chili and rice bowls. Plus, healthy eaters are in luck. Inspire also offers smoothies and superfood smoothie bowls. 
Memphis SOUL Southern Cooking
414 S. Main Street - 901-207-5124
At this restaurant, you don't have to break the bank to dig into some scrumptious soul food. Chef Will Nash puts his heart and soul into serving his grandmother's recipes and shares these dishes with a smile at Memphis Soul Southern Cooking.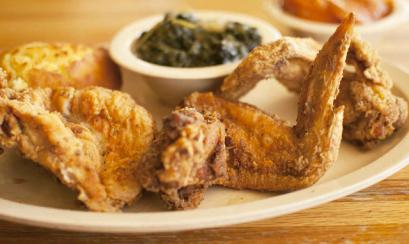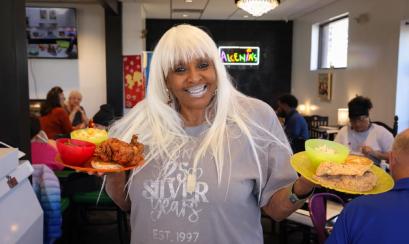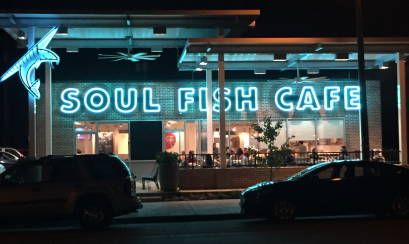 SOUTHERN HANDS  
6025 Winchester Rd. - 901-367-8989
3624 Austin Peay - 901-207-2514
1811 Kirby Pkwy- 901-746-9729
With four locations in the city, this Memphis staple knows a few things about cooking some outstanding soul food. Every fresh, handmade meal feels like digging into family dinner at grandma's house. From their many hearty entrees to their tons of Southern sides, there's definitely something for everyone at Southern Hands. 
MISS GIRLEE'S 
629 Chelsea Street - 901-522-8791
Exploring Uptown Memphis for the day? Drop by this family-owned restaurant to get your soul food fill. With a massive menu filled with oxtails and smothered chicken to a huge list of "vegetables" such as potatoes with cheese and macaroni, there are more than enough of these delicious dishes to go around. 
PEGGY'S HEAVENLY HOME COOKING
326 S. Cleveland Street - 901-474-4938
This hidden gem is perfect for anyone craving a taste of classic, down-home cooking. Known for making food "like grandma used to make," Peggy may lighten up her Southern meals by using plenty of fresh veggies and protein, but when you dive into a plate of her magnificent meals, you'll definitely find she doesn't sacrifice flavor. 
THE CUPBOARD
1400 Union Ave. - 901-276-8015 
One of the best places to get your meat-and-three, only it's hard to just pick three sides with all the great choices. The Cupboard features freshly prepared veggies, including eggplant casserole, crowder peas, turnip greens and corn pudding. Of course your meal is served with fresh yeast rolls or homemade corn bread. Top it off with some homemade banana pudding, and you're set.  
CHEF TAM'S
668 Union Ave. - 901-207-2598
The original Chef Tam's Underground Cafe was tucked in a cozy house in Cooper-Young, but it became so popular that a newer, larger location is opening up in the Edge District. Chef Tam's menu will shake up your idea of homestyle cooking. From innovative dishes such as her Peach Cobbler Nachos and Totchoes to plates that are more reminiscent of the soul food you know and love, any tastebud will be more than satisfied at this cafe. 
GLOBAL CAFE
1350 Concourse Ave. Suite 157 - 901-512-6890
The South may be known for our deliciously decadent traditional food, but at Global Cafe the chefs put a spin on the soul food we know and love. This international food hall in Crosstown Concourse not only combines comforting cuisine from Syria, Sudan, and Venezuela, but it also serves as a gathering place for people from all walks of life. Mix and match dishes from each stall to create a meal that soothes the soul.