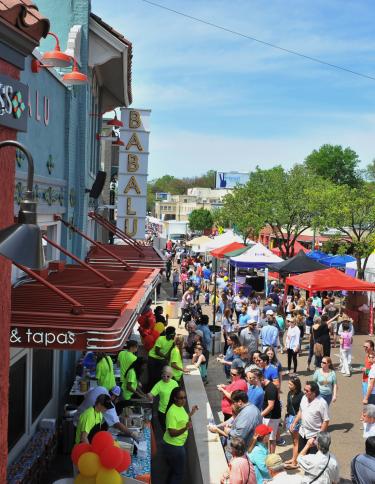 Come for the barbecue and stay for – everything else.  From hot wings to crawfish to beer, if you can consume it, we probably have a Memphis food festival to honor it. We've rounded up a few of our favorite annual culinary festivals here. While COVID-19 continues to impact festival dates, check back often for event updates.
World Championship Barbecue Cooking Contest
Typically held in May
Dubbed "America's most prestigious barbecue cooking competition," the World Championship Barbecue Cooking Contest is the ultimate competition for pitmasters from around the world. Individual tents (some three stories tall!) set up in Tom Lee Park for invite-only tastings by day and dance parties by night. While non-competitors can buy tickets for entry into the festival grounds, you'll need a personal invitation to access team tents. Attendees can still stop by the various food trucks, concessions and beer carts throughout the park. Keep an eye out for new events that will give visitors and inside look (and taste) of the competition.
Charc Week
Typically held in late-July/early-August
Try some of the best charcuterie across the city during Charc Week. This week-long celebration features house-made charcuterie, including smoked, dried, fermented and cured meats, as well as accoutrements and toast points, at participating restaurants like Bari Ristorante e Enoteca, Grecian Gourmet, Knifebird Wine Bar and more. Charc boards will be offered for just $12 at each location throughout this celebration organized by City Tasting Tours. Be sure to look for specialty cocktails as well. Learn more. 
Brunch Fests
TBA
Mimosas, bloody marys, local coffee and brunch cuisine from Venice Kitchen, Babalu Tacos & Tapas and more—you don't want to miss Memphis' upcoming brunch festivals, Let's Brunch Memphis and Bluff City Brunch Festival. Come sample some of the best brunch cuisine the city has to offer. Both festivals, held downtown at Beale Street Landing, feature a variety of popular local restaurants, brunch cocktails, live entertainment and more. 
Healthy 901 Festival
Typically held in October
If you're looking for a Southern take on wholesome food options, the Healthy 901 Festival is for you. Take a walk through the Overton Square Entertainment District and discover a mini-marketplace of wellness, healthy food vendors, cooking demonstrations, musical entertainment and more. Admission is free and clean eating is guaranteed. 
Crawfish Festivals
Typically held in April - Rajun Cajun Crawfish Fest
TBA - Overton Square Crawfish Fest
Crawfish festivals have become a spring tradition in Memphis. But you don't have to love crawfish to have a good time. The Rajun Cajun Crawfish Festival attracts over 35,000 attendees every year in an over-the-top display of all things Cajun. Adult guests can enjoy margaritas, hurricanes and more. Plus, there's plenty of carnival food, grilled corn and barbecue to round out your experience.  The Overton Square Crawfish Festival dominates midtown streets with over 4,000 pounds of crawfish. Admission is free but there is always plenty of great Cajun food for sale. You'll find everything you need to have a great time in the  Overton Square Entertainment District.
Memphis Brewfest
Typically held in October
Celebrate great American craft beer and the most exotic beers in the world at Memphis Brewfest. International, national and local breweries will gather on the field at Liberty Bowl Stadium for a sampling of fresh beers of all colors, styles and tastes. Learn more. 
GRIND CITY Coffee Xpo
TBA
Are you a coffee lover? Then Grind City Coffee Xpo is the go-to event for you. Celebrate coffee culture and all things related to the coffee community. With Vice & Virtue, Ugly Mug Coffee and other local shops and roasters on-site, you won't want to miss this event. Get more details.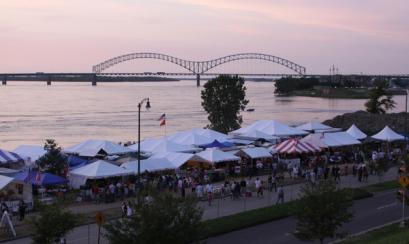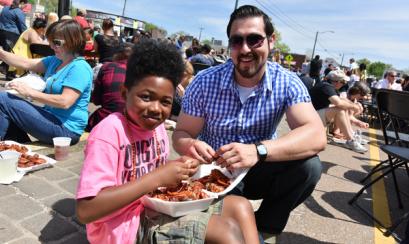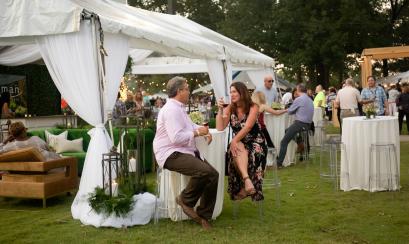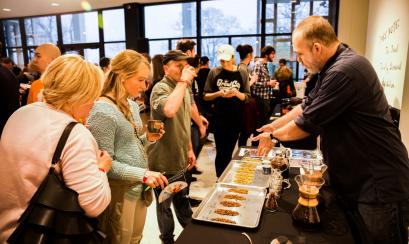 World Championship Hot Wing Contest & Festival
Aug. 28, 2021
Organizers of the World Championship Hot Wing Contest & Festival say that they do for the chicken what the World Championship Barbecue Cooking Contest does for the pig. Every year, thousands of participants demonstrate that they agree. The wing appreciation event celebrates every part of the chicken wing – "the drummy, flap, flat and everything in between" – with nearly 100 teams, a cornhole competition, live entertainment and more. Attend the next event.
Memphis FOOD & WINE FEST
Typically held in October
Live music, festival art, a silent auction and, of course, delicious food and fine wine. This is what you should expect when attending the Memphis Food & Wine Fest. Located at Memphis Botanic Garden, the Memphis Food & Wine Fest features world renowned and locally acclaimed chefs, as well as vintners and sommeliers. Past festivals have included Chefs Michelle Tribble (Gordon Ramsay's Hell's Kitchen), Ryan Trimm (Sweet Grass, 117 Prime, Sunrise Memphis, 3rd & Court), Erling Jensen (Erling Jensen), Nick Vergos (Charlie Vergos' Rendezvous) and many more. For more details click here. 
COOPER-YOUNG BEERFEST
Typically held in October
Grab your official mug at the gate and fill it up as many times as you'd like during this afternoon festival. Over 30 breweries (all within driving distance of Memphis) set up shop at this annual celebration of regional brews. All attendees must be 21+ and no pets are allowed.  Rain or shine, come party with us in one of the most eclectic entertainment districts in Memphis. Learn more.