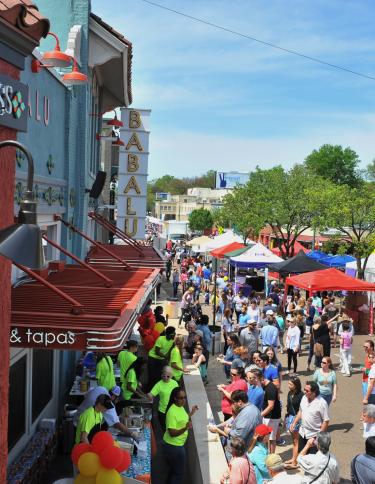 Come for the barbecue and stay for – everything else.  From hot wings to crawfish to beer, if you can consume it, we probably have a Memphis food festival to honor it. We've rounded up a few of our favorite annual culinary festivals here.
Soulful Food Truck Fest
March 13, 2022
Head to Tiger Lane for all kinds of food truck fare, as well as live music, DJs and a kids zone, at the 6th annual Soulful Food Truck Festival. Dig into barbecue, quesadillas, sweet treats and so much more at this unique festival.
Rajun Cajun Crawfish Festival
April 24, 2022
Crawfish festivals have become a spring tradition in Memphis. But you don't have to love crawfish to have a good time. The Rajun Cajun Crawfish Festival attracts over 35,000 attendees every year in an over-the-top display of all things Cajun. Adult guests can enjoy margaritas, hurricanes and more. Plus, there's plenty of carnival food, grilled corn and barbecue to round out your experience. 
Let's Brunch
May 7, 2022
Mimosas, bloody marys, local coffee and brunch cuisine from Venice Kitchen, Babalu Tacos & Tapas and more — you don't want to miss Memphis' upcoming brunch festival Let's Brunch Memphis. Come sample some of the best brunch cuisine the city has to offer. Held at Memphis Botanic Garden, this festival features a variety of popular local restaurants, brunch cocktails, live entertainment and more. 
WORLD CHAMPIONSHIP BARBECUE COOKING CONTEST
May 11-14, 2022
Dubbed "America's most prestigious barbecue cooking competition," the World Championship Barbecue Cooking Contest is the ultimate competition for pitmasters from around the world. Individual tents (some three stories tall!) set up for invite-only tastings by day and dance parties by night. While you'll need a personal invitation to access team tents, non-competitors can buy tickets for entry into the festival grounds and even better, look into tasting experiences like the Kingsford Tour of Champions and BBQ Alley.
Margarita Festival
June 4, 2022
Get your tickets to the Memphis Margarita Festival on Overton Square to sample 12 margaritas from restaurants around town. Sip the mixes and concoctions from the best margarita-makers in Memphis and vote for your favorite. Plus, food and full-sized drinks will be available for purchase.
Craft Food & Wine Festival
June 5, 2022
Locally produced breads, cheeses, fruit preserves, cured meats and more from 40 vendors. An onsite shop offers attendees an opportunity to purchase sampled foods and drinks and it wouldn't be a Memphis festival without live music entertainment! Get your tickets now to the 2022 Craft Food & Wine Festival, because this event is sure to sell out.
Memphis Chicken & Beer Festival
August 6, 2022
What's better than chicken and beer? Sample chicken dishes from local restaurants and sip on beer from national and local breweries at the 3rd annual Chicken & Beer Festival at Liberty Bowl Memorial Stadium.
Memphis Brewfest & Brunchfest
Fall 2022
Two days of eating, drinking, and fun at the Liberty Bowl Memorial Stadium: Saturday is Brewfest, featuring more than 40 breweries from around the world, food trucks, music, and games. Sunday is Brunchfest with local restaurant samples, beer samples, brunch drinks, and live jazz.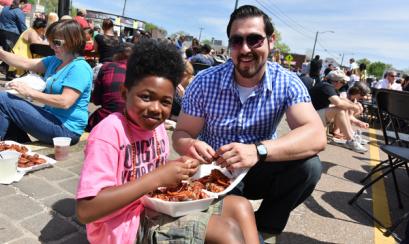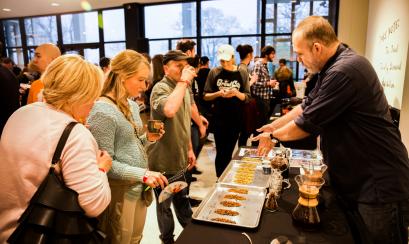 MEMPHIS FOOD & WINE FEST
October 15, 2022
Live music, festival art, a silent auction and, of course, delicious food and fine wine. This is what you should expect when attending the Memphis Food & Wine Fest. Chefs from around the country prepare tasty dishes to sample, wineries bring their best vintages, and attendees enjoy an evening at the Memphis Botanic Garden full of food and fun. Past festivals have included Chefs Michelle Tribble (Gordon Ramsay's Hell's Kitchen), Ryan Trimm (Sweet Grass, 117 Prime, Sunrise Memphis, 3rd & Court), Erling Jensen (Erling Jensen), Nick Vergos (Charlie Vergos' Rendezvous) and many more. For more details click here. 
WORLD CHAMPIONSHIP HOT WING CONTEST & FESTIVAL
October 22, 2022
Organizers of the World Championship Hot Wing Contest & Festival say that they do for the chicken what the World Championship Barbecue Cooking Contest does for the pig. Every year, thousands of participants demonstrate that they agree. The wing appreciation event celebrates every part of the chicken wing – "the drummy, flap, flat and everything in between" – with nearly 100 teams, a cornhole competition, live entertainment and more. Attend the next event.
COOPER-YOUNG BEERFEST
Fall 2022
Grab your official mug at the gate and fill it up as many times as you'd like during this afternoon festival. The annual Cooper Young Beerfest features dozens of breweries from across the region for beer tastings, music, food, and fun in the Cooper Young neighborhood. All attendees must be 21+ and no pets are allowed. Rain or shine, come party with us in one of the most eclectic entertainment districts in Memphis. Learn more.