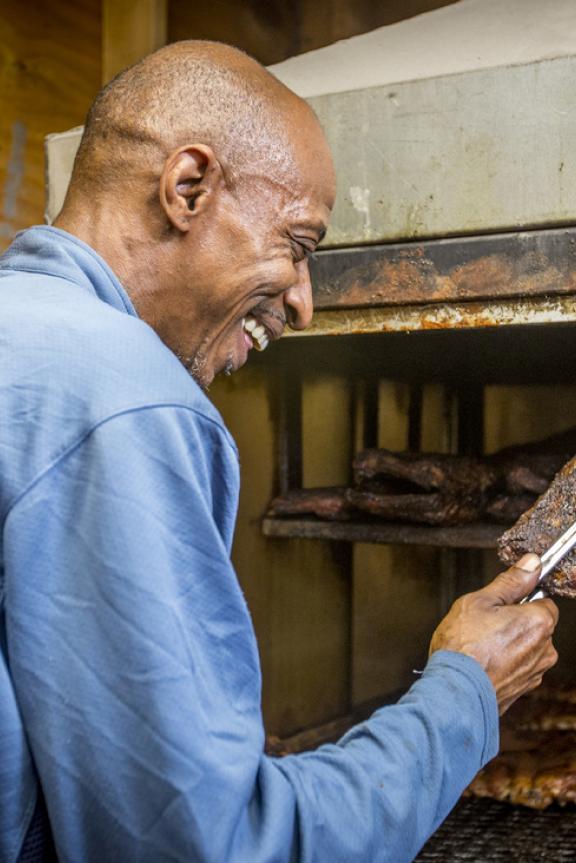 In this 'cue capital, ask any two Memphians who smokes it best and you'll get a load of options (and maybe even start a friendly debate). To help you navigate the 100-plus barbecue restaurants across Memphis – from smoke shacks to line-out-the-door landmarks to new-generation haunts – we've put together this guide to acquaint you with Memphis' rich barbecue tradition and help you find one (or 101) variations to sample. Try 'em all and help us settle who's king or queen of Memphis barbecue. 
What IS MEMPHIS-STYLE BBQ?
Any city with a reputation for smoking meat has its own way of doing things. In Memphis, we tend to favor pork, specifically pulled pork and a big 'ole rack of ribs. Of course, we don't discriminate. Memphis pitmasters smoke beef, sausage, bologna (we're looking at you, Payne's) and chicken — especially wings. But the star of the show around these parts will always be the pork. So if you're at a Memphis barbecue restaurant and unsure of what to order, start with the pork. You won't be disappointed.
MEMPHIS BARBECUE HISTORY
How barbecue is seasoned and sauced also matters in the South, and varies from city to city. A lot of the variation in barbecue flavors and sauce can actually be explained by geographical factors. Since Memphis is a port town, barbecue cooks in the city have long enjoyed access to a wider variety of ingredients to slab on, plus all the molasses that was shipped up the mighty Mississippi River. That kinda became our style — warm spices balanced by a sweet, tomatoey sauce.
UNIQUE MEMPHIS BBQ RUB & SAUCE recipeS
Slabs of Memphis' best ribs generally come rubbed with dry spices, each joint having its own secret combination that may (or may not; they'll never tell) include the following: garlic, onion, chili pepper, black pepper and paprika. Most places actually rub the spices into the meat before cooking. Charlie Vergos' Rendezvous is one of the oldest and most famous advocates of the dry rub. The restaurant's rub nods to its founder's Greek heritage (a unique chargrilling technique further set Rendezvous barbecue apart).
Each Memphis bastion of barbecue concocts its own sauces as well. Cozy Corner's hot sauce makes your lips tingle (try the famous barbecue Cornish game hen slathered in it, if you dare!). Interstate Barbecue's Jim Neely didn't have a family recipe to rely on, so he made up his own and doesn't share the ingredients. But it strikes a nice balance between sweet and tangy. 
MEMPHIS BBQ SIDES & APPETIZERS
Beans, coleslaw, macaroni and cheese, potato salad, greens, cornbread . . . these are the throwdown sides for barbecue found just about everywhere in Memphis. The folks over at Corky's Ribs & BBQ know the meat is just half the battle. That's why they put an emphasis on their baked beans, potato salad and seasoned fries, among other mouthwatering sides. The pig chips at Germantown Commissary are some of the best house chips in the area and pair perfectly with a pulled pork sandwich. Another delicious pairing are the crinkle-cut fries at Tops Bar-B-Q (try dipping them in Tops' tangy BBQ sauce — yum!).
We can't forget about appetizers. Memphis BBQ joints go above and beyond with starters. Corky's offers mouth-watering fried chicken wings and an onion loaf that has become a local favorite. Or try a classic — the cheese & sausage plate at Rendezvous is a perfect snack before the main course.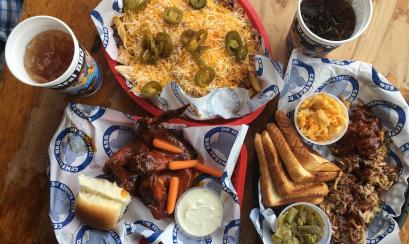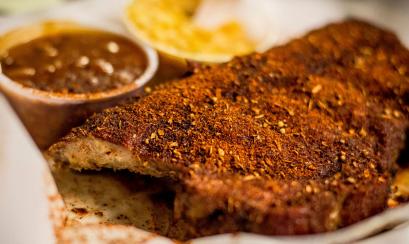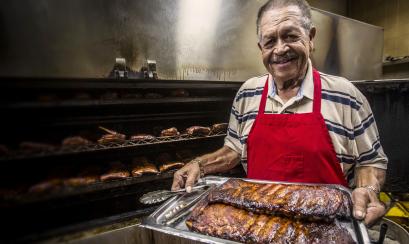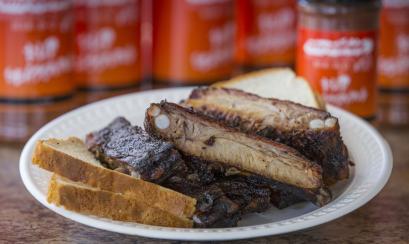 BEYOND RIBS: MEMPHIS BARBECUE Creations
Barbecue pizza was invented at Coletta's in the 1950s (Elvis was said to be a fan) and you can still sample those delicious pies today. Speaking of Italian, you'll find barbecue spaghetti (pulled pork and marinara over spaghetti noodles) at a few spots around town, most notably the Bar-B-Que Shop. Then there are barbecue nachos: crunchy chips topped with smoky pulled pork and sweet, tangy barbecue sauce. Central BBQ has a solid option. And in Memphis, even vegetarians can get in on the barbecue action. R.P. Tracks, though not a traditional barbecue restaurant, offers excellent BBQ tofu nachos.
WHERE TO FIND WORLD-FAMOUS BBQ IN MEMPHIS
Whether in the form of a pizza, pasta or just nestled in next to a place of delicious sides, one thing remains constant: the meat is what matters most, and Memphis gets that. In fact, we have an entire festival devoted to mastering the art of the smoker and sauce: the annual World Championship Barbecue Cooking Contest.
But any day is a good day to sample Memphis barbecue. See more of your options, along with curated recommendations, below. 
Memphis BBQ is Second to None
Memphis is known as the barbecue capital of the world, and for good reason. At Memphis' 101+ barbecue joints, you'll find mouthwatering 'cue creations cooked to perfection by some of the world's greatest pitmasters. Watch as Frank Vernon, of The Bar-B-Q Shop, explains what makes Memphis-style barbecue world famous.