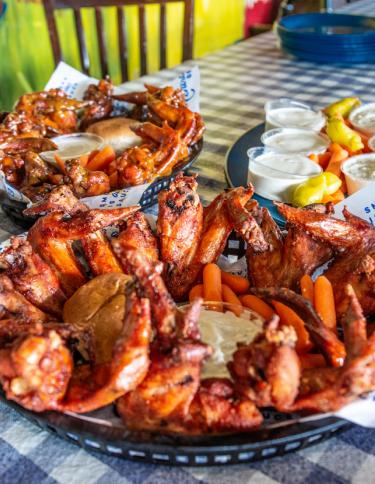 Here in Memphis, we're not lost in the sauce. In fact, we're drowning in it: While you may know us as the home of low-and-slow-cooked barbecue, Memphis actually has more chicken wing establishments – 200-plus! – than barbecue joints, which hover above 100. That makes Memphis the Hot Wing Capital of the World, and we've got a fest, trail, restaurants and even our own sauce to prove it.
THE SAUCE: MEMPHIS HONEY GOLD
Chicken wings may have taken off in Buffalo, New York, but Memphis perfected them. From classic hot wings to unique flavors of all kinds, Memphis has taken chicken wings to the next level. Our signature wing flavor, honey gold, has swept the city and its visitors alike. Travelers from all over the country come to town in search of this sweet, yet savory, Memphis staple. Tossed in sweet honey and blended with tangy spices, Memphis' honey gold wings are a bucket-list dish. 
THE FEST: WORLD CHAMPIONSHIP HOT WING CONTEST & FESTIVAL
Since 2003, Memphis has played host to the Southern Hot Wing Festival. But organizers changed the fest's name in time for the 2020 event to the World Championship Hot Wing Contest & Festival, staking Memphis' claim as the hot wing capital of the world. 
 
Mark your calendar for Aug. 28, 2021, when nearly 100 competitive cooking teams will converge on the grounds of Liberty Bowl Memorial Stadium. As a festival-goer, you'll be able to enjoy the teams' best and most unique wing flavors, from honey gold to classic hot and many more, with just a small donation to Ronald McDonald House at each tent. 
You'll also be able to compete in or cheer on a cornhole tournament and wing-eating contest. (Note: You must be pre-registered to compete in these competitions.) And don't miss the festival parade and live entertainment.
Festival admission is $15 at the gate ($12.50 in advance). For more information click here.
THE BEST WING RESTAURANTS IN MEMPHIS
Since the early '90s, Memphis' wing scene has taken off with local favorites expanding and new spots popping up all over town. Since we can't name all 200+ restaurants, here's a list of just a few of our favorites: