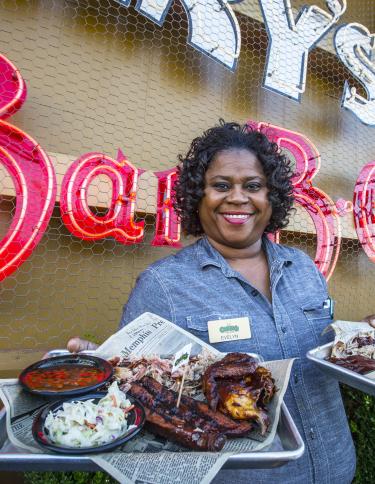 We've got the lowdown on how Memphis earned its title as Barbecue Capital of the World, plus a few must-eat restaurants to try during your next visit to the Bluff City.
Address: 1782 Madison Ave, Memphis, TN 38104
The smoky sweet smell of delicious barbecue will greet you as soon as you walk through the door of this relaxed diner. Delicious smoked chicken, pulled pork and their specialty potato salad are mainstays at The Bar-B-Q Shop in Midtown Memphis. The flavorful dry rub ribs are a popular treat for locals and visitors alike - paired with thick Texas toast and your choice of side… don't forget to add a tall glass of Southern sweet tea.
 
Address: 167 Beale St, Memphis, TN 38103
The sign on the door says "Pork With An Attitude" and Pig on Beale lives up to its own hype. Memphis-style hickory-smoked barbecue offers an unapologetically bold flavor to its well-rounded menu of smokehouse favorites. Try the 15-ingredient coleslaw or any other made-from-scratch side with our BBQ Lovers Feast (perfect for two) or BBQ Lovers Super Feast (suitable for up to six guests). After you finish your meal, venture down Beale Street for fun with the Beale Street Flippers, barhopping, or groovin' at one of several live music joints or dance clubs.
Address: 52 S 2nd St, Memphis, TN 38103
The authentic stench of their supersize barbecue pit will meet you in the alley before you ever reach this Downtown restaurant's doors. Upon entering, travel downstairs to a world-famous barbecue eatery where dry ribs, pulled pork, lamb riblets, beef brisket, slaw and housemade beans will leave you weak in the knees and craving more. Start with a sausage and cheese appetizer (perfect for two) and then order a combo for a fulfilling Memphis-style barbecue experience at Rendezvous.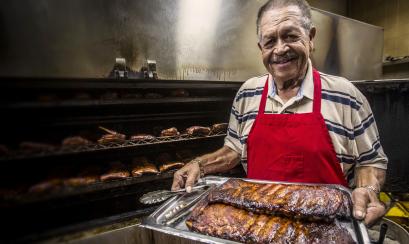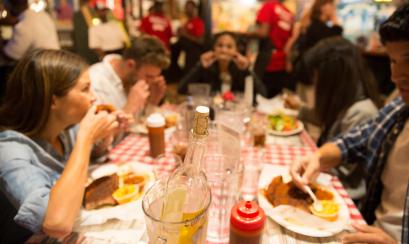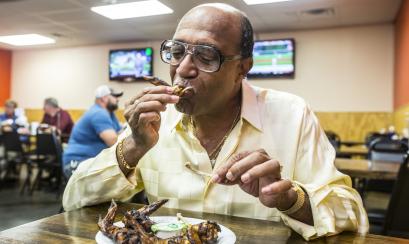 Address: 138 Beale St, Memphis, TN 38103
Located at the corner of 2nd St. and Beale, Blues City Café is a popular destination for southern comfort food and barbecue. Sweet and tangy pork ribs, large catfish fillets with a homemade tartar sauce and the coveted tamales (order them in threes!) are amongst the favorite items on the menu. The bartenders are fast and friendly and portion sizes are huge at this laid-back Memphis dive. Don't forget to order a Walk Me Down from the bar (the city's signature cocktail) and enjoy the live blues band while you're there.
 
Address: 5259 Poplar Ave, Memphis, TN 38119
With locations throughout the city, Corky's BBQ is always a short drive away. The wildly popular barbecue restaurant offers a complete menu where everything is delicious and the whole family will leave stuffed and satisfied. Start with fried pickles or a number of other shareable appetizers before selecting your main course. Then try a barbecue pulled pork salad or smoked turkey sandwich. Feeling especially hungry or splitting a meal with a friend? Try the Big Daddy Combo with three meats, two sides and fresh baked rolls.
 
Address: 147 E Butler Ave, Memphis, TN 38103
With a location just steps away from the National Civil Rights Museum and another nestled in Midtown Memphis, Central BBQ is a favorite casual eatery for visitors and locals alike. Enjoy spicy wings, Central-style: marinated overnight, slow-smoked for tenderness and then finished in the deep fryer for a perfect crispness. Barbecue nachos are another popular option. Tortilla chips are topped with cheese sauce, shredded cheese, barbecue sauce and jalapeños. Add your choice of pulled pork, chicken, beef or turkey before they sprinkle their special blend of barbecue spices over the dish.  Staying further East? There's a third location near your hotel.
 
Address: 5465 Fox Plaza Dr, Memphis, TN 38115
Leonard's is the only restaurant on our list that doesn't offer dinner. This lunch-only barbecue joint has been since 1922 and has the old-school atmosphere to prove it. As with many homegrown lunch hotspots, its all-you-can-eat buffet is a popular option, featuring everything from meatloaf and fried fish to pulled pork and barbecue spaghetti. The full menu includes dry rub ribs, balanced with cayenne pepper and brown sugar for a finished product that is kickin' with a bit of sweetness. Remember to leave room for dessert. Apple cobbler and lemon pie are popular treats you won't want to miss at Leonard's.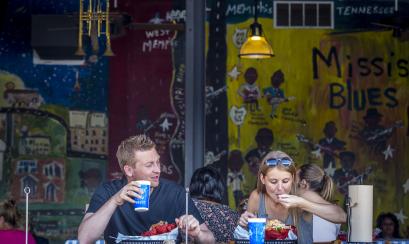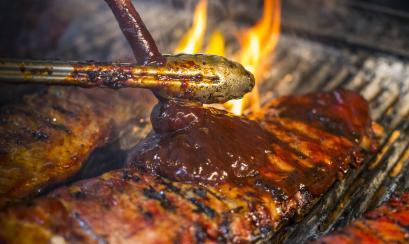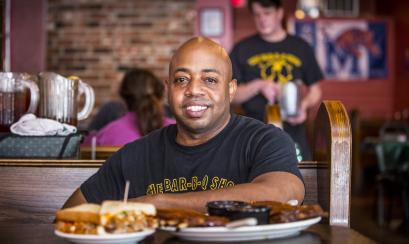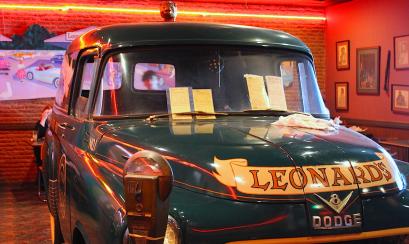 Address: 4560 Elvis Presley Blvd, Memphis, TN 38116
Planning to enjoy the new Graceland experience? While you're there, take a quick trip down the road (1.5 miles) to Pollard's BBQ. The stylish family-owned barbecue joint earns its Memphis stripes with jumbo smoked turkey legs, barbecued bologna, and rib tip plates. After its entertaining appearance on Restaurant Impossible, the restaurant upgrades its baked beans to its increasingly popular secret recipe. Try the beans, barbecue spaghetti, or any number of classic Memphis sides during your visit.
 
Address: 2359 N Germantown Pkwy, Cordova, TN 38016
Jim 'n Nick's Bar-B-Q does diversity well. Its menu includes barbecue staples like ribs and pork, plus specialty items like hot link tacos. The celebrated Chopped Southern Salad is a great solution for those in your group who seek healthy or non-barbecue options.
 
Address: 4087 New Getwell Rd, Memphis, TN 38118
The simply decorated ambiance of Tom's Barbeque & Deli reinforces the restaurant's long-standing commitment to great service and even better barbecue. With an authentic Mediterranean-style barbecue menu featuring sandwich options, combos, and plates, plus nachos and over ten traditional sides, it's no surprise that Tom's has been receiving national television attention and favorable guest reviews since it opened in 1982.