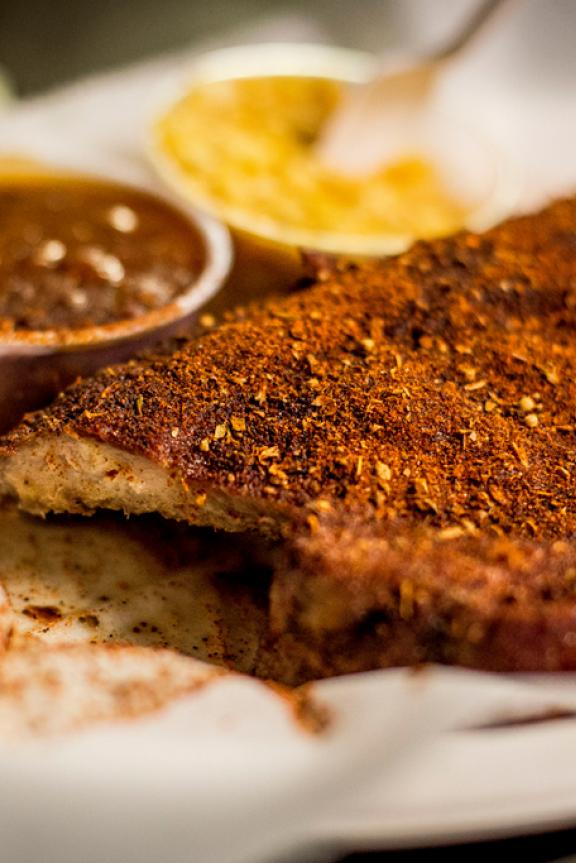 From Beale Street to Graceland, from the Stax Museum of American Soul Music to the suburbs, you'll find a Memphis barbecue restaurant close by — wherever you are in town. See, Memphis boasts more than 100 barbecue restaurants across the city. So whether you're looking for an authentic taste of Memphis near your itinerary or want to take the Memphis Barbecue Challenge — the delicious work of sampling barbecue in every one of our neighborhoods — use this handy map and list to plan your tasting.
There are 101+ Barbecue Joints in Memphis.
How many have you tried?


Click on the neighborhood in the map above to find world-famous restaurants and hole-in-the-wall joints near you. Or, scroll our list of barbecue restaurants by neighborhood below.
Downtown Memphis Barbecue
Whether you're Downtown for a night on Beale, taking in a game at FedexForum or AutoZone Park or exploring a local museum from the Memphis Music Hall of Fame to the National Civil Rights Museum, dining at a barbecue joint should definitely be on your to-do list. Here are a few BBQ favorites in Downtown Memphis:
HOG WILD-REAL MEMPHIS BARBECUE
TOMMIE'S BAR B QUE & SNACKBAR
TOP'S BAR-B-Q - JACKSON AVE.
Midtown Memphis Barbecue
After exploring Memphis Zoo and Overton Park, or staying out late-night in the entertainment districts of Overton Square and Cooper-Young, nothing tastes better than these Midtown Memphis barbecue restaurants:
THE BAR-B-Q SHOP
CENTRAL BBQ
TOP'S-BAR-B-Q - UNION AVE.
SOUTH MEMPHIS BARBECUE
If you're in the neighborhood to visit Elvis Presley's Graceland or the Stax Museum of American Soul Music, don't miss these South Memphis barbecue institutions:
A&R BAR-B-QUE
BIG BILL BBQ
BALLHOGGERZ BBQ
C&J BARBECUE
THE GRILLE
MARLOWE'S RIBS
NEELY'S INTERSTATE BAR-B-QUE - MEM INTERNATIONAL AIRPORT
PAYNE'S BAR-B-QUE
PAPACHUCK BARBECUE
REESE'S BAR-B-Q
TASTEE BAR-B-Q
TOM'S BARBECUE & DELI
TOP'S BAR-B-Q - MT. MORIAH RD.
TOP'S BAR-B-Q - TRIPPER'S LAMAR VILLAGE
TOP'S BAR-B-Q - WINCHESTER RD. 
NORTH MEMPHIS BARBECUE
If you're sampling craft brews at Grind City Brewing or exploring the vertical urban village of Crosstown Concourse, get your barbecue fix at these "pit" stops:
ELWOOD'S SHAC
FAT LARRY'S
MOMA'S BAR-B-Q
TOP'S BAR-B-Q - FRAYSER BLVD.
TOP'S BAR-B-Q - SUMMER AVE. #2
TOP'S BAR-B-Q - SUMMER AVE. #1
TOP'S BAR-B-Q - SHELBY CROSSING
TOP'S BAR-B-Q - THOMAS ST. 
EAST MEMPHIS BARBECUE
We bet you worked up an appetite exploring Memphis Botanic Garden, Lichterman Nature Center and Shelby Farms Park. Here are some of our favorite East Memphis barbecue staples to help you refuel:
BBQ SHACK
CORKY'S RIBS & BBQ
ONE & ONLY BBQ
THREE LITTLE PIGS BAR-B-Q INC.
TOP'S BAR-B-Q - Poplar
TOP'S BAR-B-Q - Rhodes
UNCLE MURLE'S BBQ
BARBECUE IN THE MEMPHIS SUBURBS
Whether you're exploring Main Street Collierville or catching a performance at GPAC or The Grove in Germantown, you'll find barbecue in the Memphis suburbs worth the drive. Target these smokin' hot shacks in the towns of Germantown, Collierville, Cordova, Bartlett, Millington, West Memphis (Arkansas) and Southaven (Mississippi). 
ARNOLD'S BBQ
BABY JACK'S BBQ
BRAD'S BAR-B-Q
CAPTAIN JOHN'S BAR-B-QUE
CORKY'S RIBS & BBQ- Olive Branch, MS
GERMANTOWN COMMISSARY - GERMANTOWN
GERMANTOWN COMMISSARY - COLLIERVILLE
JIM 'N NICK'S BAR-B-Q
JIM NEELY'S INTERSTATE BAR-B-Q - SOUTHAVEN
KING JERRY LAWLER'S MEMPHIS BBQ COMPANY
MEMPHIS BARBECUE CO.
ONE & ONLY BBQ - KIRBY
ONE & ONLY BBQ - TIMBER CREEK
OLD STYLE BAR-B-Q
PIG-N-WHISTLE
RAY'S WORLD FAMOUS BBQ - West Memphis, AR
ROADSIDE BBQ 
SMOKING D'S PIT STOP BAR B-Q
TOP'S BAR-B-Q - Marion, AR
TOPS BAR-B-Q - Southhaven, MS
TOP'S BAR-B-Q - WILKINSVILLE RD. 
WILLIAM'S BAR-B-Q