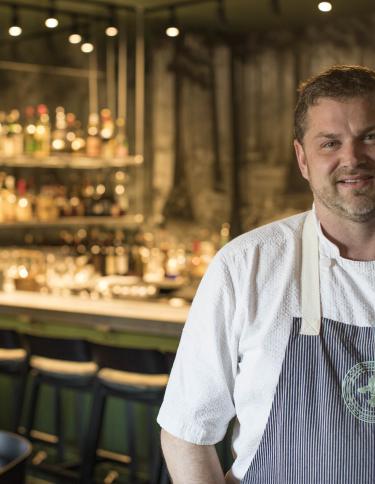 Craving an authentic glimpse – and taste – of Memphis? Get to Midtown. Immediately east of Downtown Memphis, Midtown is a collection of neighborhoods where century-old homes blend in with locally-owned boutiques and restaurants. We've picked 10 of those restaurants in a variety of price ranges and palates to fuel your exploration of Midtown's most vibrant neighborhoods, the Cooper-Young Historic District, Overton Square area and the Broad Avenue Arts District. Enjoy!
COOPER-YOUNG HISTORIC DISTRICT
Once you get over the interior (a 1960s-era beauty salon – just ask a staffer to point out where Priscilla Presley used to have her hair done), let the menu wow you with you punchy flavor combos like chicken wings and watermelon dressed in sweet chile lime sauce. Whether you go for daily lunch/dinner or Sunday brunch, never skip dessert: Daily offerings, including a rainbow of gelati flavors, are scrawled on the mirror near Priscilla's spot. 
P.S. The Beauty Shop gets hipper and louder the later it gets, so arrive early or try your luck wedging in at the bar.
Tsunami
Chef Ben Smith was one of the first restaurateurs to open in Cooper-Young during the neighborhood's 1990s renaissance. But there's nothing stale about his concept, a Pacific Rim-influenced dinner spot that's consistently rated one of the best Midtown Memphis restaurants. Reserve a sidewalk table to watch the neighborhood go by as you share small plates (Smith changes them nightly). Or, order his signature sea bass, roasted and drizzled with soy buerre blanc. Closed Sunday.
You have to get your soul-food fix in Memphis, so do it here and walk it off by browsing Cooper-Young's music, book and art shops. Order the fried catfish (the batter is light) or the fresh vegetable plate loaded with black-eyed peas, fried okra and macaroni and cheese. Save room for the house-made lemon pie. For lunch and dinner, this one's come-as-you-are and family-friendly. 
OVERTON SQUARE AREA
Make a dinner reservation for this stylish wine bar and restaurant just a short walk down the street from Memphis' theater district and Overton Square shops. You could make a meal of the expertly curated wine and cheese lists, or flow through courses of authentically-prepared pasta and rustic fish dishes. That's the Southern Italian way, as Chef Jason Severs' grandmother taught him.
Ask any local barbecue connoisseur where to eat in Memphis and you'll get a different answer almost every time. That's because Memphis packs over 100 barbecue joints, every one with a specialty. At The Bar-B-Q Shop, that's the half-and-half ribs: half dry-rubbed with the restaurant's award-winning seasoning; half mopped with its award-winning sauce, a zingy blend of mustard and tomato. Like most Memphis barbecue restaurants, the vibe is no-frills – just good barbecue. Closed Sunday.
Flavorful meats, smoky cheeses, aromatic marinades and crusty bread combine to make Fino's delectable sandwiches. You could eat in with the workday lunch crowd, but here's a better idea: Order yours to go and head to nearby Overton Park. Each sandwich is big enough to share during a lunchtime picnic or al fresco dinner before a free concert at the park's Overton Park Shell. Closed Sunday and Monday. 
BROAD AVENUE ARTS DISTRICT
This family-style restaurant is anything but what you'd expect from a restaurant in such a category, though the sleek interior should tip you off. Make a reservation for nightly dinner or Sunday brunch, and go with a group for maximum sampling of locally-sourced dishes such as stuffed quail featuring savory cornbread, Andouille sausage and Hoppin' John. Closed Monday.
Casual and colorful with inventive dishes to match: that's Maximo's. Pop in for dinner (Tuesday through Saturday) or Sunday brunch for creative cocktails and flavors that absolutely pop. That applies whether you're enjoying a salad, sandwich, tapas or an entrée such as the Bali fish, pan-roasted in an irresistible tomato-miso reduction. Closed Monday.
The Liquor Store
What happens when you cross a classic, breakfast-all-day diner with a chic tropical cafe? The Liquor Store on Broad! Housed in a remodeled liquor store, this stylish eatery serves a mix of breakfast favorites like pancakes and and steak and eggs, plus Latin specialties like Cuban sandwiches and fried plantains. They also offer craft cocktails, brunch, an Instagram-worthy patio and a pie case filled to the brim with fresh-baked goods.