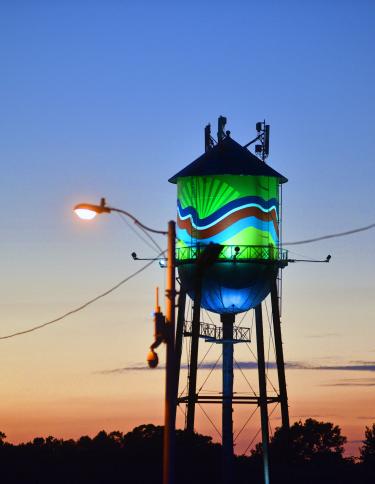 The Broad Avenue Arts District is a neighborhood in Midtown Memphis where you can enjoy locally owned restaurants, boutiques and galleries, as well as special events including art festivals and art nights. Public art, including the neighborhood's signature water tower and several murals, signal the vibe of the area. Just don't leave before dark: bars with live music, arcade games and more create a vibrant nightlife in the neighborhood, too.
Shop the street
Browse the colorful collection of art glass and more at T. Clifton Art, or peruse goods from local artists and plenty of refinished furniture at Merchants on Broad. For unique clothes and accessories made from traditional African materials with modern designs, visit Mbabazi House of Style.
Falling into Place boutique offers handmade jewelry, gifts, and some local goods and accessories in modern designs. And if you are looking for unique Memphis souvenirs from local artisans, Five in One Social Club on Summer Avenue just a block away is your absolute best bet (they also offer "kindergarten for grown folks" crafting classes multiple times per week). 
 
Memphis Guitar Spa attracts musicians from around the region for its one-of-a-kind Ferner line, as well as repairs, restorations and custom finishes. Peek through the window at the handmade chairs and custom furniture at Holmes woodwork and consider setting an appointment to have your own piece made. Cyclists will love the premier line-up of bikes, apparel and accessories at Victory Bicycle.
DRINK THE STREET 
Memphians love patios so much, it's basically a religion. One of the premier patios in the Bluff City is found at Wiseacre Brewing, where friends gather to enjoy a pint from one of the hottest breweries in the South. The taproom also has an indoor space for visitors to enjoy their year-round brew Tiny Bomb or fun seasonal brews like The Beach Within Reach, Unicornucopia or Lord Skylark. If you think the names are fun, check out the label art that decorates the taproom walls.
 
In need of a caffeine hit instead? Try a cup of small-batch, fresh-roasted coffee at French Truck Coffee. Or visit City & State for an espresso, drip coffee or specialty drink. City & State has great shopping, too, so after your cup of joe check out the shop's array of gifts and art, much of which is produced by local artisans. (Sensing a theme here?) 
EAT THE STREET
Before Broad Avenue was the revitalized neighborhood it is today, there was Broadway Pizza. This neighborhood institution has served up some of the city's best pizza since 1977. Dine in or get it to go. Head to Maximo's on Broad for Sunday brunch, or go there for dinner, where you'll find nightly tapas selections along and full menu. Bounty on Broad is a perfect choice for date night or a group dinner, with its farm-to-table menu of seafood, meats, and creatively prepared vegetables all portioned for sharing. You'd never notice it, but Bounty's entire establishment is gluten-free except for a few beers.
 
The Cove is not only a nautical-themed bar and restaurant, it's an institution. Have a specialty cocktail or fresh oysters in this 21-and-over spot. Live music is on tap most evenings, or you can head out back to relax on the patio. The Liquor Store is a modern, upscale diner serving Latin-inspired dishes, including all-day breakfast and a craft cocktail menu in a snazzy space in a refurbished liquor store.
THINGS TO DO 
The heart of the Broad Avenue Arts District beats in a tight, five-block stretch, but just a little farther east is one of the coolest spots in town, Rec Room. Here you can enjoy an adult beverage while you geek out on old-school arcade games, rent a "living room" to play video games with your friends or catch a Grizz game on the projector screens. And if you have an ax to grind, channel your inner lumberjack next door at Civil Axe — great for friend groups or a unique date. Just down the street, skateboarders of all levels can get air (and get caffeinated) at Society Memphis Skatepark and Coffee.
Collage Dance Collective is a professional ballet company that calls Broad Avenue home. Its dancers perform throughout the year at different venues, but you can visit the studio for classical ballet or Vinyasa yoga classes. 
Broad is also a haven for cyclists, thanks to the aforementioned bike shop and the Hamp Line bike lane, which provides a protected path to pedal the street or connect to Overton Park just to the west. If you bike the street, consider linking up with the Shelby Farms Greenline nearby. The western terminus of the seven-mile paved urban path that connects Midtown to Shelby Farms Park is less than a mile from Broad Avenue along Tillman Street.
Broad Avenue hosts a monthly night of open houses and later hours on the first Friday of each month, as well as a Spring and a Fall Art Walk each year, in addition to other events. Wiseacre Brewing and Rec Room both host parties, trivia and game nights, and other special events several times a week. 
If You Go:
Broad Avenue is situated between Sam Cooper Boulevard and Summer Avenue, just beyond East Parkway and Overton Park. There's plenty of free street parking on Broad and the adjacent side streets. Business hours vary but note that many of the retailers are closed on Mondays.