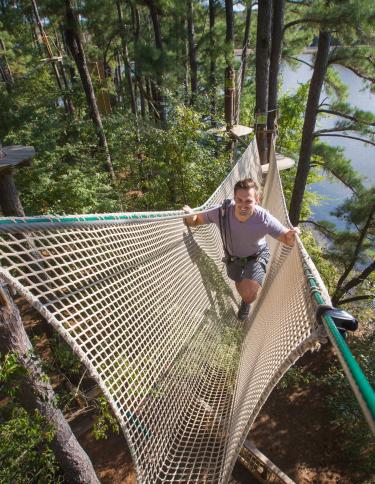 Shelby Farms Park is just 20 minutes from Downtown Memphis, yet it's a 4,500-acre playground where you can choose almost any adventure. Take a break from Beale Street and find your thrills in one of the country's largest urban parks.
Spanning 4,500 acres, Shelby Farms Park is one of the largest urban parks in the country. At five times the size of New York City's Central Park, it's a massive green space located in the eastern part of the city just outside the interstate loop. Over the years, Shelby Farms Park has become a popular destination for locals and tourists looking to spend some outside time challenging themselves—or just counting the clouds.
It'll take quite a few clicks to make it through one of the biggest urban parks in the United States, but the views you'll find are amazing. Explore the Chickasaw Trail, the Greenline and other paved trails. When you're finished, dust off your bike and make plans to explore them firsthand.  
Here are a few of the things you can do at Shelby Farms Park:
BIKE, WALK OR BOTH
Sounds simple, but taking a long walk, hike or bike ride may be the best thing you can do at Shelby Farms Park. (The park offers bike rentals for visitors traveling without their own wheels.) The trails are numerous, and long enough, to make you feel like you've truly escaped modern life. Trails to keep in mind:
The Wolf River Trails wind through the Lucius Burch Jr. State Natural Area alongside the Wolf River. It's a scenic ecosystem you should take a peek at.

The Tour de Wolf trails are nicely shaded with some fun elevation change, so you'll share them with dog-walkers, hikers, mountain bikers and runners.

For cyclists, the Shelby Farms Greenline offers 10-plus miles of uninterrupted pavement, connecting users from the park all the way to Midtown Memphis.

The Chickasaw Trail's smooth 2.75 miles provide a nice option for families biking with or strolling small children.
GO APE TREETOP ADVENTURE
One example of what makes Shelby Farms Park more than your average city park is the Go Ape Treetop Adventure. An outdoor ropes course, Go Ape is fun for families and friends, but do check age requirements before you go. The course begins with rope-climbing challenges in the treetops of a shady pine forest, then rewards participants with zip lines across the park's Pine Lake.
GET OUT ON THE WATER
Shelby Farms Park features several bodies of water, all sized just right for exploring under your own power. Visitors can rent kayaks, canoes and stand-up paddleboards from the boathouse at Hyde Lake, or launch their own. At Pine Lake, grab a friend and a pedal boat.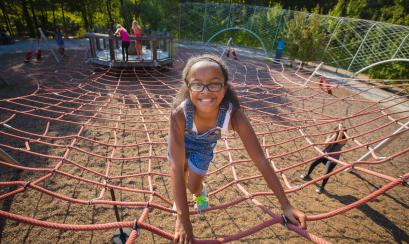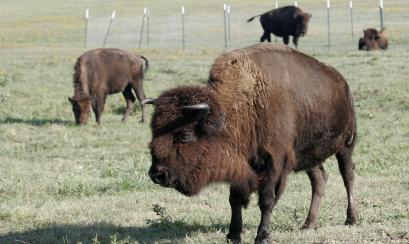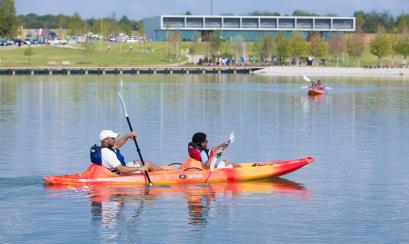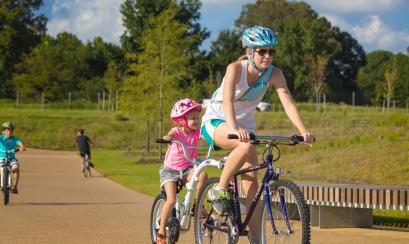 BUFFALO
Shelby Farms Park is really big. How big? So big that it has a resident herd of buffalo. In 1989, the superintendent for the park brought six buffalo from a safari attraction outside of Jackson, Tennessee. Ever since, the Shelby Farms Park herd has been a bit of tourist attraction. After entering the park from Walnut Grove Road, eye for them across from Hyde Lake.
WOODLAND DISCOVERY PLAYGROUND
The folks who run Shelby Farms Park knew that when they set out to create a playground, they had an opportunity to do something different. The resulting Woodland Discovery Playground is as much an art installation as it is a kids fun zone. The playground, certified by the Sustainable Sites Initiative, offers kids a creative experience including six play "nests," innovative play structures and open fields.
AND SO. MUCH.MORE.
As you can see, Shelby Farms Park is packed with fun things to do, and we've only scratched the surface. Explore the acreage and you'll discover an off-leash dog park, a dirt bike track, a stable that offers guided horseback rides, a splash park and regular events. In summer, for example, you can pick your own strawberries or photograph a field of sunflowers. And with the addition of the lakeside Coastal Fish Company restaurant, you can easily make a day of it.  (Reservations are encouraged at this upscale spot for craft cocktails, inspired entrees and lake views from the sprawling covered deck.)
Shelby Farms Park and Greenline are open daily from sunrise to sunset. The Woodland Discovery Playground is open from 9 a.m. to one hour before sunset.