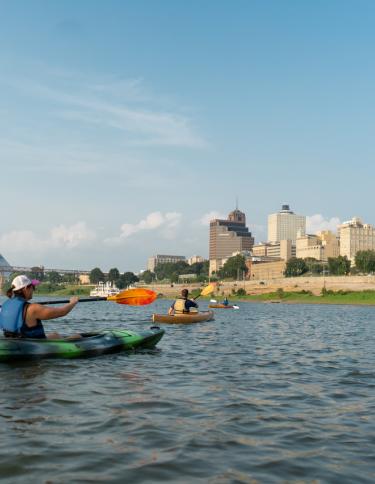 Whether you enjoy a spirited urban paddle past city bridges and skylines, a kayaking adventure through bald cypress swamps to view unique wildlife, or a family canoe outing on a quiet lake, the Memphis area offers a variety of paddling experiences. You can BYOB (bring your own boat) or rent one locally, and explore on your own, with a group or with a personal guide. 
Where to Paddle
Memphis is located on the banks of the Mississippi River, the nation's largest and most iconic river. Paddling the waters along the Arkansas-Tennessee state line offers awesome views of the Memphis cityscape, including Big River Crossing, Hernando Desoto Bridge, the Pyramid and the Downtown skyline. Paddling in the Mississippi is recommended on guided professional tours only, or for more experienced paddlers. The harbor is away from the current, and usually the wind, and is more accommodating. 
Take a tour or rent a boat on-site:
Kayak Memphis
offers kayak and paddleboard rentals from the harbor on the riverfront in Downtown Memphis. They also offer guided Mississippi River tours for more experienced paddlers.  
Mississippi River Expeditions
 offers unique, guided river tours, including 17-mile day trips from Shelby Forest State Park to Downtown Memphis and overnight and multi-day river adventures. 
The Wolf River, which meets the Mississippi in Memphis, includes a 90-mile stretch of wetlands and forest that runs from north Mississippi through Fayette and Shelby Counties and offers paddling opportunities for all skill levels. The Wolf River offers a home for diverse wildlife and foliage, recharges our aquifer to provide clean, delicious drinking water, and offers healthy outdoor recreational and educational opportunities for locals and visitors. While the Wolf River has no white waters, it does have obstacles and currents like any river. The section between Germantown Parkway and Walnut Grove has fewer obstacles and is the best section for beginners. 
The Upper Wolf River includes the hauntingly beautiful Ghost River stretch, marked by hardwood forests, bald cypress-tupelo swamps and open marshes -- habitats with unique opportunities for viewing birds and other wildlife. Its pristine wilderness offers paddlers a reprieve from city life without having to travel far. A guide is strongly recommended for anyone new to the Ghost River stretch. 
Take a tour or rent a boat on-site:
Ghost River Rentals, located about an hour from Memphis near Moscow, Tennessee, rents canoes, kayaks and paddleboards and provides a shuttle service. They also offer guided tours for those interested in learning more about the Ghost River and its wildlife. 
Wolf River Conservancy also offers a variety of paddling opportunities. Check out their activity calendar for guided trips and family-friendly paddling adventures. 
Shelby Farms Park, one of the nation's largest urban parks (it's five times the size of New York City's Central Park) is a recreational oasis in the heart of the Memphis metro area. A favorite recreation spot for locals, it offers everything from hiking, biking and horse trails to dog parks and children's playgrounds. The park is home to more than 20 lakes and offers fun canoeing and kayaking opportunities for paddlers of all skill levels, who are welcome to rent or bring their own watercraft.  Although Hyde Lake is a perfect practice spot for newer paddlers, it's a great place for anyone who wants to get away from it all by enjoying the serenity of the lake while still being in the middle of the action, since Hyde Lake is surrounded by walking and biking trails and some of the best people-watching in town. 
Take a tour or rent a boat on-site:
Shelby Farms Park visitors can launch their own boats or rent kayaks, canoes and stand-up paddleboards from the boathouse at Hyde Lake during the spring and summer months. For paddle boat rentals, stop by the Pine Lake Outpost. 
For a more chill paddling experience, check out peaceful Poplar Tree Lake at Meeman-Shelby Forest State Park. Tucked away in the forest near Millington, about 25 minutes from Downtown Memphis, the park offers a retreat from the hustle and bustle of city life. Locally referred to simply as Shelby Forest, this West Tennessee nature escape is home to numerous tree species such as large oaks, American beech, hickory and sweet gum. Wildlife includes deer, turkey, otter, beaver, foxes and bobcats and more than 200 species of birds, including the American Bald Eagle. Experienced paddlers with their own boats or outside rentals can canoe or kayak the Mississippi, launching from the north end of Shelby Forest and stopping at the sandbars when the water is low to take in some awesome views before landing in Downtown Memphis. 
Take a tour or rent a boat on-site:
Meeman-Shelby Forest State Park
rents canoes, kayaks, tandem kayaks and paddle boards, starting at $8 an hour, for use in the park's Poplar Tree Lake. You can bring your own canoe and kayak for a small launch fee. The park also offers ranger-led canoe tours. Check out their calendar for dates and times.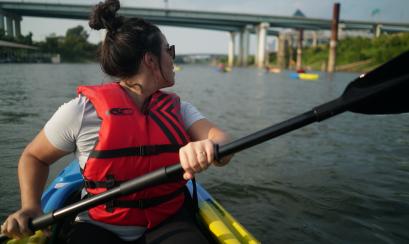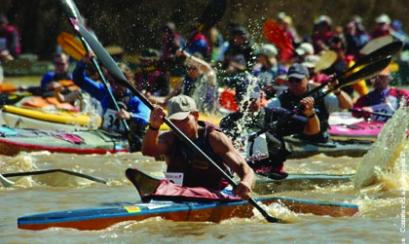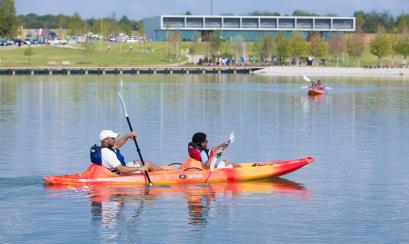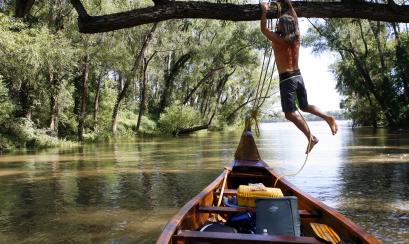 Where to Buy Gear 
The Southeast's Best Canoe & Kayak Race