Stunning skyline views, rippling rivers and the sound of hardwood forests blowing in the breeze all await hikers who take the time to find the natural side of Memphis. Though best known for its music and food scene, Memphis is set beneath a canopy of trees that still holds secret places to escape into the wild. From an old growth forest to hidden beaches along the Wolf River, these are the top places to hike in Memphis.
Tour de Wolf Trail
5.6 mi - Moderate
Rolling hills and grassy meadows highlight this beloved stretch of single track frequented by Memphis mountain bikers. The Tour de Wolf at Shelby Farms Park is open to all, and it's common to see trail runners as well as hikers and dogs on this entertaining loop trail. The trail is less than 30 minutes east of Downtown Memphis. Keep an eye out for one of the city's favorite dog parks, zip-liners flying above the treetops and the remnants of what appears to be an old homestead along the way.
Stanky Creek
9.0 mi - Moderate
Heads up when you hike at Nesbit Park. Also known as Stanky Creek, the trails in this suburban forest, about 25 minutes northeast of downtown, are well-maintained but are the area's top spot for serious mountain bikers. The trails here wind through dense woodlands and often feature wooden platforms, bridges and creek crossing (that don't stank). Make a pitstop at Stanky Creek's BMX park to watch bikers soar over ramps and jumps.
Big River Crossing
2.9 mi - Easy
The best views of Memphis, bar none. Downtown's Big River Crossing begins atop at the city's river bluffs and takes visitors across the historic Harahan Bridge on the longest pedestrian trail over the Mississippi River. The trail, which carries visitors into Arkansas and back, is best at sunrise or sunset when the golden rays of the sun dance over the rippling river below. 
Wolf River Trails 
12.5 mi - Moderate
Not to be confused with the Tour de Wolf, a series of three interlinking trails weave through hardwood bottomlands on the south side of Shelby Farms Park, about 25 minutes east of Downtown Memphis. Individually labeled the blue, yellow and white trails, they take hikers, mountain bikers and the occasional equestrian through an entrancing labyrinth of oaks, birches and maple trees that provide spectacular fall foliage in October and November. 
Stay savvy for views of the Wolf River coursing lazily below the yellow trail and a mysterious area called bedpan hill (obviously named when you find it) on the blue.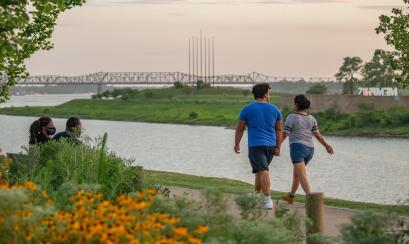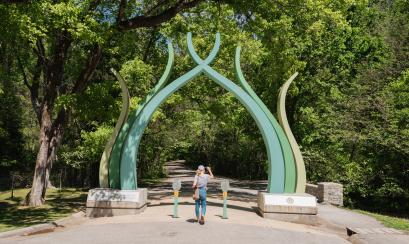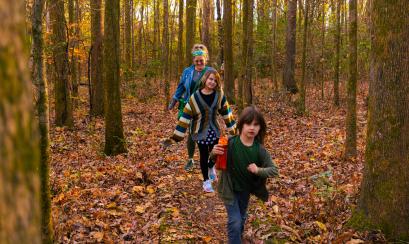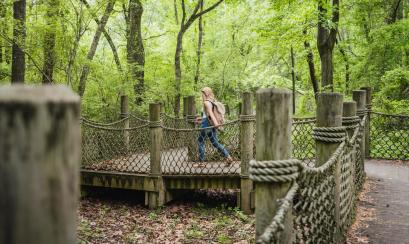 Lucius Birch Natural Area
5.6 mi - Easy
Technically an extension of the Wolf River Trails, the Lucius Birch Natural Area connects via a spectacular bridge over the Wolf River just off of the yellow trail. However, this paved section of the park offers a completely different experience.  Hikers can still see wonderful fall foliage on the route; however, this asphalt path spends most of its time meandering near Wolf River Boulevard with a few detours to idle ponds and views of the river, less than 30 minutes east of downtown.
Overton Park
2.1 mi - Easy
Stride beneath the giant trees of Overton Park, where one of Tennessee's last stands of old growth forest provides a quiet, shaded refuge from the summer heat. Just 15 minutes east of downtown, hike the Old Forest Loop to soak in the sights and sounds of a forest that features more than 330 varieties of plants and 166 species of birds, along with a notable population of copperhead snakes. Along the way, visitors can spot ruins of gardens and monuments dating back to earlier periods of Memphis that have been reclaimed by father time. 
T.O. Fuller State Park
 2.4 mi - Moderate
Expect to find plenty of solitude on the Chucalissa Archaeological Discovery Trail. Located within T.O. Fuller State Park, just 15 minutes south of Downtown Memphis, this seldom used loop trail begins in the park's campground and takes hikers up and down a series of forested hills before entering Chucalissa village itself. This is a great hike for history buffs interested in the area's indigenous past. It flourishes during the Spring when wildflowers and blooming trees are at their peak. 
For an easier path, try the paved Wildlife and Pond Trails, which run about the same distance and skip the archeological park, but are easier to follow.
John F. Kennedy Park
2.9 mi - Easy
Raleigh's Kennedy Park Nature Trail remains something of a hidden gem. However, this unpaved out-and-back featuring boardwalks, creek crossings and views of the northern portion of the Wolf River is coming out of the shadows thanks to emerging sections of the Wolf River Greenway that cross its path. Less than 20 minutes north of downtown, this is a great trail for hikers seeking solitude while maintaining some of the same bottomland views of its more popular cousins.