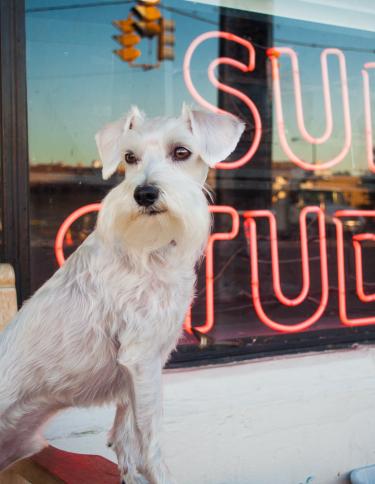 From unique restaurants to iconic shops and scenic parks, Memphis is a fun vacation spot for the entire family — including your pets! Why leave your precious pooch at home? Discover all the city has to offer with Fido by your side. Tap your toes to live music, dine on mouthwatering cuisine and shop until you drop while exploring Memphis and all of its dog-friendly amenities.
Unless otherwise specified, such as with off-leash dog parks, make sure your pup is on a leash.
 
Dog-Friendly Shops and Retail Stops
Shopping is a must when visiting Memphis, and you're more than welcome to take leashed pups in many of the stores throughout the city. The Memphis Bass Pro Shops at the Pyramid allows well-socialized canines and is known for its pup-tastic "Dog Day" events. Head to the hip Cooper-Young neighborhood and browse the shelves at Burke's Books. This independent bookstore is owned by novelist Corey Mesler and welcomes all well-behaved four-legged friends. You may also find a rare book or two. Need puppy supplies? Dogs are considered VIP customers at Hollywood Feed. With several Memphis locations, the store sells a wide variety of dog essentials, including fun toys and delicious, whimsical baked goods (all puppy approved).
Dog Parks
Memphis has several pet-friendly green spaces. From big to small, urban to suburban, you'll find the perfect place to let your pal roam off-leash. Downtown, all dogs are welcome to play off-leash at Mud Island Dog Park on Island Drive inside Mississippi River Greenbelt Park. Open daily from sunrise to sunset, this park provides 1.3 acres of dedicated space to play and separate areas for small and large dogs. The Barking Lot is a small, fenced-in dog park also in Downtown Memphis (at Main Street and Jefferson Avenue). It's an excellent spot for a pup potty break — cleanup bags included. The park even has a dedicated space for local food trucks so you can grab a bite to eat before your next round of Memphis adventures. Two of Memphis' landmark green spaces, Overton Park and Shelby Farms Park, offer designated areas: "Overton Bark" provides adjacent fenced areas for large and small dogs while The Outback at Shelby Farms provides a vast off-leash area for dogs to run and swim. At the Bartlett Dog Park, adjacent to the Bartlett Animal Shelter, your doggo can run and play off-leash in a large fenced-in area. Featuring an expansive lawn and forested area for shade, the park offers plenty of space to relax while the dogs blow off steam.
Chow Down at Pet-Friendly Restaurants
No need to leave Fido at home while you indulge in delicious Memphis eats. There are plenty of dog-friendly restaurants in the city. On South Main Street, Aldo's Pizza features a pup-friendly patio where you can enjoy a slice of pizza and some great people-watching with your canine companion. Central BBQ Midtown serves tangy fare. Dine on meaty wings, smoked sausage and their famous barbecue nachos. Dogs can savor the aroma (and maybe even a scrap or two) at one of the outdoor tables. Grab a leash and head over to Babalu Tacos & Tapas for fruity cocktails and mouthwatering guacamole prepared tableside. The dog-friendly patio offers city views while you dine with your furry friend. Celtic Crossing is a Midtown Irish pub featuring traditional favorites such as shepherd's pie and bangers and mash served in a pet-friendly atmosphere. Sip a pint and share a bite with your four-legged friend or watch one of the many sporting events playing on the big-screen TVs out on the patio.
Sip Spirits at Pet-Friendly Breweries
Experience a taste of Memphis' unique craft beer scene with your pup in tow. Thanks to most of the local breweries being dog-friendly, you can savor handcrafted brews with your pooch by your side. Stop by Hammer & Ale in the Cooper-Young District for craft beers and shareable food plates designed to complement their flavorful brews. Dogs are welcome in the outdoor seating area. Known for being super dog-friendly, the taproom at High Cotton Brewing Co. is a must-visit for beer aficionados. Offering a rotating queue of seven to 10 craft brews, the taproom also has one of the most adorable Instagram accounts in town: @drunkdogsathighcotton. Dogs are permitted at the Memphis Made Brewing Company off York Avenue. Snap a photo with your canine pal at the iconic I Love Memphis mural and enjoy tasty Memphis-made beer.
Pet-Friendly Coffee Shops
Indulge in the city's growing coffee scene and feel free to bring your dog along to these pet-friendly java stops. First up is Café Eclectic in Midtown. Serving up artisan coffee, tasty baked goods and delicious yet eclectic breakfast, lunch and dinner items, this eatery welcomes dogs on the patio and provides fresh bowls of water upon request. Head over to Bluff City Coffee in South Main Arts District for high-quality Italian espresso beverages, fresh breakfast all day, locally produced pastries and a dog-friendly outdoor area. Just remember, it's BYOB (Bring Your Own Bowl). 
Doggie Daycares
Looking to spend time with just your human family? No problem! Send your dog on a vacation-within-a-vacation at fun retreats and doggie daycares in Memphis. Camp Bow Wow offers doggy daycare and boarding at two Memphis-area locations. The camp is a fun, safe and upscale place for dogs to play, romp and receive lots of love and attention. You can even watch your pup play via live webcams. The Doghouse is popular with Memphis residents and offers supervised playtime, naptime, and even field trips and art and music classes. Other amenities include boarding, grooming, neighborhood walks and canine park adventures to places like Shelby Farms, Overton Bark and Crosstown Concourse. Pamper your pooch at the Riverdog Inn Daycare, Boarding & Spa. Divided into three fenced play yards to suit every size and temperament, boarding comes with luxury suites featuring raised beds, glass doors and 14-foot ceilings within the 12,000-square-foot complex. Talk about puppy chic!
Doggo Must-Dos
Beyond the parks, shops, restaurants and breweries, Memphis can be a dog-friendly wonderland for visitors. Visit the Crosstown Concourse, a vertical urban village featuring shopping, dining, arts and music. Designed as a place of community, well-behaved (and leashed) dogs are welcome. Don't miss out on a trip to Loflin Yard. A bar, restaurant and event space in the heart of Downtown, you can grab a bottle from the wine rack, order food from the patio window or relax in a nice spot outside with your canine pal. Overton Park Shell is the pawfect place to hang out with your pups. Hosting over 50 free outdoor concerts a year, you can enjoy live music in Overton Park with your fur baby in a designated area. Leashed dogs are welcome at Railgarten in the heart of Midtown. Set on 1.5 acres, this popular Memphis destination features a tiki bar, ping-pong games, a diner, ice cream parlor and a huge outdoor space with hammocks, fire pits, lawn chairs, games such as cornhole and a live music stage.