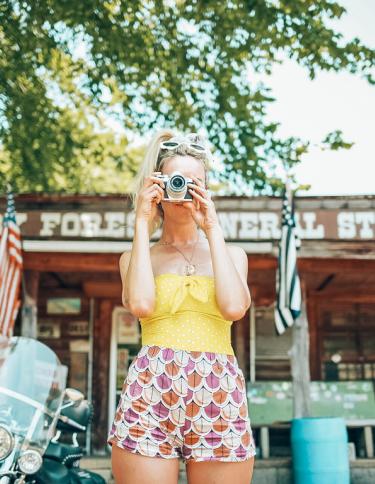 Memphis may be famous for music and barbecue, but the Bluff City is no slouch when it comes to the great outdoors. With two state parks located just minutes from downtown Memphis, access to recreation and adventure is just minutes away for those looking to escape from city life and enjoy the lush, natural landscape of West Tennessee.
Meeman-Shelby Forest State Park
Venture out to recharge in the shady, bottomland trails at Meeman-Shelby Forest State Park, where famous eats and adventure await. With 13,000 acres of hardwood forest to explore just 13 miles north of Memphis, the city's largest state park is a natural playground for nature lovers. 
Whether you're paddling past cypress knees, hiking beneath the branches of tupelo and oaks or spending the night under the stars, a visit to Meeman-Shelby Forest State Park is one of the best ways to make memories in West Tennessee's wild, natural landscape.
What to Do at Meeman-Shelby Forest State Park
Go fishing at Poplar Tree Lake
Rent a kayak or Jon boat from the friendly folks at Poplar Tree Lake and head out on the water to catch bass, bream or crappie to the songs redwing blackbirds. Bass fishing is notably strong along the rock dam. Meanwhile, bream and crappie can frequently be found in the coves of the 125-acre lake. Be sure to have a Tennessee fishing license and a lake permit before casting a line.
Paddle the Water Trail
Launch your own kayak at Poplar Tree Lake for just $2 or rent a kayak starting at $10/hour to gain access to The Water Trail. The trail meanders along the lake's shoreline and into its backwaters and coves, where deer, bald eagles, kites and osprey can sometimes be spotted from the water. 
Hike through tranquil woodlands
Take an easy stroll along the 1.2-mile Woodland Trail Loop, take your dog for a walk on the 4.9-mile Pioneer Springs Trail or wander through lush, quiet woodlands along the 7.4-mile Chickasaw Bluff Trail. 
Go Birding
More than 240 species of birds reside in Meeman-Shelby Forest State Park, from night-herons to great egrets, wild turkey, bald eagles and barred owls. In fact, the National Audubon Society has designated the park an important location for native birds in Tennessee. 
Play frisbee golf
Try your hand at frisbee golf on one of the most scenic courses in the state. The park's 36-hole frisbee golf course is split into two, 18-hole sections that are perfect for beginners and advanced players alike. 
Eat at the Shelby Forest General Store 
Located at the corner of Bluff and Benjestown roads just outside of the park entrance, The Shelby Forest General Store is home to one of the best burgers in Memphis. It's a can't-miss eat for burger lovers visiting the park. 
When to Visit Meeman-Shelby Forest State Park
The best times to visit Meeman-Shelby Forest State Park are in early to mid-fall and mid to late-spring. In October and early November, the forests feature a brilliant display of gold, red and orange leaves as its copious hardwoods transition to winter. Meanwhile, warming spring temperatures often offer a dramatic display of wildflowers and pollinating insects with mild temperatures that are prime for camping. 
The park is open from 7:00 a.m. to 10:00 p.m. year round.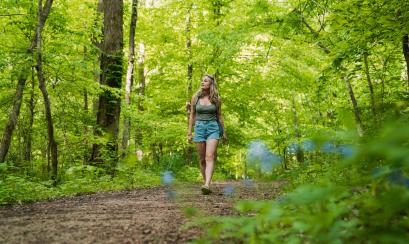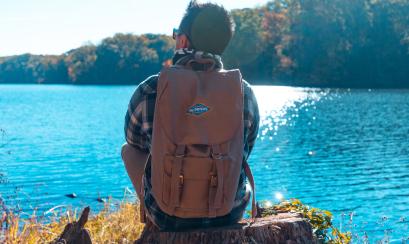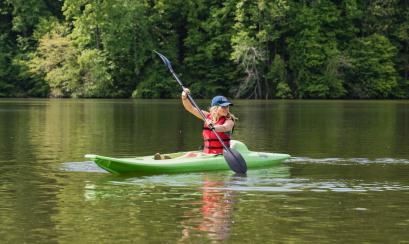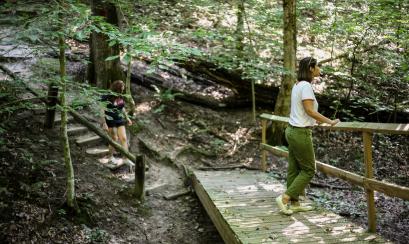 T.O. Fuller State Park
Ancient history and the outdoors collide at T.O. Fuller State Park just 12 miles south of downtown Memphis. T.O. Fuller opened in 1938 as the first state park designated for African Americans east of the Mississippi River. Today, the park is open to all as a place for group gatherings in pavilions under the shaded forest canopy. 
During the construction of this 1,100-acre park, workers unearthed the site of Chucalissa, a 1,000-year-old Mississippian culture settlement that remains one of the best preserved archaeological sites in the southeast. Today, the site is home to the C.H. Nash Museum—the bell cow of a state park that is rich with history.
What to Do At T.O. Fuller State Park
Explore an ancient town at Chucalissa 
The C.H. Nash Museum is a gateway to the remnants of Chucalissa, where visitors can stroll through a recreation of the original village that sits atop its original mounds. It's a unique experience that paints the context of current civilization in a new light.
Go camping with friends
T.O. Fuller hosts 45 campsites made for RVing. Each site features a picnic table, fire ring and grill as well as electrical and water hook-ups. Tents are also welcome on the sites, which shine best in the fall when the park's leaves begin to turn shades of amber and red. 
Walk the Discovery Trail
This accessible, 4-mile loop takes visitors through the park's meadows and wetlands with a pit-stop at Chucalissa. Check out the 2.5-mile "tires to trails" section behind the Shelby-Bluff Center for an accessible, easygoing trail made with rubber from reclaimed tires.
Go for a summer swim
From June 3 - August 7, anyone can cool off in the park's olympic-size swimming pool. Park entry is free but pool access is $6 per person.
Bring the group together for a game
T.O. Fuller hosts baseball and softball fields, basketball courts and tennis courts with plenty of room to stretch your legs. Facilities are free to use. 
When to Go to T.O. Fuller State Park
Visit T.O. Fuller in the summer for a chance to enjoy the pool. As with most outdoor spaces in Memphis, the best time to visit is from early to mid-fall and mid to late-spring, when the south's humid summer air cools down and the deciduous forests begin to glow with autumn foliage.
Nearby TENNESSEE, Mississippi & Arkansas Parks
Memphis sits at the intersection of three states. Nearby Mississippi and Arkansas, and the West Tennessee region, also offer opportunities to explore the natural world.
Explore the West Tennessee region of Tennessee State Parks with visits to:
Chickasaw State Park 90 minutes east in Henderson Arrange a horseback ride from the stable, enjoy the swim beach and stay overnight in cabins or the campground. 
Big Hill Pond State Park 90 minutes east in Pocahontas Climb the 70-foot fire tower and enjoy birdwatching in this forest marked by rivers, creeks and swamps. 
Fort Pillow State Historical Park 1 hour and 20 minutes north in Henning Twenty miles of hiking trails, watercraft rentals and Civil War-era history await you here.
Pinson Mounds Archaeological Park 1 hour and 50 minutes northeast in Pinson A museum helps tell the story of this park's 15 Native American mounds and the cultures that built them.
Reelfoot Lake State Park 2 hours north in Tiptonville In winter, this flooded cypress swamp, created by an 1812 earthquake, hosts bald eagle-viewing tours.
Explore all Arkansas State Parks and use their website's Parks Finder to discover more parks near Memphis. Highlights: 
Village Creek State Park 1 hour west in Wynne Visit the nature center, mountain bike or hike along a remaining portion of the Trail of Tears.
Mississippi River State Park 1 hour and 10 minutes southwest in Marianna An outdoor lover's dream where the Mississippi River, St. Francis National Forest, Great River Road and Crowley's Ridge Parkway meet. Hike, trail-run or hit the water here.
Meanwhile, Mississippi's Wall Doxey State Park, located an hour southeast of Memphis, is a popular location for disc golf and swimming. Explore all Mississippi State Parks and use the "Find a State Park" function to locate more parks near Memphis.