The Mississippi River has been delivering people to Memphis for a long time. Like, a really long time. So when it comes to planning how you'll experience our mightiest natural feature, you'll find plenty of advice. So much, in fact, you may need to filter your choices. Just think of Memphis' riverfront as a choose-your-own adventure novel and jump to what you like. 
EXPERIENCE THE NEW TOM LEE PARK
Memphis' iconic Tom Lee Park reveals its much-anticipated transformation in September 2023. If you've enjoyed the park before, you'll remember wide-open river views, seemingly endless greenspace and a memorial to local hero Tom Lee, who saved dozens of passengers from a Mississippi River steamship disaster a century ago. On your next visit, check out the fully transformed space, adding river "lounges," a themed playground and onsite food-and-beverage options to the park. Unchanged: those amazing river views. 
walk ACROSS THE MISSISSIPPI RIVER'S LONGEST PEDESTRIAN BRIDGE
The Harahan Bridge was once a busy corridor for cars and trains crossing the Mississippi River from downtown Memphis to West Memphis, Arkansas. On its 100th birthday, the bridge got a new life as 
Big River Crossing
, a rails-to-trails project that unfurled a path for pedestrians and cyclists. At one mile in length, this is the longest pedestrian bridge across the Mississippi. The views it affords are one-of-a-kind too.
Bonus ideas: 
At night, Big River Crossing and the adjacent Hernando DeSoto Bridge put on a light display that's full of color. Learn more about Mighty Lights here.
Where Big River Crossing delivers you into Arkansas, explore Ducks Unlimited Park for an additional seven miles of paved trail, blooming sunflowers (in season) and views from the "opposite" side of the river.   
Explore MUD ISLAND River Park
Take a quick stroll across the walking bridge to Mud Island River Park. While the park is undergoing some construction, you can still snap a selfie with the MEMPHIS sign, take in panoramic views of the Mighty Mississippi and downtown Memphis, and soon, grab a bite at a new dining concept by the group behind
Mahogany Memphis
. 
GET A History lesson with a view ON A MISSISSIPPI RIVERBOAT TOUR
Book passage with 
Memphis Riverboats
 out of Beale Street Landing for a 90-minute sightseeing cruise (available most months). Over the course of your eight-mile excursion, your captain will share river lore and personal stories of running this "Father of Waters." Find additional riverboat excursions out of downtown Memphis 
here
.

JOIN IN FOR RIVERFRONT EVENTS
Memphis is a whiz at imagining the potential of underused spaces. 
Memphis River Parks Partnership
 is reimagining and reinventing our river parks with free events such as Firepit Fridays in the winter, free yoga in the warmer months and even disco rolling skating. Check out the full list of 
events
 or let what you find there surprise you—could be live music, yoga, beer, games, roller-skating, a dance party or just people chilling with their dogs, families and friends.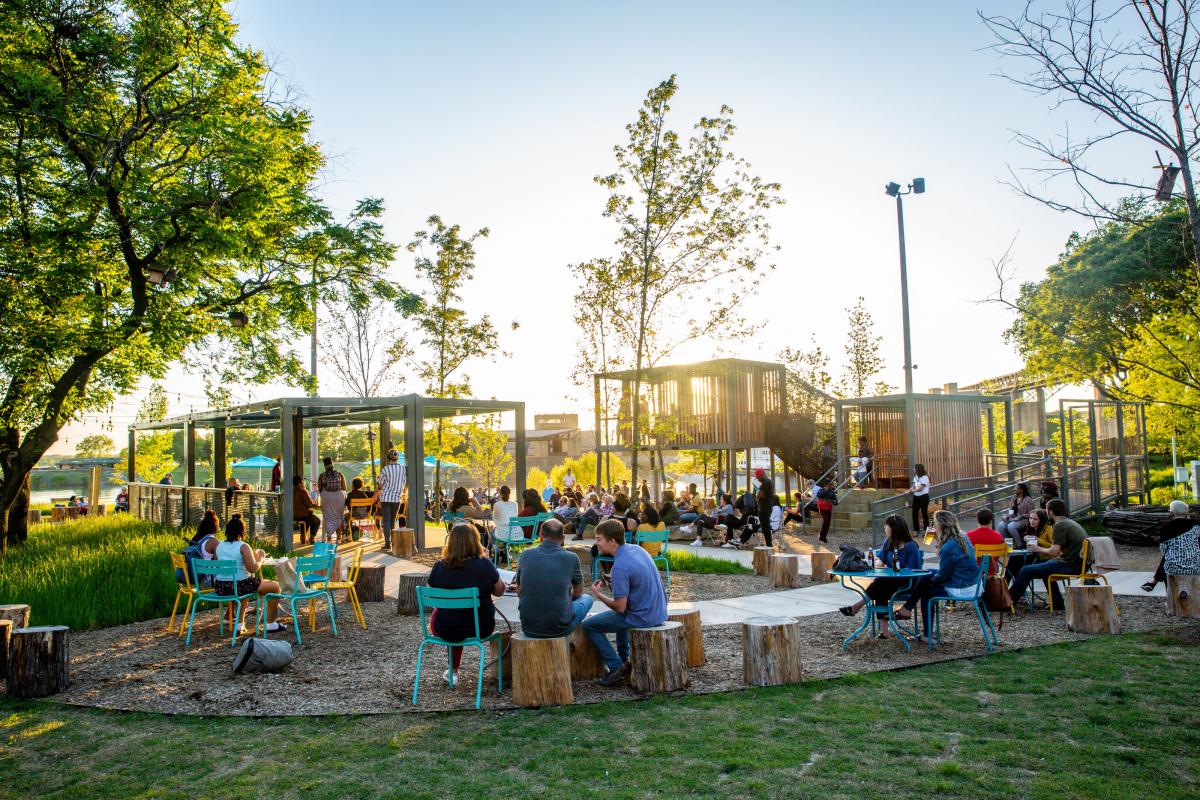 Kayak or canoe THE DOWNTOWN MEMPHIS RIVERFRONT
Want to paddle out just far enough to Instagram a pic of the Memphis skyline? 
Kayak Memphis
 will launch you into the Wolf River Harbor for a self-guided or group guided tour. Don't miss experiencing the harbor at night with stand up paddleboards and a DJ afloat in a pontoon boat during summer Full Moon Kayaking nights.   
BIKE THE RIVERFRONT
Explore Bike Share has deployed 600 bikes across dozens of Memphis locations. Translation: No matter where you are along our riverfront, you aren't far from a bike. Big River Crossing is just one of 
Explore Bike Share
's riverfront stations. For more biking possibilities, follow the 
wide sidewalks from quiet Martyrs Park on the south end of Downtown Memphis to Greenbelt Park and the new Wolf River Greenway on downtown's north end. And don't miss these additional ideas for bike routes around Memphis.