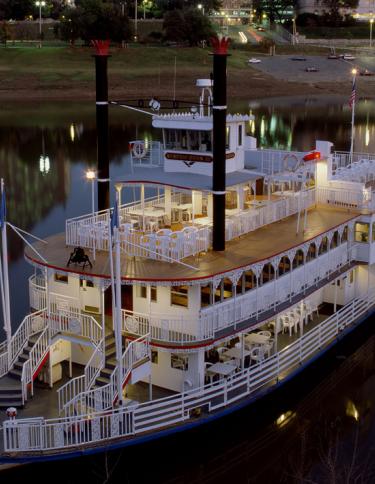 Though it's been more than 200 years since the founding of Memphis and the golden age of steamboats on the Mississippi River, there are ways to channel the yesteryear experience today, from 90-minute Memphis riverboat cruises to multi-day, overnight rivership cruises that explore both the upper and lower sections of the river, featuring Memphis as a port. In this article, we'll overview the variety of experiences you can choose from to recapture the history and grandeur of the Mississippi River.
Memphis' identity is reflected in the Mississippi River. If you picture that identity through the lens of history, you'll conjure images of paddlewheel steamboats rolling along the river, carrying passengers entertained by on-board musicians and views of the Mighty Mississippi itself, plus cities like Memphis growing up alongside it.
Today, even with just a couple of hours, you can get the riverboat experience. Memphis Riverboats operates sightseeing, dinner and themed cruises daily March through October; on Saturdays and Sundays in November; and on select dates December through February, including Christmas, New Year's Eve and Valentine's Day Dinner & Music Cruises.
Sightseeing Cruises on the Mississippi River from Memphis
The classic choice is the 90-minute Memphis Sightseeing Cruise, which presents a Memphis city tour and riverboat cruise in one. Over the course of your 7- to 10-mile roundtrip journey, you'll enjoy views of downtown Memphis and the riverfront, Presidents Island and the Wolf River Tributary, a mix of urban and natural scenic views. Your captain narrates the trip, sharing points of interest and historic tidbits along the way, from Mark Twain's 19th-century connections to Memphis to Tom Lee's heroic rescue on the river in 1925. And of course, the boat itself is full of charm, from the decorative gingerbread detailing on deck to the big red paddlewheel in back. Snacks, drinks and alcohol, as well as souvenir photos, are available for purchase on board, and the tours are family-friendly. Most days, the tours leave at 2:30 p.m., but in high season, a second tour may be added at 5:30 p.m. Check the full Memphis riverboat cruise schedule to book.
Dinner, Brunch & Holiday Cruises on the Mississippi River from Memphis
For an upgraded experience – including a meal, entertainment and extended time on the river – opt for one of Memphis Riverboats' dinner, brunch or themed cruises. The signature Memphis riverboat dinner cruise features Memphis-style pulled pork and all the fixings, plus a full cash bar and live music. It leaves at 7:30 p.m. and stays out for about 2 hours. But check the full reservations calendar for a variety of dinner, themed and holiday cruises that combine food, drink and entertainment with the riverboat experience: From Sunday Jazz Brunch, Easter Lunch and a Mother's Day cruise to a Fourth of July Fireworks celebration, Midnight Booze Cruise and "Riverboat Queens," which hosts a full drag show on board, you'll find plenty of riverboat tours to choose from whether you're looking to cruise with family or friends.
FAQs: Memphis Riverboats Cruises
Where do I board? All cruises operated by Memphis Riverboats depart from 45 S. Riverside Dr., the historic Cobblestone Landing in downtown Memphis.
How do I book? While walk-up tickets are available as space allows (just look for the ticket sales team as you walk down the cobblestones toward the boat), the company recommends booking in advance for weekend sightseeing tours, and always booking in advance for any dinner cruise. Memphis Riverboats' online booking system is easy to use.
What should I wear? Dress casually for sightseeing cruises. On dinner, holiday and themed cruises, anything goes – passengers dress in everything from casual attire to formal wear to get in the spirit.
What's the cost? For the 2023 season, sightseeing tour ticket prices range from $5 (for passengers 0-2 years old) to $25 (for adults). Seniors, military, youth (13-17) and children (3-12) ride at a discount ranging from $15-$21. Dinner cruise tickets prices range from $15 (for passengers 0-2 years old) to $50 (for adults), with children (3-12) and youth (13-17) ranging from $35-$47.
What are the boats like? Currently, your tour is most likely to take place aboard the Island Queen, Memphis Riverboats' flagship vessel. The 100-foot-long vessel features enclosed, covered and outdoor decks – three decks in total – with ample seating and, on themed cruises, room for dining and dancing, too. The popular Memphis Queen II and other vessels are currently undergoing renovation.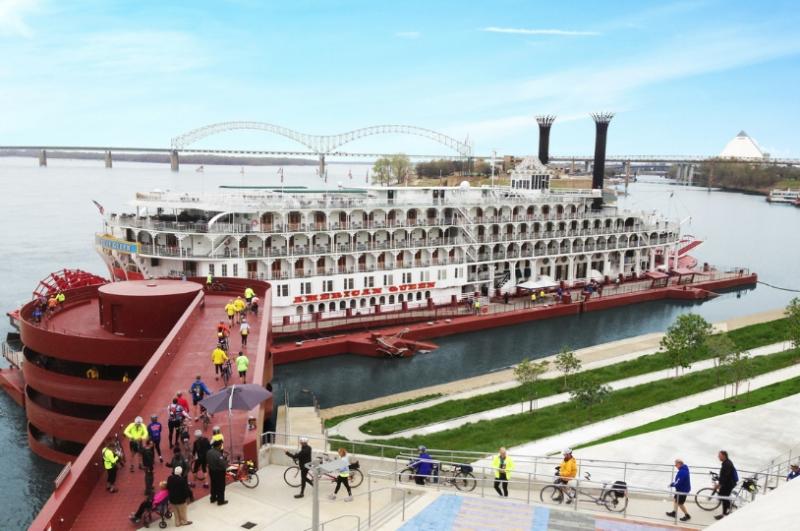 Multi-Day, Overnight River Cruises ON THE MISSISSIPPI featuring Memphis
In 2012, two companies brought riverboat cruises on the Mississippi River back to Memphis: American Queen Steamboat Company and American Cruise Lines. In the summer of 2023, Viking Cruises added a third option for travelers.
The multi-day, overnight Mississippi River cruises that these companies offer range in length from 8 to 22 days, as some explore the Lower Mississippi River around Memphis, Louisiana and Mississippi only, while the longer cruises journey into the Upper Mississippi River and Minnesota, Iowa, Illinois and Missouri.
In Memphis, all multi-day, overnight cruises dock at Beale Street Landing. Oh, and one tip: Most Mississippi River cruise lines will help you arrange pre- or post-cruise packages that include hotel accommodations and activities should you choose to extend your stay in Memphis. On board, here's an overview of what each offers:
Viking Cruises in MEMPHIS
For its inaugural year, Viking is offering three cruises that feature Memphis: Heart of the Delta, America's Great River and Mississippi Holiday Season. The cruises range in length from 8 to 15 days and start in price from $3,999 to $9,999 depending on the duration. Heart of the Delta and Mississippi Holiday Season focus on the charm of Memphis, New Orleans and the blues-, jazz-, Cajun- and Creole-influenced cities in between, while America's Great River follows the river from St. Paul, Minnesota, through Memphis to New Orleans.
All options include guided tours in port cities. You can easily find detail and book cruises on the Viking website. Others still have availability, and you can currently book all the way into 2024 on the Viking website.
So…what's it like on board a Viking cruise? Though based on Viking's award-winning Longship® and ocean ship design, and featuring the company's signature Scandinavian aesthetic, the Viking Mississippi was purpose-built for Mississippi River cruising. And, with its build just completed in 2022, it will be the most modern river ship on the Mississippi.
Expect all-outside staterooms and suites, each featuring a private veranda or French balcony, luxury linens, heated bathroom floors and 24-hour room service. Some of the suites even feature wraparound verandas for expansive river views. Accommodating just 386 guests, you can also expect an uncrowded feel. Public spaces on the Viking Mississippi are equally as luxurious, with an al fresco dining concept, infinity plunge pool, library and prime spots for viewing Mississippi River scenery and wildlife, like the two-story Explorers' Lounge, which opens onto the ship's bow, and a 360-degree Promenade Deck. Beyond the scenery, guests on board the Viking Mississippi will enjoy entertainment that brings the river setting to life, including performances by Delta Blues musicians and guest lecturers.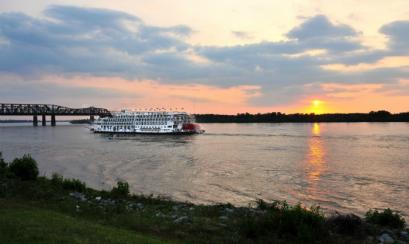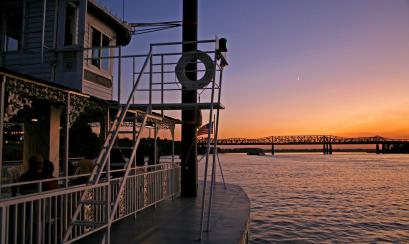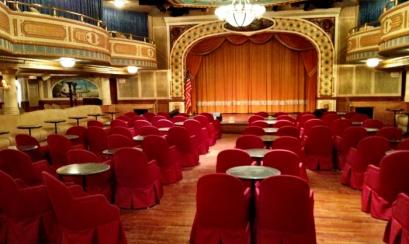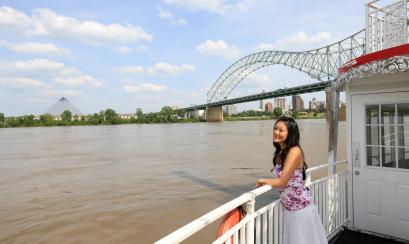 American Queen Steamboat Company cruises in memphis 
American Queen offers several multi-day cruises, starting with 9-day cruises between Memphis and St. Louis and between Memphis and New Orleans. With 16 days, you can cruise all the way from New Orleans by way of Memphis to the headwaters of the Mississippi near Minneapolis. The ship that bears the company's name, the American Queen, is the largest steamboat ever built, a paddle wheeler with a two-deck-tall grand saloon buzzing with entertainment, a rocking chair deck and a gallery named for Mark Twain. But the American Duchess, with two-story loft suites and an on-board art walk, as well as the American Countess, pairing an opulent exterior with a contemporary interior and four decks, also serve river cruise passengers.
AMERICAN CRUISE LINES CRUISES IN MEMPHIS
American Cruise Lines offers the greatest variety of Mississippi River cruises. With just 8 days, you can explore the Lower Mississippi River from Memphis to New Orleans or enjoy the Music Cities Cruise, connecting Memphis and Nashville via the Mississippi, Ohio and Cumberland Rivers. With 11 days, you can discover the Mississippi River Gateway, connecting New Orleans by way of Memphis to St. Louis. With 15 days, you can tour the Grand Heartland from New Orleans by way of Memphis to St. Paul, Minnesota. And with 22 days, on the Complete Mississippi River Cruise, you can traverse the river's full length, adding days in each port from Mississippi, Louisiana and Memphis to Missouri, Illinois, Iowa and Minnesota.
American Cruise Lines' river cruises are serviced by sleek modern riverboats including the American Jazz and the American Symphony. However, select cruises, like the 8-day Lower Mississippi River Cruise, take place on board authentic paddle wheelers like the American Heritage. A total ship redesign of the American Heritage was complete in 2022, ensuring all of its yesteryear charm is supported by the most modern amenities and state-of-the-art technology.