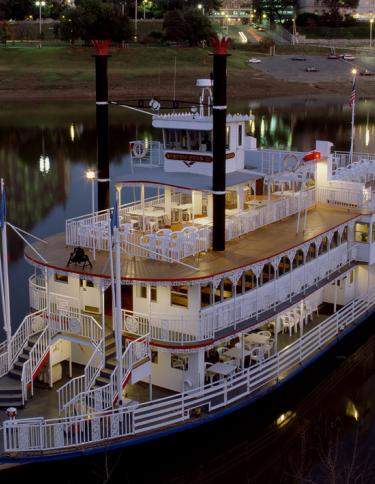 Just a short stroll down from B.B.'s and Rum Boogie's sits one of Memphis' best and most unique attractions: the Memphis riverfront. Recently upgraded with new features and modern design that help people get closer to the Mississippi than ever before, the riverfront connects visitors to the city, its history and its culture from a completely different vantage point: on the deck of an authentic, majestic Mississippi riverboat.
The calling card for Memphis Riverboats, Inc. is its unique fleet of two double-decker sternwheelers, Memphis Queen II and III, the Memphis Showboat, arguably the South's biggest party barge, an airboat, and an 11-passenger jetboat, because why not. Specializing in 90-minute sightseeing riverboat tours narrated by local river historians, special evening dinner cruises, and educational field trips for students, Memphis Riverboats, Inc. is a perfect option for families and friends looking for a quick and relaxing day cruise.
But if you're willing to commit to a longer ride and a more immersive experience, the American Queen Steamboat Company may be the right choice. Closer to a traditional luxury cruise experience than a day trip, the American Queen offers a number of different overnight adventures ranging in length from five to nine days, and taking passengers up river as far as St. Paul, Minnesota or down river to New Orleans. Theme trips include the Charms of the South, exploring the Mississippi Delta, Gateway to the Gulf, originating further north in St. Louis and a full length float of The Might Mississippi. A unique feature to the American Queen riverboat cruises is that they dock at Beale Street Landing (more on that below).
In addition, American Cruise Lines docks in Memphis approximately 15 times a year. American Cruise lines will also add pre-and post-cruise packages for people who want to get on land and spend a few days in Memphis and New Orleans.
Memphis is embracing the principles of new urbanism and reconnecting with its riverfront roots. By investing and developing in one of its most iconic resources, residents, businesses, and visitors are returning to the banks of the mighty Mississippi. And there's no greater evidence of this success than Beale Street Landing. 
Debuting in 2014, a multi-million dollar renovation and renewal project that connected Beale Street back to its historic riverfront. During the 1800s, Memphis was the center of the world, largely for two reasons: Cotton and the ability to transport it around the world via the Mississippi River. This commerce not only helped found the city, but it also exposed Memphis to merchants, businessmen, artists, musicians and immigrants, all of whom played a major role in making Memphis one of the truly most unique and diverse cultures in our country today.  
Beale Street Landing consciously taps into that history with its 21,887 square foot complex. Between Tom Lee Park and the historic cobblestone landing at the foot of Beale, Beale Street Landing offers a modern docking facility for luxury vessels, like the American Queen and American Duchess, as well as local excursion boats, a riverboat-themed gift shop, the ticket office for Memphis Riverboats, and a combination water park and play area for kids.
 
What: Sightseeing trips, dinner cruises, and student field trips

When: Daily sightseeing tours at 2:30 p.m. (see seasonal schedule for additional times). Dinner & Music cruises every Saturday at 7:30 p.m. 

How Much: $20 for adults; $17 for youth (13-17); $10 for children (3-12) for sightseeing, $45 for adults for dinner cruise. 

Why: A quick day trip getaway, Memphis history lesson or lively Memphis barbecue and blues dinner cruise. 
What: Extended week long theme cruises as far north as St. Paul and as far south as New Orleans

When: Year-round

How Much: Promotions are frequently offered that start at $1,799 per person for a 9 day cruise. Learn more.

Why: To take a trip back in time and see the south from a wholly original point of view while enjoying fantastic dining and nightly entertainment experiences along the way.