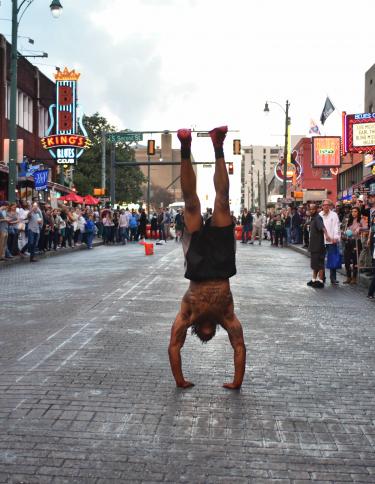 With great nightlife, delicious award-winning restaurants and vibrant live entertainment, you might have mistakenly assumed that Downtown Memphis only caters to adults. Well, throw those thoughts out the window and make your trip to Memphis a family affair. Check out these tips on eating and playing in Downtown Memphis with kids of any age in tow.
Discover Rich Memphis History 
There are plenty of activities to tame the boredom beast in your kiddos. Make sure to catch the March of the Peabody Ducks during your visit. Every day at 11 a.m., the Peabody Duckmaster marches the famous Peabody Ducks from their penthouse on the roof to the fountain in the lobby with enough pomp and circumstance to make even the most jaded soul smile. At 5 p.m., he marches them from the fountain back up to the roof to settle in for the evening. Pro tip: little ones can sit along the red carpet for the best view in the house.
Your kids might only jam to Justin Bieber and Arianna Grande, but did they know that all current pop music was influenced by the blues, rock 'n' roll and that came out of Memphis?  The Rock 'n' Soul Museum is curated by the Smithsonian Institute and tells the complete story  of Memphis music and the perfect introduction to the legendary sounds and artists that changed the world for generations.
Train fans will also get a kick out of the Memphis Railroad and Trolley Museum. Located on the Main Street and Riverfront Trolley lines in historic Central Station, the museum is full of small and large scale train models, functioning railroad signal lights and a Thomas the Train exhibit. If you're a train-loving adult or a parent along for the ride, make sure you look for the beautiful wall murals that describe different periods in Memphis train history. Admission is $3 for adults and $1 for kids ages 4-12. Note: The Trolley Museum is currently closed for renovations but will reopen soon. 
Leave with an experience your family will never forget at the National Civil Rights Museum. You and your kids will be moved by interactive exhibits that not only tell the history of the Civil Rights Museum and the legacy of Dr. Martin Luther King, but can continue the conversation of the importance of human rights and how we treat our fellow man. The museum is open every day except Tuesday. 
 
HANDS-ON ACTIVITIES FOR KIDS
Kids and families love to splash and play at Mud Island River Park. The River Park features 18 galleries, a 5-block-long model of the Mississippi River plus canoeing, kayaking, pedal boats and more. Although the River Park is free, other prices vary upon activity. Pay $10 for adults and $7 for kids ages 5-12 for the complete Mississippi River Museum, round trip monorail ride and a guided River Walk tour. Mud Island River Park is open April through October. 
Your kids can go all aboard at the Fire Museum of Memphis and climb atop a life-size fire truck, a 1967 LaFrance Pumper, to be exact. This red-hot, interactive museum, showcases over 30 exhibits and displays that illustrate the history of firefighting, from the horse-drawn buggy days to the present, as well as the importance of fire safety, the proper use of 9-1-1 and a ½ inch scale model of Memphis Firehouse No. 1.
Spend an afternoon in the 10th tallest pyramid in the world. Jaws will drop as you enter the massive Bass Pro at the Pyramid. Ride the freestanding elevator to the very top to get family photos with fantastic views of the downtown Memphis Skyline, try your shot at the Shooting gallery arcade, watch the scuba divers clean the aquarium tanks that are home to massive catfish, name some of the ducks swimming in the pond, look for the two alligators that live just below the elevator. That's all before heading to Uncle Buck's for bowling and grabbing some mouth watering fudge from the fudge shop. 
Hot outside? Let your kids grab their suits and play for free in the splash park at Beale Street Landing. Or, head inside to Memphis Escape Rooms Downtown. Groups of up to 10 players, ages 8 and up, can work together to escape these entirely designed-in-Memphis rooms, with themes like "Lost Pyramid." Each room is rated for its level of teamwork, brain power and suspense, so you can easily decide which room is right for your crew to take on.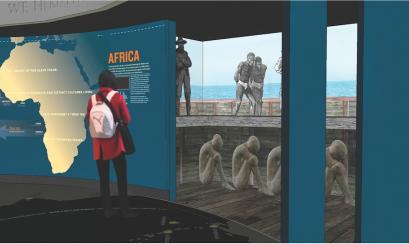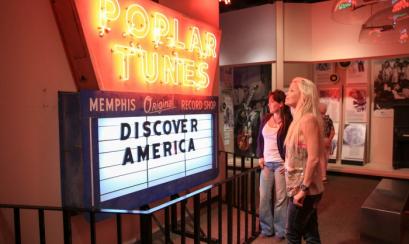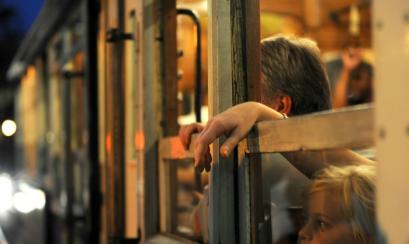 BEST DOWNTOWN KIDS MEALS 
Hip your little one to the King of Rock 'n' Roll by having breakfast at the Arcade Restaurant. They can enjoy a kid's size order of pancakes and bacon while sitting in Elvis' favorite booth, where he wrote some of his greatest hits. If they're behaving particularly well, maybe they could even get one of the Arcade's famous hand-spun milkshakes to tide them over until lunch time.
When the tummy starts to rumble around midday, take a timeout at one of Memphis' most popular burger joints. Huey's is a Memphis favorite and consistently wins best burger in several local polls. The menu for pint-sized patrons is full of delicious kid-friendly fare, including mini corndogs, mozzarella cheese sticks, and of course, a baby Huey's burger. Any of these options come with your choice of fries, apple sauce or mandarin oranges.
For dinner, it's all about the Kooky Canuck. Kids of all ages will love this Canadian-themed restaurant, where watching people try to take down the 4-pound Kookamonga burger in 60 minutes or less, offers its own form of unique entertainment. There's a lot of variety in the Kooky's kids menu. Our favorite are the chicken tenders with house made honey mustard, although your picky eater could also choose a grilled cheese, cheese pizza or hot dog, among other options.
Take a step back in time as you walk into A. Schwabs Trading Co., the oldest shop found on Beale Street opened in 1876. Young and old will love to explore the shelves of old-fashioned candy and delights. Grab a seat at the soda fountain and order an old fashioned milkshake or hot fudge sundae, try on the assortment of funny hats and pile into the photo booth to bring home keepsakes of your family vacation.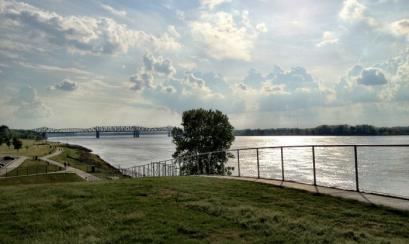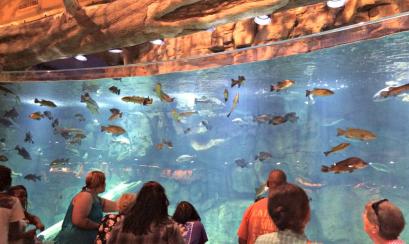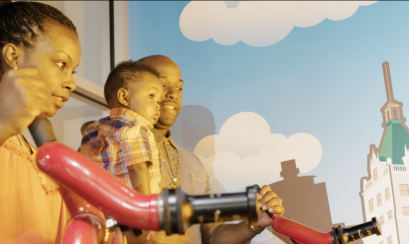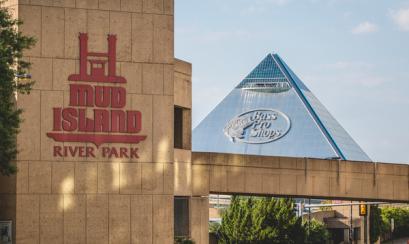 Get outside and play
Walk from Memphis to Arkansas on the country's longest active rail/bicycle/pedestrian bridge. Opened in October of 2016, Big River Crossing let's you stand in two states at once in the middle of the Mississippi River with views of Downtown Memphis. For those kids that love big toys, you'll be able to experience the big riverboats and barges float right under your feet while the train that crosses the bridge may chug right by you. 
From Tom Lee Park, Martyr Park, Mississippi River Park and Jefferson Park on the river banks to Court Square where you'll find food trucks galore during lunch time on Thursdays and a farmer's market available on Wednesdays. There are a ton of green spaces and parks in Downtown Memphis to let those kids loose to run around. 
There's nothing quiet like an all American baseball game. Get your peanuts, cracker jacks and barbecue nachos because you're in Memphis and cheer on the AAA Redbirds at Autozone Park, named one of the most beautiful stadiums in the country. During the game, stop by the The Boardwalk, a family-oriented game and amusement area within the ballpark that includes a playground. And if you happen to be in town for a Sunday home game, kids can get on the field and run the bases following the game just like the Redbirds players (must have a ticket to the game).