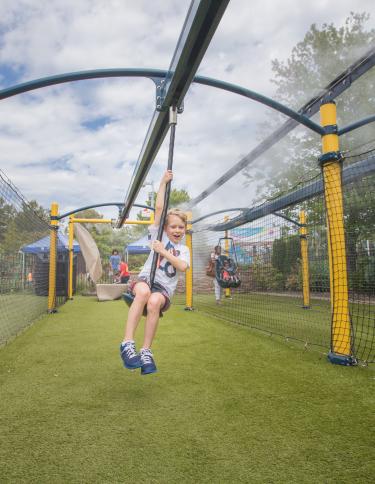 With a splash pad, accessible playground and "go ahead and touch everything" mantra when it comes to exhibits, the Children's Museum of Memphis is the kind of museum kids can get behind.
Like their adult traveling companions, kids these days (yeah, we said it) crave experiences. The upside is that kids are incredibly curious. The downside is that parents have to get creative about keeping kids busy in a way that both educates and entertains them.
The Children's Museum of Memphis understands this. It's one of the many reasons why The Children's Museum of Memphis is such a great thing to do for kids and families when visiting Memphis.
It would take a good week or so to do everything at the Children's Museum of Memphis. But in case you've only got a day or two, here are some experiences you shouldn't miss:
The Grand Carousel
Originally built in 1909 and named to the National Register of Historic Places, the carousel has been brought out of storage and restored where once again people of all ages can enjoy this beautiful attraction. Carousel rides are $3, children less than 42" tall must be accompanied by an adult, and an adult can only assist one rider at a time.
Engine House 18
Maybe it's the uniform or the flashing lights, but kids are hard-wired to love fireman and policeman. This exhibit lets kids get up close and personal with the inner-workings of a firehouse and first-responder vehicles. Kids don fire equipment, jump in a real-life fire engine, and sit on a police motorcycle.
Going Places
With FedEx based in Memphis, it makes perfect sense that our children's museum would explore the joy and science of flight and distribution. The Going Places exhibit does just that by allowing kids to sit in an actual airplane cockpit, and load real packages onto a FedEx conveyor system.
H2OH! Splash Park
And of course, after a full day of imagination and curiosity, the H2OH! Splash Park. Not your average everyday splash park, the H2OH! gives kids over 7,700 square feet to cool off, run around and get soaking wet from any one of the more than 40 sprayers. Not content with just chrome water heads, the Children's Museum took a creative approach by designing the sprayers to look like flowers, leaves, jet streams, magic mists, turtles, crabs, snails and, of course, an everything-is-awesome water tunnel.
These are just a few of the exhibits you'll find at the Children's Museum of Memphis. Take our word for it this list just barely scratches the surface.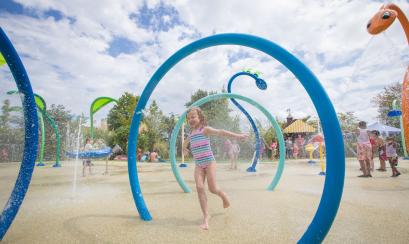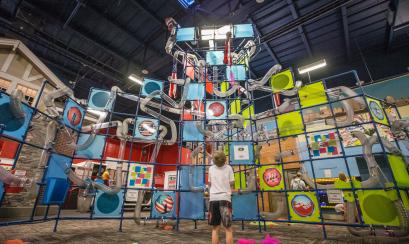 Take these insider tips when you visit: 
Where: The museum is located at 2525 Central Ave, not far from Liberty Bowl Memorial Stadium and Central BBQ. Find them online at www.cmom.com or by phone at 901-458-2678
Hours: The museum is open 6 days a week from 9 a.m. to 5 p.m. Closed Mondays. The Splash Park is only open during the summer, from Memorial Day to Labor day, from 10 a.m. to 5 p.m. 
Ages: At the Children's Museum of Memphis, they like to think everyone has enough kid in them to have a great. However, the museum's sweet spot seems to be between toddlers and eight to ten years old.
How Much: Admission is $15 per person (children younger than 1 years old get in free.) However, if you make frequent trips to Memphis, you may want to consider becoming a member. 
Misc. tips:
Bathrooms – Every bathroom has a changing station, so don't worry. Also, there's a family bathroom.
Nursing – In the museum's toddler area, there is a super-comfy nursing area.
Leaving – A good idea is to give your little ones a 10-minute warning before leaving and ask them if there's anything they want to do again before heading back home or to your hotel.
Rest – Kids have tremendous endurance. Us adults sometimes need to take a load off. With this in mind, there are benches throughout the museum for parents to take a breather.
A private, nonprofit organization, The Children's Museum of Memphis' mission is to create learning experiences through hands-on exhibits and programs. By harnessing the power of play and hands-on engagement, kids essentially experience classroom-like curriculum in fresh new ways. In fact, you know the second you drive up to the museum and see its massive multi-colored letter blocks that you're in for a very different experience.