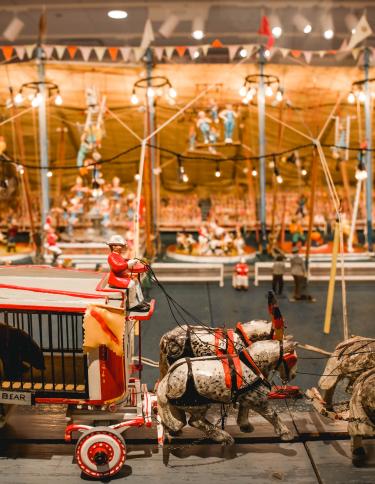 Memphis is home to all kinds of museums, specializing in everything from fine art and ornamental metal to civil rights and the history of rock and soul music. But there's one museum whose eclectic collection defies categorization: The Museum of Science & History, connected to the Pink Palace Mansion.
This Memphis institution doesn't focus on any one particular aspect of the city's culture but instead covers all things about the Mid-South: natural history, wildlife, Memphis history, the cotton industry, plus rare oddities like a shrunken head and Elvis Presley's military uniforms.
Memphis entrepreneur Clarence Saunders began building The Pink Palace in the early 1920s as his dream home, covering the facade in the ornate pink marble that gives the museum its name. He earned his wealth by starting the first self-serve grocery store chain — Piggly Wiggly — but a legal dispute with the New York Stock Exchange eventually led to bankruptcy and an unfinished pink mansion. Several years later, the building was given to the city to use as a museum. 
The Pink Palace Mansion reopened in 2018 with new and refurbished exhibits after two years of renovations and construction. Here are some highlights to check out on your visit to the Pink Palace Mansion and the connected Memphis Museum of Science & History — MoSH — a Memphis tradition.
Callicott Murals
The Pink Palace Mansion's impressive grand lobby is a three-story entry hall showcasing a series of murals painted by Memphis artist Burton Callicott. The murals, commissioned by the Works Progress Administration, depict the exploration of West Tennessee by the Spanish explorer Hernando DeSoto. The grand staircase, which has been off limits to visitors since 1977, is now accessible, allowing visitors to explore these murals close up.
Piggly Wiggly
Clarence Saunders helped revolutionize the way people shop in 1916, when he opened what is considered the first modern self-service grocery store, complete with shopping carts, aisles of branded products such as soups, canned vegetables, and flours, and a checkout area up front. The museum today features an updated recreation of the original Piggly Wiggly store, whose detailed design is based on patent drawings and photography from early stores.
Be sure to also check out the brand new country store exhibit, located just next door. It tells the story of the rural general store in the Mid-South area at the turn of the 20th century and features everything from horse saddles and ropes to sewing fabrics and food storage vessels. The exhibit interprets the early work environment of Clarence Saunders and showcases how local folks shopped prior to his retail innovation.
Also helping to set the scene is an exhibition area dedicated to Memphis city life and commerce, which uses the intersection of Beale Street and Main Street to interpret the symbolic intersection of black and white culture and history in Memphis in the early 20th century.
Cossitt Gallery
Another must-see area for Pink Palace Mansion visitors is the Cossitt Room, which displays artifacts from the city's first culture and history museum, which was located downtown in a tower over the entrance to the Cossitt Library. More than 600 artifacts — from Native American clothing and decorative items to gemstones and a colorful collection of well-preserved wild bird species — are displayed similarly to how they were shown in the 19th century.
Clyde Parke Miniature Circus
Known for its artistry and accuracy in fine detail, the delightful Clyde Parke Miniature Circus is one of the museum's longtime major attractions, particularly for families with young children. It's located on the mansion's second story, which has not been open to the public since 1978, and you can access it by taking the new elevator or the mansion's grand staircase.
Parke began carving his elaborate mini circus, mechanized for meticulously coordinated moving pieces, during the Great Depression, when he was out of a job. The Great Depression led to the decline of circuses, and Parke hoped to cash in on the nostalgia by traveling with his exhibit, which took two people five days to set up. He donated it to the Pink Palace in 1970.
The miniature circus, powered by a one-horsepower motor, usually runs twice a day. Due to its age and fragility, it can only be operated for six minutes at a time.
An accompanying new play area features a life-sized replica of the circus ticket booth and a large magnet board depicting 100 of Clyde Parke's circus characters. Children can also take a break and enjoy a quiet moment in a reading nook filled with circus-themed books.
Natural History
MoSH is also known for its collection focused on the natural history of the Mid-South, with areas dedicated to human evolution, dinosaurs, insects, mammals of the region, a large collection of skulls and skeletons, ancient rock and mineral specimens, and more. Check out a lively animatronic T-Rex replica, trace the history of the Earth from its formation to the last Ice Age, and view a working seismograph as it records motions in the ground, such as earthquake activity.
Giant Screen Theater
One of the Mid-South's first large-screen theaters, MoSH's state-of-the-art Giant Screen Theater is another of the museum's popular attractions. The completely updated theater shows everything from exquisite nature documentaries focused on marine life and butterflies to educational films exploring ancient cultures and faraway lands to sci-fi blockbusters like the Star Wars and Planet of the Apes series. Please note there's a separate fee for theater admission.
AutoZone Dome at the Sharpe Planetarium
Explore the vastness of the universe from your comfy seat inside this state-of-the-art theater-in-the-round, home to the city's largest projection screen. The planetarium's digital technology delivers a new level of sight, sound and comfort. It's fun for visitors of all ages, with shows for little ones featuring characters like Big Bird and his Sesame Street pals and seasonal star and constellation gazing for curious school-age children. There's an additional fee for planetarium shows.
Events
MoSH hosts a number of annual events, such as the Enchanted Forest Festival of Trees, a longstanding family holiday tradition featuring animated characters and Santa Claus, all in a snowy setting, and the Pink Palace Crafts Fair, a three-day celebration of makers, held each fall in Audubon Park for nearly 50 years.
Other MoSH traditions include the Science of Beer and Science of Wine education events, held in winter and fall respectively. These evening events allow adults to sample wine or beer pairings while learning about the science behind winemaking and beer brewing.
There's always something going on at MoSH, so keep up with them on Facebook for news about the latest events.
Know before you go
Where: 3050 Central Avenue, not far from the Children's Museum of Memphis, the Memphis Zoo and Memphis Botanic Garden.
When: MoSH — Pink Palace is open Wednesday - Saturday (10:30 a.m. to 5 p.m.) and Sundays (noon to 5 p.m.). The museum is closed on Mondays and Tuesdays.
How Much: Check out their website for various packages, depending on whether you just want to explore the exhibits or would like to see a planetarium show or film.   
Museum of Science & History Sites:
Lichterman Nature Center & Historic Victorian Homes
MoSH — Pink Palace on Central Avenue is headquarters for the MoSH umbrella of properties, which includes the Lichterman Nature Center, the nation's first accredited nature center; and the historic Mallory-Neely and Magevney Houses, located in the city's historic Victorian Village neighborhood.
Lichterman, a beautiful 65-acre urban nature center in East Memphis, includes exhibits, native wildflowers and trees, lakes, meadow and forest, a forest boardwalk, and a variety of plants, birds, reptiles, amphibians and mammals. Visitors can enjoy nature walks, wildlife education programs, seasonal festivals and more.
The museum's two 19th-century historic homes on Adams Avenue, near Downtown Memphis, offer visitors a glimpse into both the Victorian era and the pre-Civil War period through guided tours.
With their tremendous recreational and aesthetic value and exceptional science and history learning opportunities, the sister sites are definitely worth a visit, as well.