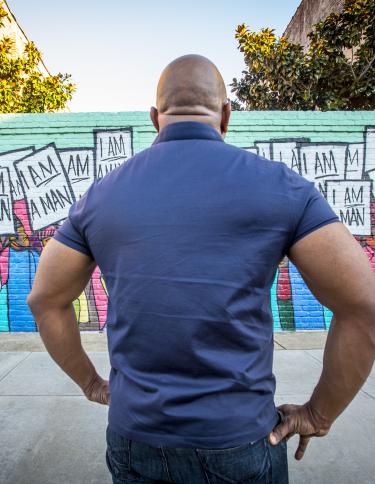 In Memphis, you can feel the struggles and triumphs, experience the music and movements, and discover the legends and unsung heroes of Black History. Important historical sites, poignant museums, soulful recording studios and inspiring special events point the way, whether you visit during Black History Month or beyond.­­
 Attractions, Museums & Historic Sites
National Civil Rights Museum
Perhaps the very first stop you should make during your black history pilgrimage is the National Civil Rights Museum. Located at the Lorraine Motel, where Dr. Martin Luther King, Jr. was assassinated on the balcony on April 4, 1968, this important museum is filled with Civil Rights history, and its comprehensive exhibits showcase 260 artifacts and interactive media to cover five centuries, from slavery in America and the Civil War to the 20th-century Civil Rights movement and modern-day issues. Be sure to give yourself plenty of time to explore the exhibits—visitors are often surprised by how much time they take to experience the displays (and how truly moving they are).
Slave Haven Underground Railroad Museum
Learn more about slavery in America when you visit Slave Haven Underground Railroad Museum housed inside the historic Burkle Estate, one of the Underground Railroad stops offering refuge for runaway slaves on their way to freedom. Or, stand at the epicenter of the South's cotton economy—which relied on the hard labor of slaves—when you visit The Cotton Museum at the Memphis Cotton Exchange.
Ernest Withers Collection
Peek into the more recent past at the Ernest Withers Collection, a gallery featuring an expansive collection of photographs depicting life throughout the 20th century: musical legends, sports stars, pivotal events during the Civil Rights movement and daily life in Memphis.
Memphis Music Legends
B.B. King, W. C. Handy, Isaac Hayes, Hank Crawford—you can't fully experience black history in Memphis without celebrating the musical greats and the chart-topping hits that changed the course of music forever. Celebrate black musicians across a range of genres, and take your pick from must-visit museums and attractions: The Blue's Foundation's Blues Hall of Fame, Stax Museum of American Soul Music (celebrating its 20th anniversary in 2023), Sun Studio, Memphis Rock 'n' Soul Museum, Memphis Music Hall of Fame and W.C. Handy Home and Museum.
STAX, WDIA, BEALE STREET & MORE
FEDEXFORUM ART CELEBRATES MEMPHIS' BLACK MUSICAL ROOTS
Dr. Martin Luther King Jr. Reflection Park
See Richard Hunt's sculpture "I Have Been to the Mountaintop" and even more Civil Rights Movement photos from the Withers Collection at Dr. Martin Luther King Jr. Reflection Park. The park is located on the corner of S. Second Street and Dr. Martin Luther King Ave. and was built in commemoration of King's impact on Memphis and the world.
I am a Man Plaza
Don't forget to visit the "I Am a Man" Plaza on Hernando Street next to Clayborn Temple. The new plaza was created to honor the sanitation workers who went on strike in 1968. Clayborn Temple was a key rallying point for the historic 1968 Memphis sanitation strike. The area features a sculpture along with a wall filled with the names of those who participated in the strikes.
First Baptist Beale Street
On Sunday mornings you can visit the oldest African-American congregation in Memphis, First Baptist Beale Street. Started in 1865 as a shelter for the thousands of rural freed men and women who came to Memphis during and after the Civil War, this magnificent structure is the first brick-constructed, multi-story church in the U.S. built for African Americans. It also housed the first black newspaper, The Memphis Free Speech, which was edited by Ida B. Wells. If the history of the church doesn't move you, the service will.
Tom Lee Park
Two blocks away is Tom Lee Park. This riverside jewel serves as home of the Memphis in May International Festival and is named for Memphis' greatest hero. In 1925, with the help of his tiny rowboat, local African American resident Tom Lee (who could not swim) braved the Mississippi's swirling currents to save 32 strangers from drowning when their excursion steamer sank. A statue at the center of the newly renovated park pays tribute to Lee's heroic efforts.
Memphis Heritage Trail
Walk the Memphis Heritage Trail and visit various historic markers scattered along downtown's sidewalks to get a glimpse of history. The trail highlights the cultural impact and achievements of African Americans in our city with each marker depicting a historical figure or event that took place right here in Memphis.
Black History Tours
Memphis is the unique, culturally rich and diverse city it is today thanks in large part to African American achievement throughout the city's 200-year history. A Tour of Possibilities and Heritage Tours explore African American history in Memphis, from the Civil Rights Movement and music legends to historic churches and world famous Beale Street. 
U.S. Civil Rights Trail
Follow the U.S. Civil Rights Trail in Memphis. The trail, which stretches across 15 states, currently features seven historic locations in Memphis: National Civil Rights Museum, Clayborn Temple, Mason Temple Church of God in Christ, world famous Beale Street, WDIA Radio Station, I Am A Man Plaza and Stax Museum of American Soul Music.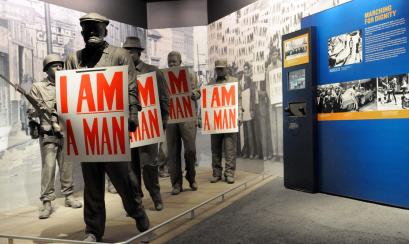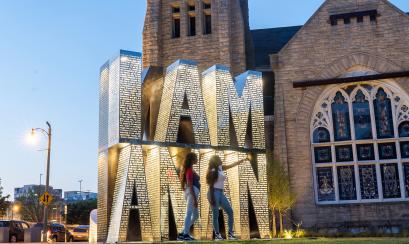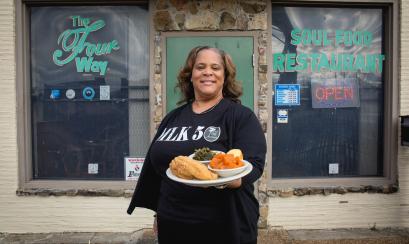 Arts, Entertainment & Dining 
Head to Soulsville for a meat and three and a live band on Thursday afternoons at the historic Four Way Grill, where Dr. King would frequent on his trips to Memphis and the Stax artists would grab lunch between long recording sessions. Get your Memphis barbecue fix at The Bar-B-Q Shop on Madison in Midtown or Interstate Barbecue off of I-55. For more restaurants check out Memphis Black Restaurant Week which takes place March 8-14.
Discover the Orange Mound neighborhood, designated as a Preserve America Community by First Lady Michelle Obama. On your visit, head into the Orange Mound Gallery for exhibits curated and created by local artists. Learn how My Cup of Tea is helping the women of Orange Mound, located at The House In Orange Mound, and serves up locally created tea flavors like "Orange Mound Porch Peach", "Riverboat Queen Green Tea", and others. Call ahead for hours and availability. You can also find My Cup Of Tea products served and sold at other cafes and shops around town, too. 
Hattiloo Theatre
Catch a performance at the region's sole Black theatre, Hattiloo Theatre. Hattiloo's Season 16 features plays, musicals (including a production of The Velveteen Rabbit for family audiences) and Five Guys Named Moe, which was nominated for two Tonys after its Broadway run. 
Public Art
Key figures of history are depicted around town through public art, statues and murals. In the South Main Arts District, you'll find many bold murals, but none as impactful as the "I am a Man" mural on S. Main Street (between Talbot Ave. and Huling Ave) and the Civil Rights mural at the intersection of S. Main and MLK Ave. Where Beale Street ends at FedExForum, don't miss the series of hand-painted bollards, each telling of a different aspect of the influence of Black creators on Memphis music. 
Save The Date: 2023 Memphis Events with a Black History Connection 
King Day
Celebrate Dr. Martin Luther King, Jr.'s birthday at the National Civil Rights Museum Monday, Jan. 16, 2023. The museum is offering free admission from 8 a.m. to 6 p.m. Bring canned goods to donate to the museum's food drive benefitting the Mid-South Food Bank. You can also participate in the onsite blood drive with Vitalant to receive four free museum passes good through 2023. Guests can expect live music, special announcements and recorded speeches by Dr. King on the main stage just outside the museum. 
Memorial of MLK Assassination
Around April 4th, look for days of remembrance at the National Civil Rights Museum in memoriam of the anniversary of Dr. King's death. 
Africa in April
Celebrate African culture at the Africa in April Cultural Awareness Festival. This annual festival includes activities, food, performers and a parade in honor of the diverse cultures of Africa and their wide-ranging influence.
Juneteenth
Celebrate African American freedom in mid-June at the Juneteenth Urban Music Festival. This annual festival, now held at Health Sciences Park on the edge of downtown Memphis, features live music and entertainment, guest speakers, a Kidz Zone, vendor market and more. Check back here closer to June 2023, where we'll add details on additional Juneteenth celebrations in Memphis as they are announced.
WLOK Stone Soul Picnic
You won't want to miss the WLOK Stone Soul Picnic at the Overton Park Shell. With food trucks, concessions and free live music, this annual summer picnic guarantees family fun, while creating a sense of community. 
Soulsville USA Festival
Attend this annual festival to celebrate the cultural influence of Stax Records and the history of Memphis soul music. The festival features live music, dance demos, crafts, food trucks and free entry to Stax Museum of American Soul Music. The festival usually takes place in October each year; details to be announced by the Memphis Slim Collaboratory.