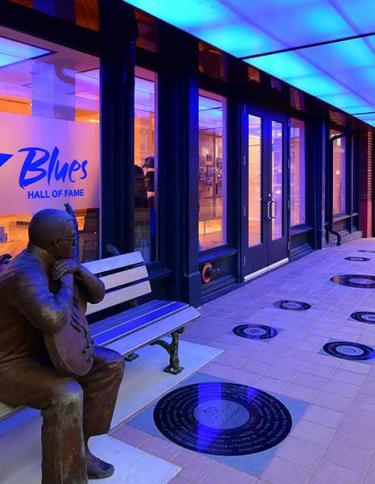 I've listened to more blues music since moving to Memphis than I have in all my years combined. Still, I'm a casual fan – I'm still learning which Brit hits are blues covers (thanks, YouTube) and I'm just now learning there's a Blues Hall of Fame.
The Blues Hall of Fame has in fact been around since 1980, when The Blues Foundation began inducting individuals, recordings and writings at an annual ceremony. But that was it: achievements that changed the way the world listens to music, a ceremony and nothing more.
Cue the Blues Foundation's Blues Hall of Fame, a $2.5 million construction project – and monumental artifact collection effort – that debuted in May 2015. 
I made my first visit this weekend. I knew that The Blues Foundation's existing offices had been renovated to feature the Hall of Fame, and I was honestly expecting a pocket museum inside the foundation's office lobby. I got much more than I expected. The lobby is striking – a stark white palette accented by reclaimed woods and gleaming steel. It seemed to me a visual representation of the blues' transcendence from the fields to the modern stage. There is exhibit space here (two exhibits are planned per year, to be exact). On my visit, that meant a collection of photographs taken by industry stalwart Dick Waterman. Waterman's black-and-white images – especially one of a young Mick Jagger getting schooled on the harmonica by Junior Wells – echoed that transcendence of the blues. 
From this level, I can look down on a reading nook. I'm itching to see what books are in it. But a series of polished guitars hanging on the lobby wall steals my attention. The first one I come to is B.B. King's. It's lacquered black and plated with gold. His signature is scrawled across it. I imagine how it would have sounded had he been playing it.
I head down the wide, wooden staircase to the reading nook. It's raining outside, but all's quiet among the books composed by and about blues legends. I could lose the afternoon here, but the galleries are calling. 
The galleries are actually vignettes lining a wide hall. At each one, you'll find a mix of artifacts – albums, show posters, clothing – and a large touch screen illuminating a different set of performers. Though a volunteer docent is on hand, these touch screens act like a "digital docent," your portal to the rich archives. With a simple touch or swipe, you're opening a world of photographs, films, text and music – so much music that you can savor Big Mama Thornton's "Hound Dog" one second and Stevie Ray Vaughan's "Pride and Joy" the next.
There are 10 galleries all told, including two private listening nooks. I especially like searching the galleries for all of the Memphis connections I can find, say Bobby "Blue" Bland's captain's hat. It's also neat to see Pinetop Perkins' Grammy Lifetime Achievement Award, Lead Belly's bow tie and folk art commissioned for the Hall, including a crazy-colorful, hand-sewn Ma Rainey doll. The last two galleries will evolve each year to reflect new inductees.
Give yourself an hour or so to experience the The Blues Foundation's Blues Hall of Fame (more if, like me, you'll get sucked into the reading nook). That leaves the balance of your day to explore the National Civil Rights Museum just across the street and the surrounding South Main Arts District.