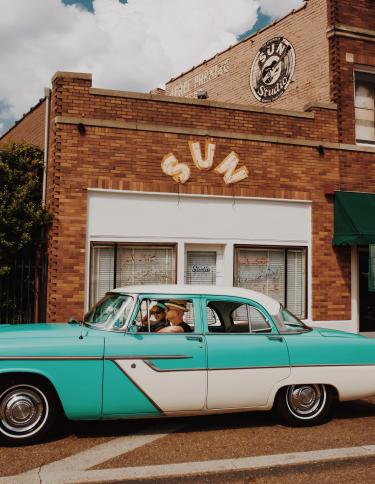 Planning for your first visit to Sun Studio in Memphis, Tennessee? You may be in for a surprise.
It's a magnetic contradiction, really: that this place, so unassuming, could score the genesis of rock 'n' roll. 
From the get-go, this studio—built of blend-right-in brick and tucked into an intersection—can be a blink-and-you'll-miss-it affair. Tour buses and groups posing for photos give it away. Inside, it's no more imposing: just a cozy-cool bar and a few booths where you can buy your tour tickets, make a jukebox selection, order a milkshake or soda, and shop for t-shirts, music, and such. I like hanging 'round to count how many different accents I can pick up: The world comes together here in the name of rock 'n' roll. 
Your Tour of Sun Studio
When your tour time's up, your guide will call you to the back of this anteroom with the cadence and projection of a showperson—because he or she likely is. Many gig by night and shepherd music pilgrims through Sun by day. But their tale burns in awe of what happened here.
Today is my fourth Sun tour in as many years and Nick Redmond, a local musician, is my guide. He sweeps our group upstairs, where we crowd into a cave of a room, close and dim. No matter. The Sun story and its stars are set to light us up. Surrounded by cases of vintage recording equipment and memorabilia, Nick introduces us to our hero, Sam Phillips, who quit his steady radio job to chase his passion: blues music. Who recorded funerals, pageants—anything—to make his way. Who crammed newspaper into a busted speaker cone to salvage studio time with Jackie Brenston & His Delta Cats, chiefly Ike Turner. Nick cues what came of that experiment, "Rocket 88." I feel the crowd around me simmering in its sound—the driving rhythm, the delicious distortion of the guitar. Some hear in it the origins of rock 'n' roll. Everyone dances.
Elvis is in the Building
In the moments we're huddled in this upstairs room, Nick spins more songs and stories, but none ignite us like his retelling of how a nervous teenager walked into Sun in 1953 to record a song for his mother. Nick plays the recording, a boy-angel crooning "My Happiness," setting us up for what's next: Elvis Presley's transformation from teen to King.
For that, Nick says, it's time to "go see the church." He takes us downstairs to the studio where Sam Phillips invited Elvis back for an audition—an audition that Sam was starting to regret until Elvis pulled out a stunner: a rendition of Arthur Crudup's "That's All Right" that didn't sound like anything else. Sam rushed the cut to Memphis's Hotel Chisca, where DJ Dewey Phillips broadcasts Elvis for the first time (you'll see Dewey's reassembled office on Sun's second floor). If you were dancing during "Rocket 88," you're flat-out jittering here—not only to the unexpected sound of Elvis's charged country mashed up with the Delta blues, but to the notion that this is where it all began—the notes that flipped the world's soundtrack on its head. And you're standing at the center (literally—an X marks the spot where Elvis stood. You can even hold his mic.).
 
Legends of Sun
Of course, Sam Phillips's genius touched more than Elvis. (Your guide will likely demonstrate how Johnny Cash achieved that train-chugging sound on "I Walk the Line," a trick of Sam's I'll let you see for yourself.) And this impossibly small studio nurtured the larger-than-life dreams of many—from Howlin' Wolf and Rufus Thomas to Carl Perkins and Jerry Lee Lewis. You can't miss the supersized photo of Perkins, Lewis, Presley, and Cash during their impromptu "Million Dollar Quartet" session, recorded right where you're standing. Your guide's sure to play a moment from it, dominated by Jerry Lee's bone-shaking piano.
Stand here as long as your guide will let you. There's an energy in this room that seems to channel everyone who came before—not only the luminaries like B.B. King and Bono, but the elementary school kids who come through with their parents on vacation. Every tour, I notice young visitors moving to the music, proof that Sun's fire burns eternal.
Sun Today
USATODAY 10Best named Sun one of the world's best musical attractions (second only to Memphis's Graceland). But after each day's last tour has wrapped, the shrine gets back to its roots—as a recording studio. Bands book time, and you may have seen episodes of the Sun Studio Sessions on your public television station: half-hour sets by local and national musicians. They always nod to Sam and his stars, who blazed a groove that rocked us all into melodious orbit.
 
What to Expect When Visiting Sun Studio
 
Where: Located at 706 Union Ave. at the corner of Union and Marshall.
Hours: 10 a.m. to 5:15 p.m. daily (6:15 p.m. on Friday & Saturday).
Costs: $15 per visitor. Children 5-11 years old: $10.
Shuttle: A shuttle bus running between Sun Studio and The Rock 'n' Soul Museum is available for museum patrons. Shuttle seating is available on a first come, first served basis.
What Else is in the Neighborhood
 
Sun Studio lies in the center of one of Memphis' most diverse districts—The Edge. In this eclectic neighborhood, which links downtown and midtown, you'll find retail, marketplaces, museums, a night club, restaurants and even a brewery.
 
Come see the birthplace of Rock 'n' Roll—but while you're here—you have to check out everything The Edge has to offer.