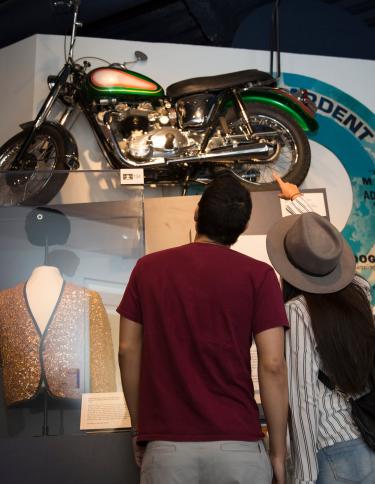 This article is contributed by Samantha Crespo, writer, editor and author of "100 Things to Do in Memphis Before You Die." 
The Memphis Music Hall of Fame (MMHoF) celebrates visionaries who've made music in this city that resonates around the world. Some are household names, some aren't. But spend an hour or so in their Hall of Fame, and you'll see how they're all connected to the soundtrack of your life.
The Basics
MMHoF has been inducting members every November since 2012, a ceremony already known for its star-studded mix of performers and presenters. The museum opened in August 2015. It's small in size (less than 5,000 square feet), but I prefer it that way: Most museum visitors will be anxious to explore Beale Street just outside, and the small size certainly doesn't cramp the museum's style (design accents include suspended guitars and an inverted, red-lacquered piano repurposed as a lighting fixture). By keeping its message concise, this Memphis music museum can also help you customize your exploration of Memphis music history: Want more soul? Visit Stax Museum of American Soul Music. Want more rockabilly? Tour Sun Studio. Want more Elvis? Get to Graceland. MMHoF serves as a hub of information on all of these Memphis music attractions and more.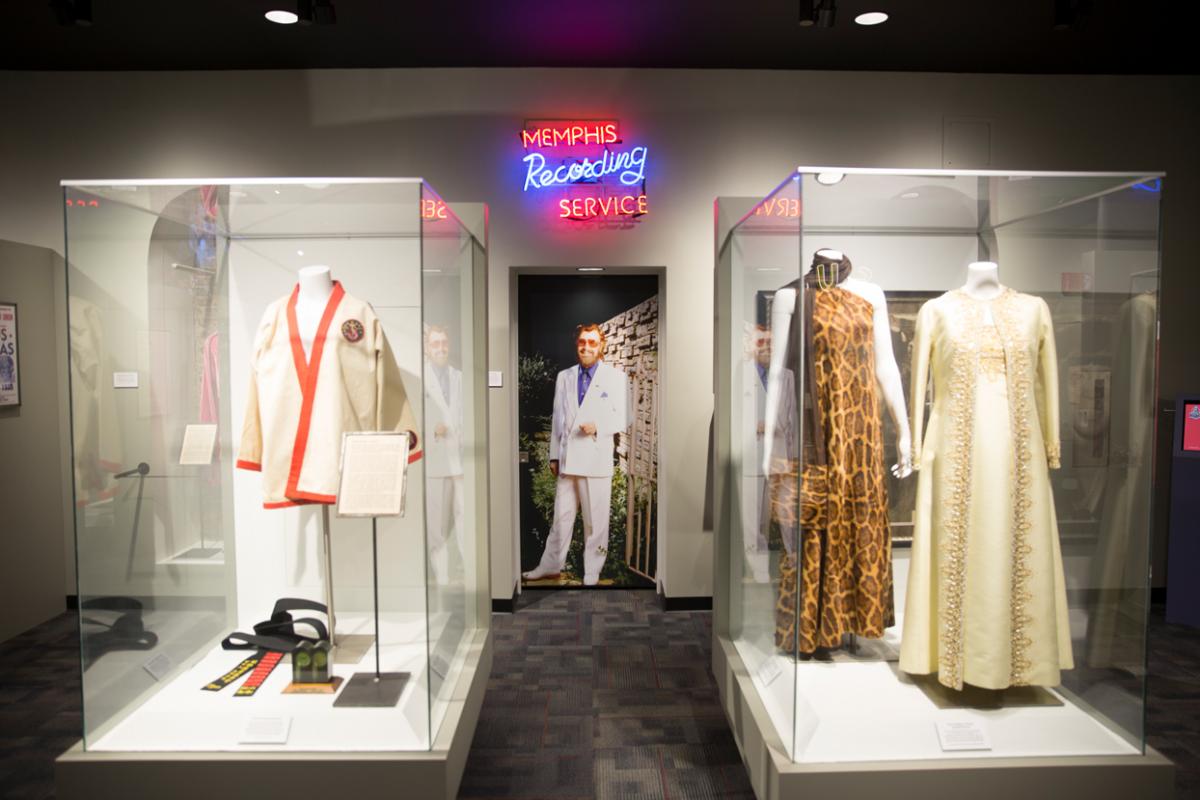 Visit Memphis Music Hall of Fame to see memorabilia from legendary Memphis artists and bands. | David Meany.
Something for Everyone
Even if your Memphis music knowledge starts and stops with Elvis, the MMHoF experience won't be lost on you. Gape at over-the-top stage costumes like one of Elvis' jumpsuits and Rufus Thomas' "Funky Chicken" get-up. (Contrast Thomas' fuchsia velour affair with Johnny Cash's black three-piece suit nearby.) Check out Isaac Hayes' road organ. Goggle at the Oscar for "Best Original Song" awarded to rappers Three 6 Mafia for 2005's Hustle & Flow. Look for the ZZ Top cut-out and snap a selfie – the group's time at Memphis' Ardent Studios produced "La Grange," one of Rolling Stone magazine's "100 Greatest Guitar Songs of all Time." Eye the driver's seat of Jerry Lee Lewis' 1983 Cadillac El Ballero. Groove to footage of The Staple Singers performing at Wattstax, produced by Memphis' Stax Records. Use an interactive kiosk to "meet" all of the inductees, then play "Finish the Lyrics" to fill in the blanks to popular inductee songs.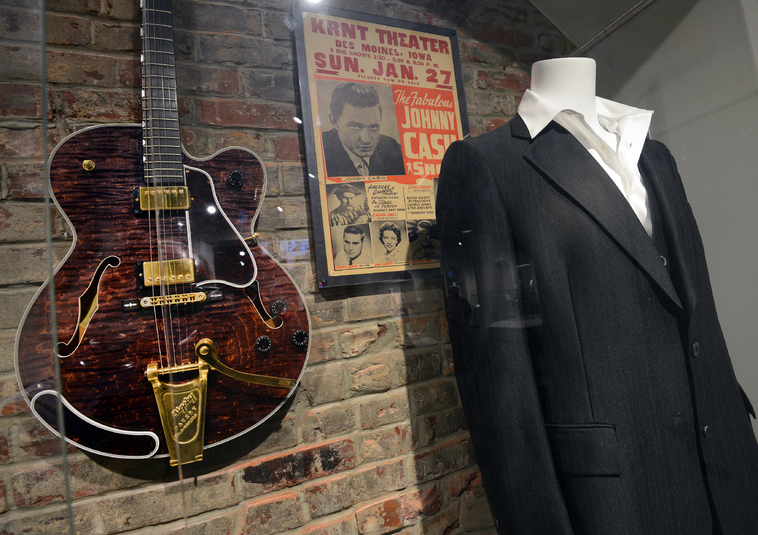 Johnny Cash's black suit and guitar. | Raphael Tenschert
Want a look behind the scenes? Study photographs of Willie Mitchell at work inside Royal Studios, where he produced Ann Peebles, Al Green and others. (Note Green's hand-written lyrics for "Take Me to the River" nearby.) 
If you're into history, scroll through a century's worth of Memphis music moments using a touch screen timeline. Father of the Blues W.C. Handy shouldn't be hard to find. Look out at Beale Street below you and imagine a time when Handy sat composing in a saloon here. Or when, decades later, inductee Jimmie Lunceford practiced in the street's storied clubs with his orchestra (they would later leave Memphis to supplant Cab Calloway's act at New York's Cotton Club). Or when, decades later, kids from a local high school gigged here and became inductee Otis Redding's band. That band, The Bar-Kays, is now honored in the MMHoF too, and still plays with one of its founding members.
The 'A-Ha' Moment
At this point in your visit to MMHoF, you've noticed some connections. Maybe you were already aware of some – such as Paul McCartney asserting that there would be no Beatles without inductee Carl Perkins (who wrote "Blue Suede Shoes" at the beginning of his prolific career). And most Elvis fans know he loved gospel – he frequented the church of Memphis preacher/songwriter/disc jockey Rev. Herbert Brewster, also an inductee, to get his Sunday morning gospel fix. 
Then you find the museum's "Finish the Influences" kiosk. It's like playing six degrees of separation with Memphis musicians as the nexus. (Think: Rufus Thomas inspired Isaac Hayes inspired Alicia Keys and My Morning Jacket.) And you realize that every note in the Memphis music story is a bridge to another sound, connected by inspiration.
What's Next
By the time you're readying to leave the museum, I hope you've learned something. Test your Memphis Music Knowledge (there's a kiosk for it) and settle down in front of the oversized screen titled "New Memphis Music." One of my local favorites, Amy LaVere, sings on the screen. You should try to catch her while you're in town. While you're listening, consider that she was once produced by MMHoF inductee Jim Dickinson, who was influenced by inductee Furry Lewis . . . and the connections keep playing out, like a song that never ends.
If You Go
The Memphis Music Hall of Fame is open Wednesday through Sunday from 10 a.m. to 5 p.m., and for periodic "Hall After Dark" concerts featuring local musicians paying tribute to Hall of Famers. General museum admission is $8 with group discounts available.