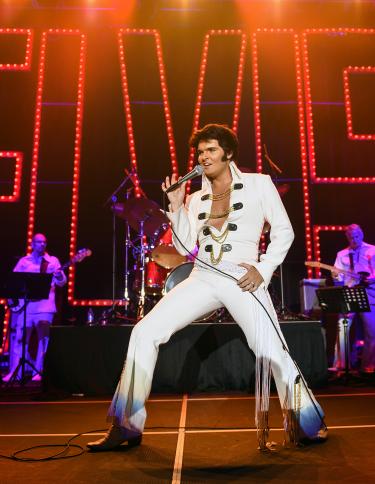 Elvis Presley's legacy is alive and well in Memphis, where every August, thousands of fans from around the world come together to celebrate his life, music and movies. Join the annual week-long pilgrimage to Graceland, Aug. 11-17, 2021.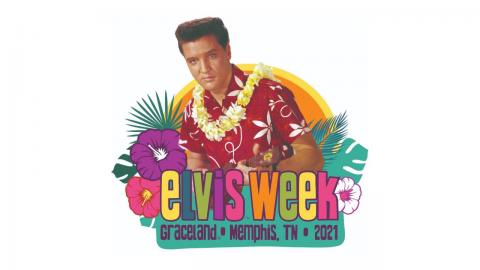 Since The King's death, the gathering now known as Elvis Week has centered around Presley's Graceland Mansion. Elvis Week 2021, which marks the 44th anniversary of Elvis' passing, respectfully pays tribute to all things Elvis in a fun and exciting environment that honors one of the biggest icons in music history.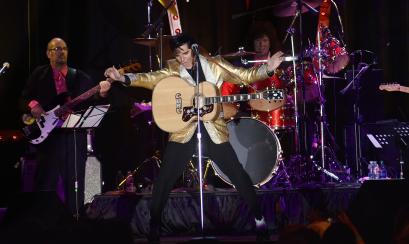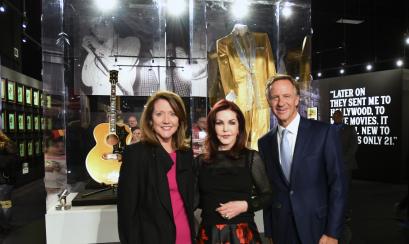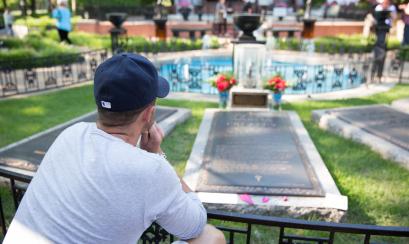 ELVIS WEEK ACTIVITIES
At Elvis Week 2021, fans will have a chance to immerse themselves in all things Elvis with live music performances, exclusive tours, panel discussions with those who knew and worked with Elvis, special appearances by guests including Priscilla Presley and the Ultimate Elvis Tribute Artist Contest.  
While panels, music, tours and a variety of fun events fill up the schedule, the annual candlelight vigil held at Graceland is a solemn and special event that takes place every year on the evening of Aug. 15. Fans patiently wait their turn to pass through the famed gates of Graceland and walk up to the Meditation Garden with candle in hand to pay their respects to the King of Rock 'n' Roll. This awe-inspiring sea of candles is a must-see for fans and anyone traveling to Memphis for Elvis Week. 
Check out the full schedule of events and get your tickets today. Note that every Elvis Week 2021 event has been designed to comply with recommended government protocols on COVID-19. 
More on the ULTIMATE ELVIS TRIBUTE ARTIST CONTEST
Elvis Tribute Artist events kick off Elvis Week 2021, and they're bigger than ever: Since COVID-19 postponed many of the preliminary qualifying rounds that traditionally happen each year, Graceland has invited top-five finalists since 2010, along with 2020 qualifiers and 2021 winners, to compete in the semifinals on Aug. 11 — an exciting field of 21 performers. The best will move onto the final round on Aug. 12, where the Ultimate Elvis Tribute Artist of 2021 will be crowned.
Beyond the competition, check the Elvis Week 2021 schedule for new events like Conversations With The Ultimates (Aug. 12). And don't miss additional musical performances including An Afternoon With Cody Ray Slaughter (Aug. 12); The Ultimate Return (Aug. 14), featuring past Ultimate Elvis Tribute Artist Contest winners; and two acoustic events, Elvis Unplugged, on Aug. 11 and Aug. 14.
what else can I do on-site at Graceland?
In addition to special events, Elvis Week is a lively time to tour Graceland Mansion, check out Elvis' private planes and discover the Elvis Presley's Memphis entertainment complex, featuring Elvis' car museum, Elvis: The Entertainer Career Museum and several interactive experiences. Elvis Week coincides with the traveling exhibit Inside the Walt Disney Archives, a 10,000-SF collection designed to give visitors an exclusive look at Disney artwork, props and costumes. Inside the Walt Disney Archives will be on display through Jan. 2, 2022, at Graceland Exhibition Center, also on the Graceland campus.  
Make a day of it with several dining options on-site, and even stay overnight: steps from Elvis Presley's Graceland Mansion is the AAA Four Diamond Guest House at Graceland resort hotel. If you book at least two nights at the hotel during Elvis Week 2021, you will receive exclusive rates and pre-sale booking for your stay during Elvis Week 2022.