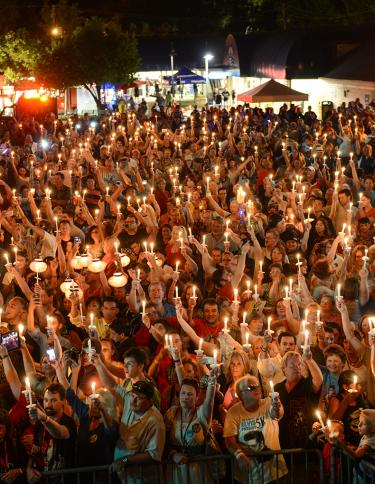 Elvis Presley's legacy is alive and well in Memphis, where every August, thousands of fans from around the world come together to celebrate his life, music and movies. Join the annual week-long pilgrimage to Graceland, Aug. 9-17, 2022.
Since The King's death, the gathering now known as Elvis Week has centered around Presley's Graceland Mansion. Elvis Week 2022, which marks the 45th anniversary of Elvis' passing, respectfully pays tribute to all things Elvis in a fun and exciting environment that honors one of the biggest icons in music history.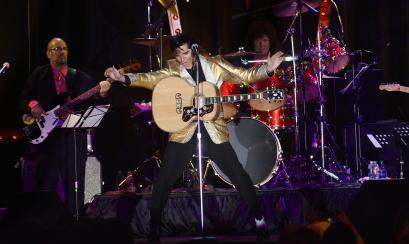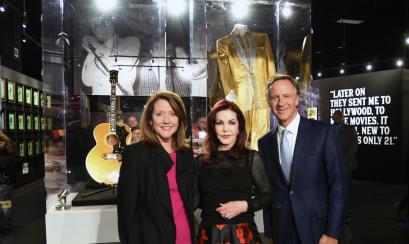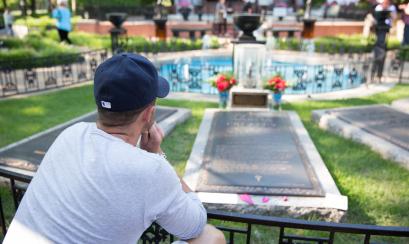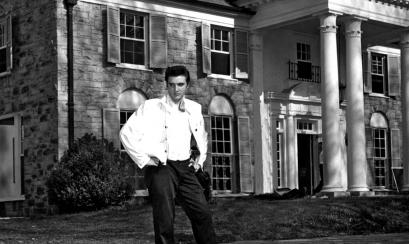 ELVIS WEEK ACTIVITIES
At Elvis Week 2022, fans will have a chance to immerse themselves in all things Elvis with live music performances, behind-the-scenes tours, panel discussions, appearances by special guests and the Ultimate Elvis Tribute Artist Contest. Study the full Elvis Week 2022 schedule here and note that virtual Elvis Week tickets will also be available for the second year in a row, allowing you to livestream many of these and other events, with the capability to re-watch on demand for several days following the event!
During the ULTIMATE ELVIS TRIBUTE ARTIST GOSPEL BRUNCH (Aug. 11, 2022), host Dean Z will join past Ultimate Elvis Tribute Artist Contest winners in a performance of Elvis' beloved genre.
 
In CONVERSATIONS ON ELVIS: THE MAN, THE MUSIC, THE LEGEND (Aug. 15, 2022), Priscilla Presley, Jerry Schilling and Elvira will make special appearances to talk about their personal recollections of Elvis. 
 
For ELVIS PRESLEY IN CONCERT (Aug. 16, 2022), the Graceland Soundstage will produce an immersive concert experience featuring Elvis' vocals backed by a live band and back-up singers, including TCB band members and Terry Blackwood and The Imperials.
 
Karaoke, dance parties and FREE morning and evening walk-ups to the Meditation Garden (various dates and times throughout Elvis Week 2022): Whether you harbor your own aspirations of singing like the King, or prefer the role of back-up dancer, watch for Elvis Karaoke sessions to pop up at the Jungle Room Bar inside Graceland Exhibition Center, plus scheduled dance parties throughout Elvis Week.
 
But perhaps one of the most solemn, and free, activities you can participate in during Elvis Week is walking up to the Meditation Garden of Graceland. Between 7:30 a.m. and 8:30 a.m. Aug. 9-12 and again Aug. 14-17, take advantage of free access to the garden, where you can pay your respects to the King and members of his family. You can also get free access to the Meditation Garden between 6:30 p.m. and 8 p.m. on Aug. 9, 14, 16 and 17.
Visit Graceland's Elvis Week page to learn how you can experience these and other events during Elvis Week 2022.
While panels, music, tours and a variety of fun events fill up the schedule, the annual candlelight vigil held at Graceland is a solemn and special event that takes place every year on the evening of Aug. 15. Fans patiently wait their turn to pass through the famed gates of Graceland and walk up to the Meditation Garden with candle in hand to pay their respects to the King of Rock 'n' Roll. This awe-inspiring sea of candles is a must-see for fans and anyone traveling to Memphis for Elvis Week. 
Bookmark the developing schedule of events for the latest updates and ticket sale announcements.
More on the ULTIMATE ELVIS TRIBUTE ARTIST CONTEST
Elvis Tribute Artists (ETAs) have become such an endearing reflection of fans' appreciation for Elvis, an Elvis Tribute Artist contest will kick off Elvis Week 2022 (Aug. 9). Throughout Elvis Week, additional ETA events will unfold, including the highly competitive (and thoroughly entertaining) semifinals and finals, when the Ultimate Elvis Tribute Artist of 2022 will be crowned. To understand how this field of competitors seizes the opportunity to compete in front of thousands of fans at Graceland during Elvis Week, read more about ETAs here.
At previous Elvis Week events, special concerts and conversations have featured Ultimate ETA winners. Stay tuned to the schedule for updates.
what else can I do on-site at Graceland?