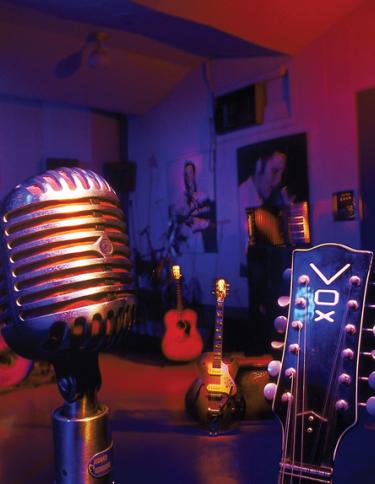 Memphis is where some of the world's most famous music was made and is still home to talented musicians who are a little soul, a little rock 'n' roll – and so much more.
Birthplace of Rock 'n' Roll
No visit to the Birthplace of Rock 'n' Roll would be complete without a tour of Graceland, Elvis Presley's sprawling 14-acre estate. Marvel at the quirky wonders of the King's mansion and enjoy self-guided tours of special exhibitions. Then cross Elvis Presley Boulevard to the new Elvis Presley's Memphis entertainment complex, where you can check out the King's vintage collection of automobiles and airplanes, an all-new career museum and two restaurants named after Elvis' parents, Glady's and Vernon (either one is just right for lunch onsite).  
Tour Sun Studio, where rock 'n' roll was born when pioneering music producer Sam Phillips took a risk by blending musical styles. Blues artists B.B. King and Howlin' Wolf recorded here in the early 1950s, setting the stage for rockers Elvis Presley, Jerry Lee Lewis and Johnny Cash. Still an active recording studio, Sun has attracted the likes of Bonnie Raitt, Ringo Starr and Tom Petty. This National Historic Landmark – which has appeared in a number of films, including "Great Balls of Fire" and "Walk the Line" – is an unforgettable experience for music lovers and history buffs alike.
Discover Memphis Soul
A must for fans of soul music, the 17,000-square-foot Stax Museum of American Soul Music, located a short drive from downtown in the neighborhood known as Soulsville USA, is the site of the original Stax Records. It houses more than 2,000 cultural artifacts celebrating the musical contributions of artists including Isaac Hayes, Otis Redding, Al Green and Aretha Franklin.
Beale Street and the Memphis Blues
A visit to Beale Street, the official Home of the Blues, is a rite of passage for any serious music fan. By day, tour the restored home-turned-museum of Father of the Blues W.C. Handy. When evening falls, catch world-class music acts at clubs such as B.B. King's Blues Club, Rum Boogie Café and Blues City Café. Then head to The Pig on Beale to indulge in some slow-smoked ribs or over to King's Palace Café for down-home Southern cuisine.
Whether you're a foodie, a music fan or a history buff, a romp on Beale is sure to satisfy all your cravings.  Beale Street is also home to two museums focused on Memphis' incredible music history. Take an incredible musical journey through Memphis from the 1930s to today in the Memphis Rock 'n' Soul Museum. This Smithsonian Institution affiliate in the heart of downtown includes the stories of Sun, Stax, Hi and Ardent Records. An interactive digital audio tour includes more than 100 songs and guides you through seven galleries featuring more than 30 instruments, 40 costumes and a variety of other musical treasures. The Memphis Music Hall of Fame honors individuals and groups whose talents have honed the Memphis sound, from Sun Records' Million-Dollar Quartet to Memphis Soul icons Isaac Hayes and Al Green to Ardent Studios' Big Star. The hall even tips visitors off to who's making music in Memphis today, so you'll know whom to listen for when you're venue-hopping or record-shopping in the city.
STAX, WDIA, BEALE STREET & MORE
FEDEXFORUM ART CELEBRATES MEMPHIS' BLACK MUSICAL ROOTS
On nearby South Main Street, the Blues Foundation's Blues Hall of Fame chronicles quintessential artists in this purely American roots genre, from the original Delta bluesmen to modern performers like Bonnie Raitt. Both the Memphis Music Hall of Fame and the Blues Foundation's Blues Hall of Fame are tightly curated and tech-forward, so you can count on brief but concentrated visits, packed with interactive A/V stations in addition to memorabilia.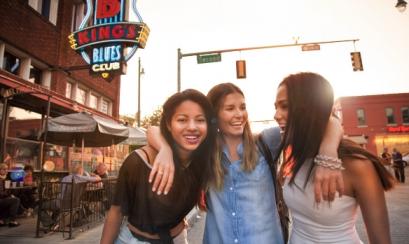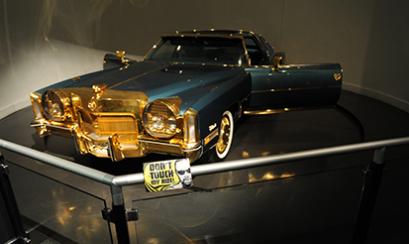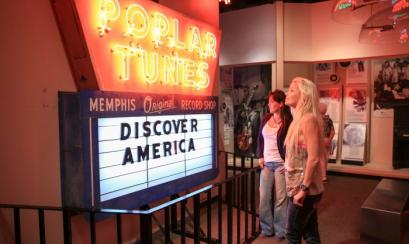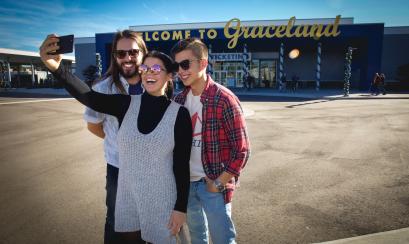 Live Music and Tours
Visit the Overton Park Shell, the outdoor amphitheater where young Elvis Presley took the stage on July 30, 1954, in what historians have called the first-ever rock 'n' roll show. Built during the Depression, the Shell served as an orchestral performance venue in the 1930s and 1940s. Today, the venue hosts 50 free concerts a year of all genres from this landmark stage.
If you really want to cozy up to Memphis, take a 90-minute Backbeat Tours guided tour led by professional musicians who use songs, comedy and anecdotes to tell the story of our city. You're sure to be entertained by these local storytellers, who periodically belt out tunes with a fair amount of guitar-strumming and tambourine-shaking. 
Want more? Read off-the-beaten-path trip ideas to Memphis music.