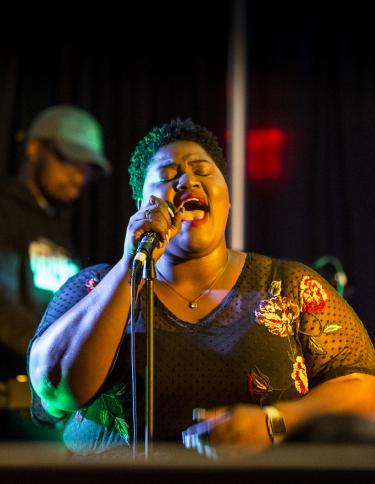 Memphis is known as the "Home of the Blues and the Birthplace of Rock 'n' Roll," and the deep musical tradition can be traced back to the 1800s. You know that you can find find live music at every night of the week on Beale Street, but if you want to go beyond Beale, this guide is for you. Learn where to hear the best live music in Memphis, from concert halls to dive bars to world-class arenas.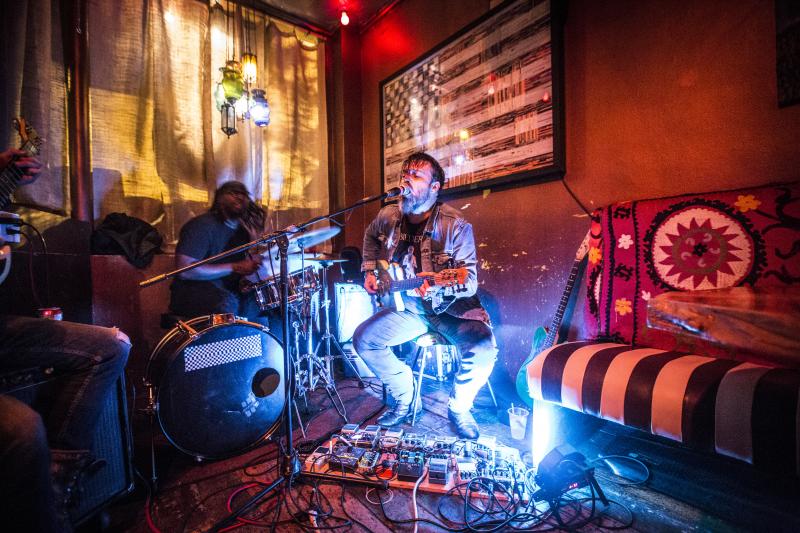 The Orpheum Theatre (203 S. Main) - While it's most known for its Broadway Series, the Orpheum also hosts recording artists from around the world. Marvel at the historic theatre's gilded ceilings, plush interior, and upscale ambience while you enjoy performances from symphonies, singers, and popular bands.
Halloran Centre (225 S. Main) - Next door to the Orpheum's classic opulence is the Halloran Centre's impressively modern theater and education center. Expect more intimate shows from classical artists and touring groups.
The Cannon Center for the Performing Arts (255 S. Main) – The Cannon Center boasts world-class acoustics in a fabulously modern concert hall in downtown Memphis. Home of the Memphis Symphony Orchestra, this performance venue has the cache to also pull in top acts like Bonnie Raitt, Mach Cohn, Boney James, Shirley Caesar and Bell Biv Devoe.
Germantown Performing Arts Center (1801 Exeter) – For live music and performances in the suburbs, visit Germantown Performing Arts Center, or GPAC. This venue has over 800 seats and has hosted heavyweights like Boyz II Men and Yo Yo Ma. GPAC also features ongoing concerts series, family friendly shows and is home to the IRIS Orchestra. GPAC also just unveiled an all-new outdoor venue known as The Grove. Live shows at The Grove begin again in May, 2021.
Landers Center (4560 Venture Dr., Southaven MS) - Just a few minutes south of Memphis in Southaven, Mississippi, the Landers Center hosts big names and popular touring groups for arena-style shows. Look for acts like Tool, Mary J. Blige, The Avett Brothers, and more.
BankPlus Amphitheater at Snowden Grove (6275 Snowden Lane, Southaven MS) - If seeing big names while lounging on a grassy knoll sounds like your cup of tea, Snowden Grove is for you. Expect acts like Matchbox 20, Lynyrd Skynyrd, The White Stripes, Miranda Lambert, and other festivals and events. Prefer a seat? The amphitheater offers 4,000 premium seats as well as a gently sloping well-kept lawn for seating.
Minglewood Hall (1555 Madison) – Memphis' go-to venue for mid-size shows and national touring acts, Minglewood Hall boasts a large performance area for seated and standing shows for artists like The Shins, Korn, Run the Jewels, Lil Boosie, Lucero, and more. Most shows are all ages, but some may be 18+ or 21+. Also inside Minglewood Hall, you'll find B-Side Bar. Enjoy happy hour specials while taking in live music. 
For more intimate acts, check out Minglewood's 1884 Lounge. 
Levitt Shell (1928 Poplar) – Just like the best things in life, summer and fall concerts at the Levitt Shell are free. The outdoor amphitheater in Overton Park hosts fifty free shows a year, mostly touring acts. Take the whole family and pack a picnic for a true Memphis experience at the same outdoor stage where a young Elvis Presley got his start. There are occasional special ticketed events and music festivals, too. Click here for season information. 
Hi-Tone (282-284 N Cleveland St) – Rock out at this popular local hangout and dive bar. The venue hosts local and regional touring acts most evenings; you can find rock, indie, hip hop, and the occasional metal show or small festival at the Hi-Tone. The "Big Room" is standing room only. There are some seats in the adjacent lounge or the "Small Room". Shows may be 18+ or 21+, but you can catch all the details on the Hi-Tone's website.
Lafayette's Music Room (2119 Madison) – Lafayette's first heyday was in the 70s, when it anchored Overton Square and famously launched the career of artists like Billy Joel. Its second heyday is happening at this very minute. The music hall reopened in 2014 as midtown's go-to venue for live music five days a week, with two floors of seating, a large patio overlooking the Square, plus a full menu including weekly brunches. Expect both local and touring acts playing rock 'n' roll, jazz, blues, soul, and more. See their website for their music line-up.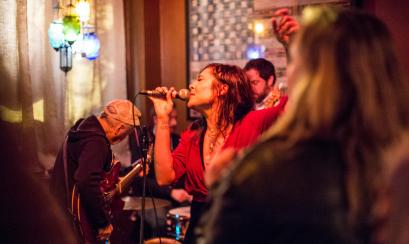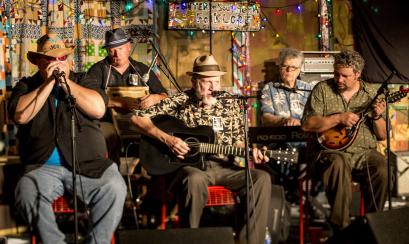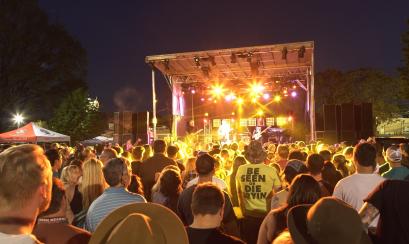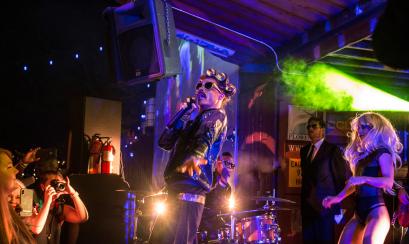 The Bluff (535 S. Highland) – The Bluff opened in 2016 as the Highland Strip's premiere music venue. Expect local and regional acts - especially rock and country bands - to take the stage a few days a week, plus a Bluegrass Brunch every Sunday. The Bluff's Cajun food, multiple bars, large concert space, inside balcony seating and alley patio make it a versatile space for live music and good times. The Bluff is 21+ in the evenings.
Murphy's (1589 Madison) - Murphy's is your quintessential dive bar and show venue with an Irish flair. Expect local and regional acts, especially punk, rock, indie and alternative in a cozy bar setting in the heart of Midtown. Memphis Punk Fest and Gonerfest both host multiple shows in this beloved local watering hole.
Bar DKDC (964 Cooper) - If you want to see the most popular local bands, this bohemian late-night hotspot has to be on your list. Go after dinner, order drinks served in Mason jars, and hop in the photo booth for a souvenir picture, then wait for the music to start. Every week, catch artists of all genres, including rock, experimental, indie, Americana, and the occasional DJ, usually after 9 p.m. for patrons 21+ with a minimal cover. The best way to see their lineup is on their Facebook page.
Otherlands (641 S. Cooper) - The hip midtown coffee bar is a dependable place for Java and bagels by day, and a haven for folk, bluegrass, and singer-songwriter acoustic shows by night. Check out their music schedule then head over for a beer and chill coffeehouse vibe.
Loflin Yard (7 W. Carolina) - This downtown hangout hosts occasional concerts on their sprawling lawn, which has plenty of Adirondack chairs, picnic tables, and other outdoor seating for lounging while you sip a craft cocktail and listen to the music. Check Loflin's website for a schedule.
Railgarten (2158 Central) - For all practical purposes, Railgarten is Loflin Yard's midtown cousin. The venue has a diner, a bar, an open "yard" area, ping-pong area, and stage and hosts the occasional local band or small festival. Pro tip: Take a cab or catch a Lyft, as parking is very limited.
Center For Southern Folklore (119 S. Main) - This colorful exhibit hall in the heart of downtown is a gathering point for Memphis culture, including art, photos, video, and of course, live music. Catch blues and folk tunes every Saturday and Sunday, plus their annual Memphis Music & Heritage Festival every Labor Day Weekend.
Ghost River Brewing Taproom (827 S. Main) - Memphis' first local brewery's downtown taproom is a popular place for a tour, a pint, and a bit to eat at a food truck, but they also host live music every Saturday and Sunday on their cool patio downtown.
Newby's (539 South Highland) – Due to their location near The University of Memphis - and by their own proclamation - Newby's is "the college bar you never graduate from". The renovated venue offers fun, chill live music and DJs a few nights a week with affordable food and drink specials. Some shows may have a cover charge or be for patrons 18+ only.
South Main Sounds (550 S. Main) - A place for both up-and-coming and established singer-songwriters, South Main Sounds is located in the eponymous historic district and hosts songwriter nights in a casual, intimate gallery almost every week.
RockHouse Live (2586 Poplar and 5709 Raleigh LeGrange) - RockHouse Live's two Memphis-area locations host rock, alternative, and metal shows several times a month in both of their intimate, moody venues. The Poplar Avenue location was once home to the infamous Poplar Lounge, and the venue retains some of that local dive bar appeal. Look for RockHouse Live's Memphis and Midtown lineups on their website.
​
Zebra Lounge (2114 Trimble) - For the full piano bar experience, pull up a chair at the Zebra Lounge in Overton Square. They open at 6 p.m. for cocktails and host live piano music starting at 8 p.m. every night, and most of the musicians accept requests. Sing-alongs encouraged but not required.
The Green Room at Crosstown Arts (422 N. Cleveland) - An anchor of the up-and-coming Crosstown neighborhood, this intimate gallery space now plays host to regular music performances and concert series you can't witness anywhere else. 
Growlers (1911 Poplar) - Once the site of the original Hi-Tone, Growlers has breathed new life into the building, which is across the street from Overton Park in the heart of midtown. Expect local and regional acts performing energetic shows for patrons 21+.
Young Avenue Deli (2119 Young) - As one of the most popular live music venues in the city, Young Avenue is a top spot to find local musicians, like Amy LaVere and Al Kapone, but also significant national touring acts like Built To Spill and The Black Keys (before they got huge.)
Memphis Symphony Orchestra (610 Goodman) - Memphis also offers professional music companies, including the Memphis Symphony Orchestra led by conductor  Robert Moody, and Opera Memphis, where soprano superstar Kallen Esperian often appears with the chorus.