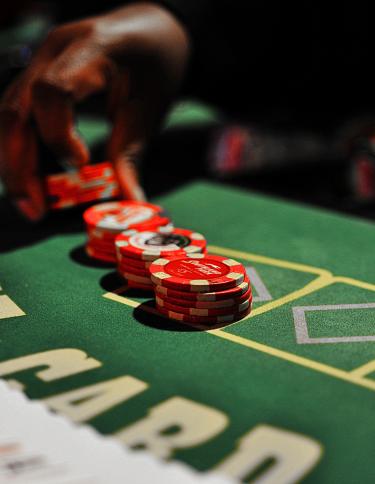 Gazing from a downtown Memphis rooftop, the currents of the Mississippi River ripple south towards a hub of riverside casinos in nearby Tunica County, Mississippi. In the distance, the glow of a newly renovated Southland Casino welcomes gamers to its tables in West Memphis, just above the tree line in West Memphis. And while gambling is illegal in Tennessee, gamers looking for a casino in Memphis don't have to travel far to place a wager in person.
Memphis is the hub of three states, two of which are home to the seven casinos within a 40 mile drive of Beale Street. From the Mississippi Delta to a pitstop over the bridge, these are the top casinos and gaming options near Memphis.
Southland Casino
West Memphis, 7.4 miles, 11 minutes from Beale St.
Arkansas's Southland Casino has literally risen up over the West Memphis skyline in recent years with the addition of a 300 room high-rise hotel. Opened in 2022, the bell cow of a $250 million renovation project features more than 60 suites and 12 penthouses perched above 80,000 square feet of gaming with some 2,400 slot machines and 60 live game tables. 
Betly Sportsbook at Southland:
Racing fans can still bet on greyhounds at this historic track; but the new stars of the show are the plethora of dining options—from the Charred Oak Bourbon Bar to the Chairman's Bar—and the Sports Bar & Grill (formerly Sammy Hagar's Red Rocker) and its Betly Sportsbook kiosks.The kiosks allow visitors to place bets on sports from martial arts to hockey, auto racing and college football.
Gold Strike Casino Resort
Robinsonville,  30 miles, 41 minutes from Beale St.
The tallest building in the state of Mississippi doubles at the most visible casino in Tunica County. The shimmer of Gold Strike Casino Resort's amber windows can be spotted from miles around, signaling an approach to its lavish gaming floor and plush hotel rooms. MGM Rewards members will feel right at home at Gold Strike, where a full service Chicago Steakhouse and the resplendent Buffet Americana await. 
BetMGM Sportsbook at Gold Strike:
Gold Strike is also home to the BetMGM Sportsbook and the BetMGM Book Bar & Grill which features more than 50 HD, flat-screen televisions, a VIP lounge, a video poker bar and a Topgolf® Swing Suite and an arcade featuring simulated PGA courses and Zombie Dodgeball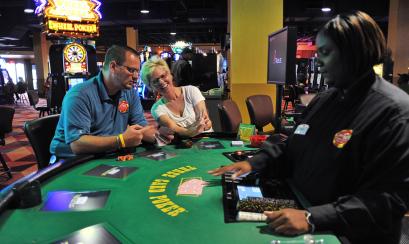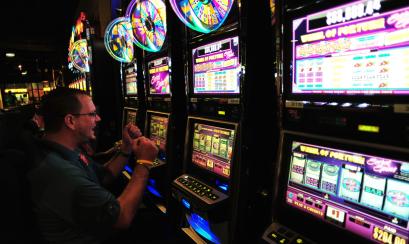 HOLLYWOOD CASINO
Tunica, 34.8 miles, 46 minutes from Beale St.
The stars come out at Hollywood Casino in Tunica. With 400 hotel rooms, a party-ready indoor pool, award-winning steakhouse and priority tee times at River Bend Golf Course, Hollywood Casino is made for a weekend getaway from Memphis. Hollywood's Stage Bar serves up free live music from some of the Memphis area's best musicians on weekends—the perfect break from a gallery of 800 slot machines and video poker games and the High Limit Poker Room.
1st Jackpot Casino
Tunica, 29.6 miles, 40 minutes from Beale St.
With 40,000 square feet of gaming, including 900 slot machines and 40 tables, 1st Jackpot Casino has ample room for gamers to find a home. One of the most recently refreshed properties in Tunica, 1st Jackpot Casino was rebranded from Bally's in 2017. Set amidst an 1800s Mississippi Delta theme, the casino's eateries focus on traditional southern cuisine. Meanwhile, its promotions focus on big giveaways, regularly topping $300,000 or more. 
The Sportsbook at 1st Jackpot:
The casino's sportsbook integrates with a mobile app to allow gamers to place bets on sporting events from any location within the casino. A custom QR code is generated with each bet to integrate the wagers with the casino's slip system. 
The Fitz Casino and Hotel
Robinsonville, 30 miles, 41 minutes from Beale St.
Three Card Poker and Mississippi Stud mix with world famous Fuddruckers hamburgers and a knowledgeable, friendly staff at The Fitz. Located next-door to Gold Strike Casino Resort, The Fitz Casino and Hotel serves up 1,100 slot machines and 20 gaming tables. The Fitz is also home to 500 hotel rooms and suites that allow visitors to unwind for an evening without the worry of driving back to Memphis.