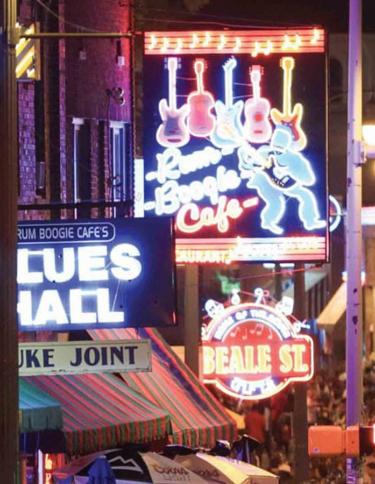 You're on vacation. You don't have to go to bed at 10:00pm. Why would you when there's still so much to do? Here are our picks for the best late night fun in Midtown and Downtown.
Note that due to COVID-19, some Memphis businesses may be operating at limited capacity or temporarily closed. Please check with each business or experience before visiting.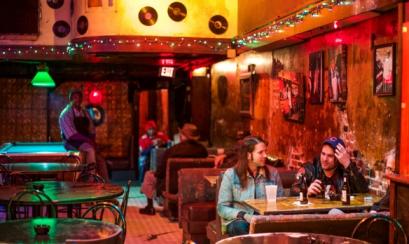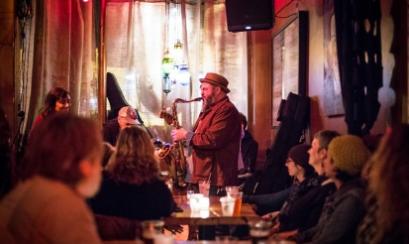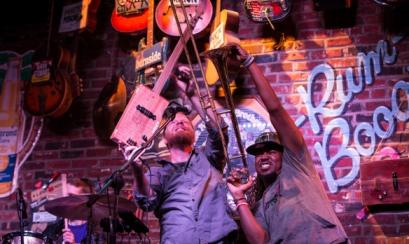 DOWNTOWN Nightlife
Most of Beale Street stays up way later than the rest of the city and has the added bonus of allowing you to walk from place to place with a drink in hand (the only place in Tennessee to allow this). Take a stroll from one end to the other and see which places are hoppin, as it varies from night to night.
The Blue Note, across from The New Daisy, is the closest thing to a real deal juke joint on Beale. Handy's Blues Hall also feels authentic and original.
The Tap Room is a down and dirty saloon if you wish to imbibe. People's has the nicest, biggest pool tables in town. Rent one by the hour or pay as you go on a regular size table. (They also have a vending machine full of chips, candy, cigarettes, aspirin and dice, among other things.)
Tin Roof is a local favorite. This popular bar offers live music, a delicious menu with Southern-inspired favorites and some of the best drink specials in town. Don't forget to bring your dancing shoes because Tin Roof's Green Room features live DJs every Thursday, Friday and Saturday night. 
Live music and eats can also be found in other parts of downtown, too. Heading south from Beale, the legendary Earnestine & Hazel's is known for its soul burgers, jukebox, and ghost stories. (Depending on the night, there is live music and/or free pool.)
Loflin Yard is the place to be, especially when the weather is nice. It's like a park that serves pitchers of beer, handcrafted cocktails and wine by the bottle. Their coach house often has live music and the upscale menu features mostly grilled items.
In the heart of Downtown, you'll find a couple of great neighborhood bars with great food, inluding Bardog (a smoking bar) and the speakeasy-like Belle Tavern. For dancing, Paula & Raiford's Disco is a revered Memphis institution which really doesn't get going until 11:00 p.m. Don't let the line down the street deter you. It moves fast and the party inside is worth it - think fog machines, twinkle lights, white leather couches, and a live DJ. (Also, if it's crowded, paying a bit extra for the VIP area is suggested.)
In Victorian Village, Mollie Fontaine's is the go to. Official hours are "5:00pm til the spirits go to sleep," Wednesday through Saturday. The entire house is beautifully decorated, dark, and cozy. The downstairs features a piano and a large bar. Upstairs is a series of smaller rooms and a small bar (that allows smoking) with adjacent livingroom-like seating. Things can (and do) get a little wild.
MIDTOWN NIghtlife
Overton Square entertainment district is one Midtown option for the after party. It doesn't go nearly as late as Beale Street, but there are a few late night gems to try. Dodici, located inside and above Bari Ristorante, is a super snug and exclusive bar that only seats twelve. Lafayette's has live music so you can dance the night away every night of the week. Robata serves ramen and other Japanese delights late into the evening all week long and Local's kitchen provides curbside pickup until 2 a.m., Thursday through Sunday.
Just south of Overton Square is the Cooper-Young neighborhood, filled with an eclectic mix of restaurants and bars. Slider Inn (a smoking bar) has your patio needs covered, year round. They serve sliders, fries, nachos, lobster rolls and the like until midnight. Bar DKDC has live music almost every night and is a solid bet for late night fun. It's not the biggest bar in town, but it definitely provides a bang. Around the corner, the much roomier Young Avenue Deli features live music, pool tables, and full service late night dining and drinks.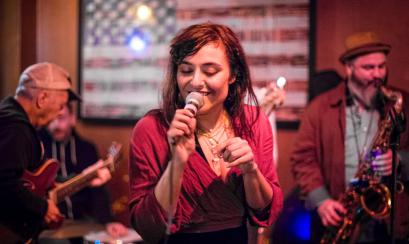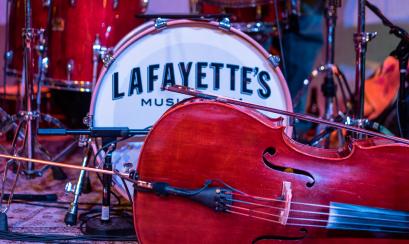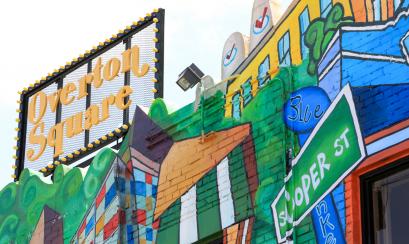 Located between Overton Square and Cooper-Young, Railgarten is one of midtown's hottest spots. This rail yard hangout and ping pong bar features stages and bars inside and out, making Railgarten the perfect spot for any season. 
In Crosstown, the Hi Tone is the go-to, especially if you want to rock. They have live music nearly every night, usually starting at 10 p.m. There's a separate smoking bar and a smaller room in back for intimate affairs. Food depends on who sets up outside, but is typically some kind of barbeque.
Wild Bill's is a must for the juke joint experience. Locals and tourists alike fill the communal tables. Beer is served in 40s with extra cups or you can BYOB and get a set up. The house band plays every weekend. Bring cash and plan to chat--and dance--with all of your new friends.
Down the road, Alex's Tavern (a smoking bar) is known for its Greek seasoned burgers, jukebox, and extra late hours. If you wanna keep the party going all night, this is the place.