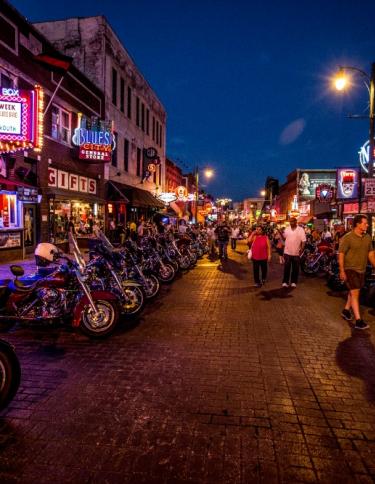 Odds are, Beale Street is on your bucket list. Beale is Tennessee's most visited attraction, and (according to USA TODAY's 10Best) it's America's most iconic street. With music streaming from every open door, tributes to  to music legends along its cobblestone walkways and reminders of the city's rich heritage everywhere you look, it's no wonder that Beale Street attracts millions of visitors from around the world every year. To help you get the full Beale Street experience, we've broken things down into five unique ways for you to enjoy the strip where rock, soul and neon collide.
1. SOAK UP THE VIBE.
Half of the allure of Beale Street is your walk along the strip itself.  With over two dozen bars and nightclubs, street performers and great people, you'll find the environment hypnotic as you peak into alleys for rockin' performances and admire the pop-up shops in W.C. Handy Park. Arrive around 7 p.m. at  Hard Rock Café near the West end of Beale. Grab a quick appetizer before you embark upon the evening's journey. Visit any walk-up bar and order Memphis' signature drink, the Walk Me Down - a frozen blue treat with seven different liquors and delicious to boot. Watch the Beale Street Flippers turn the cobblestone street into a runway for aerial somersaults as onlookers line the sidewalks (and sometimes join in as props). Check out the brass music notes memorializing Memphis music legends on the sidewalks. As you travel the street, you're sure to hear conversations in English, Italian, German and more. It'll become clear why the city that revolutionized the world's soundtrack continues to attract international adoration decades later.
2. HAIL THE QUEEN.
After touring the strip and meeting the inevitably chatty promoters at each stop, you'll want to stop somewhere and finalize your agenda. Try Silky O'Sullivan's open-air courtyard where resident goats interact patiently with their fans (and occassionally sip beer). For another Beale Street classic, be sure to order Silky's signature "Diver," a gallon-sized cocktail served in a bucket. The goats, cocktail, even the spirited ambiance - you'll soon learn that these are all accessories to queen Barbara Blue, who commands the bar with her powerhouse vocals during funky, soulful, blues-y sets. (Later, dueling pianos take over.)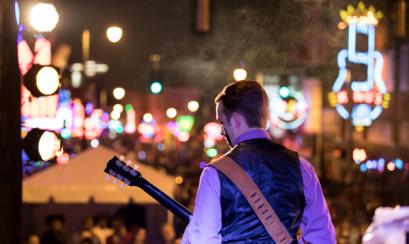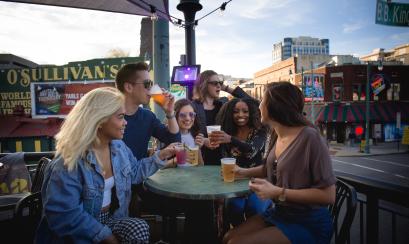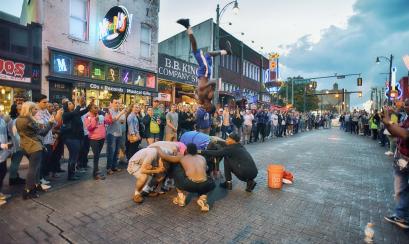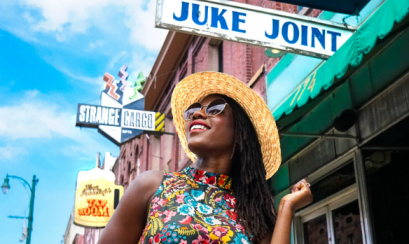 3. DANCE WITH THE LOCALS.
As long as the night isn't too cold, locals gather 'round the W.C Handy statue in his namesake park for free concerts. The experience is electric. Attendees of all ages come together for a Memphis-style groove session. During summer months, Memphis bands present multiple series of free concerts that offer a genre-bending mix of styles from rock to punk to funk to folk.
4. MAKE YOURSELF AT HOME.
A nominal cover gets you into Blues Hall. Inside the narrow room, strands of white lights drape along the ceiling and framed paintings hang on the walls, giving it the feel of someone's living room. The bands that play here strip down their soul and blues sounds for intimate sets – a cozy warm-up to what comes next . . . 
5. GROOVE ON OUT. 
Blues Hall is connected to Rum Boogie Café, so you get two experiences for one cover charge. Walk through the adjoining door for a sight- and soundscape that's altogether different: Inside Rum Boogie, neon lights spelling STAX glow red, illuminating a collection of guitars – each one suspended from the ceiling and name-dropping its association, from Bobby Rush to The Black Crowes. Several nights a week around 9 p.m., Vince Johnson and the Boogie Blues Band take the stage – harmonica, sax, Hammond organ and all – so when they groove out to "Green Onions" or "Walking the Dog," it sounds exactly like Beale Street live music should. 
These are only a few things to do on Beale Street any night of the week. You're bound to find your own Beale Street playlist.  Whether you're getting your rockabilly fix at Jerry Lee Lewis' Café & Honky Tonk, dancing to DJ music or singing karaoke – you can take your pick and experience the very best of Memphis' Beale Street.
If you go
On Friday and Saturday nights, there are a few restrictions you'll want to note: At 9 p.m., a security checkpoint goes up, ensuring that guests coming onto the street are 21 or older. Minors already on the street at this time are permitted to stay, accompanied by a parent, until 11 p.m. After 11 p.m. on Fridays and Saturdays, Beale goes 21 and up.