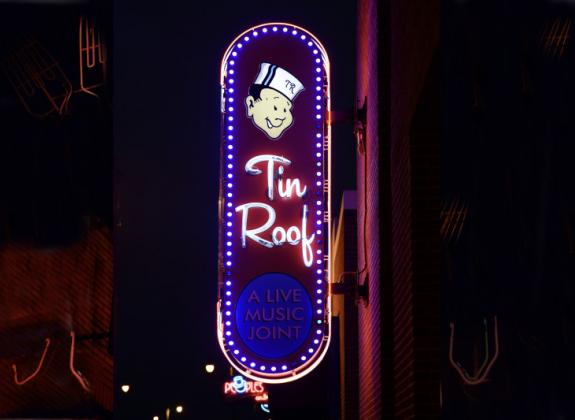 Tin Roof is "A Live Music Joint" that specializes in great food and good times for everyone. The original Tin Roof opened near Nashville's famed Music Row and has been bringing live music and good times to captive audiences all over the country for over 12 years. Our stage has hosted the famous, the "should have been famous", and everyone in between. With acclaimed Executive Chef Will Zuchman crafting a one-of-a-kind inspired and eclectic menu, music is not all you'll find at The Roof. We are located on Historic Beale Street in the heart of downtown Memphis conveniently located next to Fed Ex Forum and walking distance to the Memphis Rock and Soul Museum, Auto Zone Park, hotels and many popular attractions. Our space totals 11,900 interior square feet plus a large patio and can accommodate up to 1200 guests. We have several distinct areas within which can be sectioned off for smaller private & semi-private groups as well. Ask about our mezzanine level and our Green Room area with its large outdoor patio. With our nightly live music, custom craft cocktail creations and unique food offerings, The Roof is perfect for any group. You bring the people and we'll do the rest. Tin Roof is sure to rock your event!
Amenities ▲ Meeting Space ▲
Covid-19 Availability
Cuisine
Facility Amenities

Full Bar
Live Music
Outdoor Seating

Meals Served
Neighborhoods
Parking
Meeting Space
Total Square Feet
11290.00
Image File
Space Notes
10 ft. wall projector screen and 27-flat screen TV's located throughout facility available for meetings, corporate events & retreats, etc. Flexible seating and banquet set-up, live music or DJ available and special rates for daytime meetings & events.
Large File