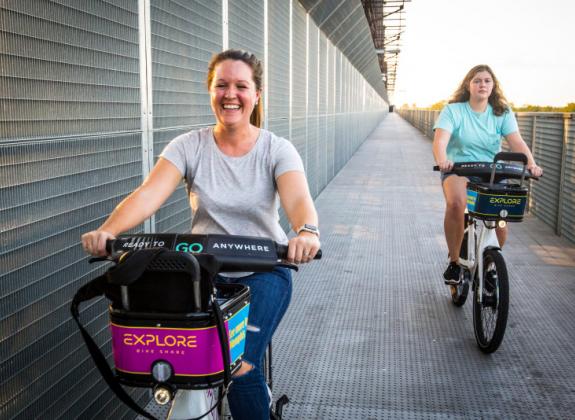 Location
287 South Fourth Street
Explore Bike Share has 80 convenient pick-up/drop-off locations in Downtown, Midtown, South Memphis and Orange Mound for visitors and residents to explore the city. EBS provides easy, affordable access to explore museums, breweries, parks, greenways and more. The bike share system is available 24/7.
What is Bike Share? Bike Share is a revolution on two wheels. By providing a network of bicycles that can be rented on-demand from stations located around the city, it changes everything about urban transportation. The process is easy: visit a station, pick up a bike, and you are ready to roll. Return a bike to any station when you're done. To start, simply download the BCYCLE app to your phone.
That's it. You can pay per ride, per day, per week, or even per month or year.
Bike share is for everyone wanting to get around Memphis, from commuters to shoppers to fitness-seekers to visitors. The bicycles are safe, simple, and sturdy and designed for users 16 and older.
Amenities ▲
General Information
Neighborhoods

Downtown
East
Greater Memphis
Midtown
North
South/Airport