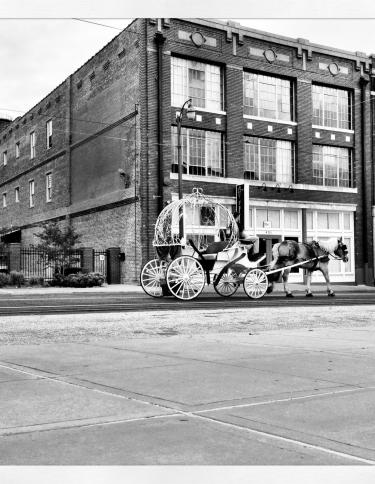 Blending history (and historic attractions) with original restaurants, shops and nightlife, the South Main Arts District creates an authentically Memphis way to spend a few hours, an entire day—or a memorable night out.
Want to discover more of Memphis' South Main Historic Arts District? Start with this quick orientation:
Where is the South Main Arts District?
It's in downtown Memphis. (If you're looking at a map of downtown Memphis, it's the southwest section.) South Main Street is the main thoroughfare, and it's about a mile long from Beale Street on the north end to Crump Boulevard on the south end. The district extends a few blocks west from South Main Street to the Mississippi River and east to about South 2nd Street. Scroll down for parking info.
What should you do in the South Main Arts District? We're glad you asked:
Enjoy one of South Main's signature events
When's the best time to visit South Main? Spring's an especially lively one. You might catch opening day of the Memphis Farmers Market (typically the first Saturday in April), when local makers, farmers and food trucks set up to sell arts and crafts, fresh foods and ready-to-eat goodies. Anytime of year, you can join a free block party on South Main called Trolley Night. Galleries, restaurants and shops stay open late, feature specials or complimentary drinks, host live music, art shows and more.
See a show, from Broadway to the big screen to a singer-songwriter showcase
Whether you nab tickets to the most-talked-about Broadway shows at the historic Orpheum Theatre, catch an intimate concert at the sleek new Halloran Centre, catch an even more intimate singer-songwriter night at South Main Sounds or see a movie from the comfort of your reclining seat at the brand-new Powerhouse Cinema, you'll find entertainment for any mood on South Main.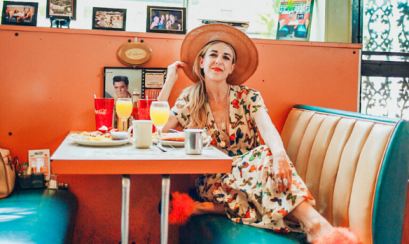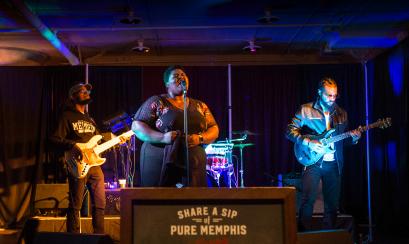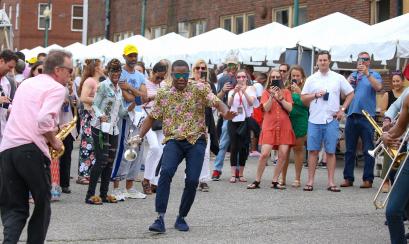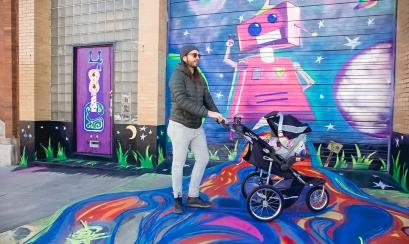 Sample some of Memphis' favorite fare (including barbecue)
South Main is also known for its strong concentration of locally owned, original restaurants, so what are you in the mood for?
Soak in the history with retro architecture & interactive museums
The retro vibe comes from South Main's concentration of preserved architecture. Most of its buildings date to 1910 and 1925, when the district was the city's railroad hub (wait 'til you see what's become of one of those stations and note that you'll find the Memphis Railroad and Trolley Museum inside of it!). 
In the mid-20th century, a couple turned one of South Main's original hotels into the Lorraine Motel. Dr. Martin Luther King Jr. and other activists were frequent guests, and it was on the motel balcony where Dr. King was assassinated. Today, the National Civil Rights Museum at the Lorraine Motel is a multimedia experience tracing the civil rights movement from slavery to the present. (Tip: Take a half-mile walk from the museum to Tom Lee Park for more African American history in Memphis, plus Mississippi River views.)
A parallel history to the civil rights movement can be found across the street at The Blues Foundation's Blues Hall of Fame. Clothing, art and other memorabilia surround touchscreen displays that connect you to deep archives of songs, photos, film and video of blues musicians from B.B. King to Bonnie Raitt. Even if you only have an hour, you'll leave with a solid understanding of the blues' role in shaping American culture. 
For coffee, craft beer or cocktails, go where the locals go
That means Bluff City Coffee for an espresso-only approach to your morning or Hustle & Dough (inside the ARRIVE Memphis hotel) for drinks crafted with locally roasted beans. Both spots offer delicious house-made breakfast options, too. For something stronger, try the following, and check this full list of options: 
Stay overnight in a new boutique hotel
The Central Station Memphis is one of them. Though it remains an active railway station, the majority of the site has been transformed into a boutique hotel. Stay overnight or just hang out: Eight & Sand is a chill spot for a drink and live DJ music (and you have to see the hotel's collection of Memphis vinyl); Bishop is a French fine-dining concept from some of Memphis' most award-winning chefs.
At ARRIVE Memphis hotel, meet for coffee or cocktails. (If you go for the latter, be ready to shoot some shuffleboard between rounds, and arrive hungry: The menu here is full of comfort, well executed.) 
Get an eye-ful of local art with galleries and murals
Artists helped lead South Main's renaissance in the 1990s, and a creative energy still flows through the neighborhood. Stroll the street for a DIY public art tour featuring murals and mosaics, and duck into creative showcases including globally focused Art Village Gallery, photography-forward Jack Robinson Gallery and folk art-inspired Edge Gallery.
 
Shop locally owned boutiques
Local art, fashion, candles, books, vinyl, home decor–with options small enough to take home as authentic souvenirs of your Memphis getaway–they're all available in South Main boutiques and shops. Make your shopping list with help from this guide. 
Bring the kids 
Book time for your crew at Memphis Escape Rooms. Each room here is locally engineered, and many have Memphis-y themes. All will put your wits to the test in an unforgettable, heart-pounding hour of fun. And good news for families with train enthusiasts in tow: the Memphis Railroad and Trolley Museum reopened in 2022 in its original location inside the Central Station Memphis hotel. Make a short visit to check out model train displays and more.
Where should I park to explore South Main? 
You'll find metered street parking throughout the district, but some attractions have their own paid or unpaid lots, including The Orpheum and Halloran Centre and the National Civil Rights Museum. The district is compact enough that you can park once and walk, hop on the vintage trolley or grab an electric scooter or Explore Bike Share cycle.