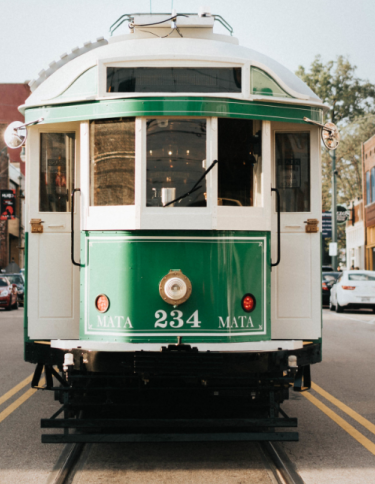 Sure, Memphis has all sorts of ways to get around and experience the city, but the Downtown trolleys are one of the most popular modes of transportation with visitors and locals. Hop aboard an authentic, vintage trolley car and glide through historic Downtown Memphis. The clickety-clack of the track is just like going back in time.
When we say genuine trolley cars, we mean it too. We're talking intricate wood work, hard-carved corbels and antique lighting fixtures that give character and appeal to these vintage vehicles.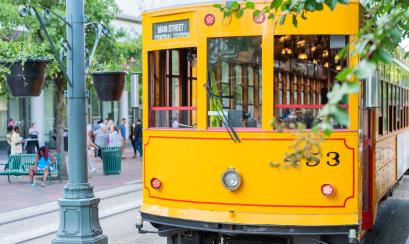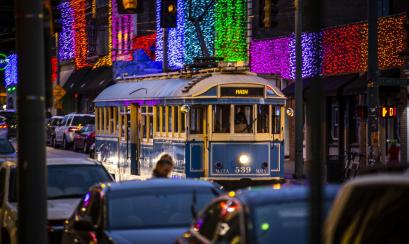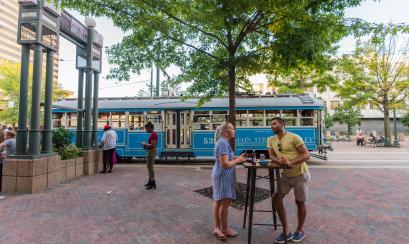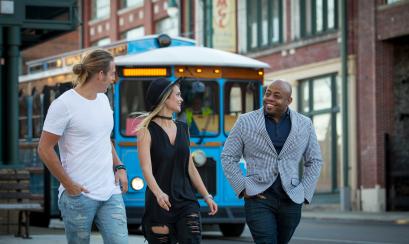 After nearly four years of work, the Memphis Area Transit Authority (MATA) has restored the vintage trolley passenger operations to the Main Street Trolley rail line. Here's what you need to know:
● The Main Street Rail Line will operate from 6:45 a.m.-12:00 a.m. Monday-Friday, 8:00 a.m.-12:00 a.m. Saturday and from 10 a.m.-6:00 p.m. on Sunday (operating every 12 minutes).
● The Riverfront Line will operate from 10:20 a.m.-6 p.m. Monday-Sunday (operating every 40 minutes).
● The Madison Line will operate 6:45 a.m.-6 p.m. from Monday-Friday and 8:15 a.m.-6 p.m. on Saturday (operating every 30 minutes).
 
The Memphis trolley makes stops near (and will take you past) notable destinations like: 
Dollar for dollar, there is no better way to get a nostalgic view of Downtown Memphis than by trolley.
Speaking of cash, the trolley only accepts cash or passes. Bring exact change. Base trolley fares are $1 per ride and daily passes can be purchased for $2.00. The 2.5 mile Riverfront Loop route is a relief for tired feet and offers a picturesque view of the Mississippi River. The Madison Avenue trolley line gives you access to Midtown Memphis.
Looking for something particular or need a recommendation? Just ask the trolley driver, they've seen and heard them all and will surely point you in the right direction. Don't miss the last Friday of every month when the galleries and shops of the South Main Arts District throw open the doors for a unique event from 6 - 9 p.m. Trolley rides are free between the Beale Street Station and Central Station during this time.
 
So, what are you waiting for? Next time you're in Memphis jump on a trolley at one of the 35 stations and soak in a little slow-time Southern charm.  
Click here
 to see a map for trolley times, stations and service hours.