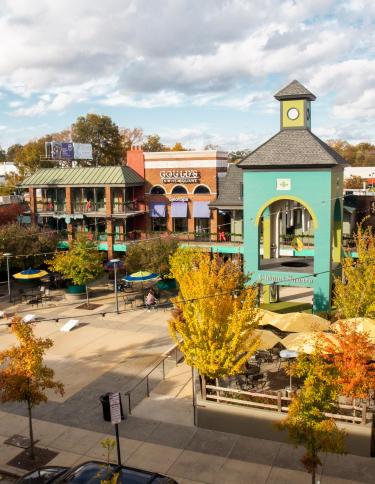 Near my Memphis neighborhood, there's a place called Overton Square. Talk to Memphians of a certain age and they'll tell you about buying their first liquor by the drink, catching an unknown Billy Joel in concert, and disco dancing here in the 1960s and '70s. But when I moved to the city in 2010, the Square was a shadow of its former self. Buildings remained, but the tenants—and verve—had migrated. In 2012, that began to change. Just before Christmas, local artists debuted pop-up shops in the Square's vacant buildings. Neighbors gathered for a tree-lighting on the Square's defining corner. By New Year's Day 2013, the Square was on its way back. 
Fast-forward to the present and the Square is at capacity, covered with people, bathed in punchy murals—one of those quintessential things to do in Midtown Memphis day or night, with or without the family. Just navigate to the corner of South Cooper Street and Madison Avenue and make your way with these tips: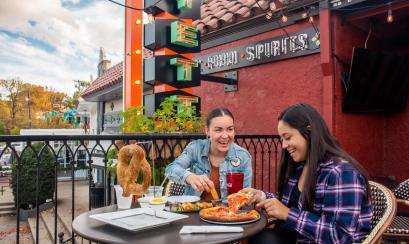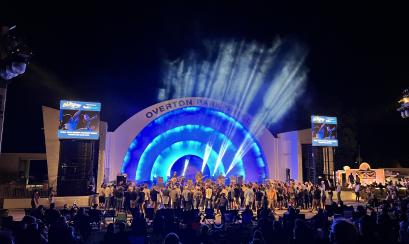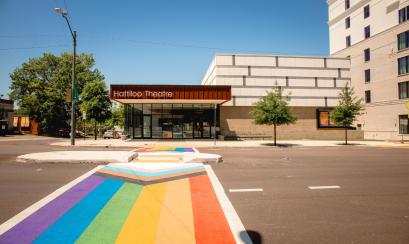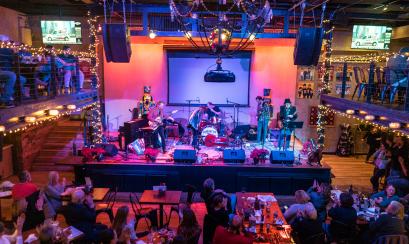 What to eat
There are so many restaurants on the Square today, you might want help simplifying your choices:
When the weather's right, go wherever you can nab a patio seat.
Let the time of day decide for you. Some Square restaurants serve dinner only; some serve late-night; others serve weekend brunch.
Listen (or ask): Many Square restaurants feature live music, viewing parties, happy hours . . . they can get loud. Maybe that's your thing; maybe not, so think before you sit.
Want to decide based on your food and drink choices? Consider this: 
It's possible to eat around the world in one block of Overton Square. Share guacamole—made tableside—at Babalu. Cozy up to a steaming bowl of ramen at Robata. Savor the tandoori at Golden India or bite into a calzone with a local draft at Memphis Pizza Café. 
About that beer: You'll find several Memphis craft brews on offer around the Square, but Boscos is the pioneer. (Literally—it was the first brewpub in Tennessee.) The award-winning Midtown Brown ale pairs deliciously with Boscos' wood-fired pizzas. For a full bar, try Local Gastropub, pouring cocktails like the Velvet Elvis, made with tequila, Prosecco, lavender water, and muddled orange.
The square is also home to restaurants including Saltwater Crab and Porch & Parlor. For dessert, make sure to share at 17 Berkshire so you can try a layered petit four, macarons or truffles at this patisserie.  Skip over to Sweet Noshings for homemade ice cream in flavors like whiskey-honey or a scoop from a candy jar filled with gummy frogs or chocolate-covered marshmallows. Afterward, challenge each other to a game of Cornhole in the Square's Tower Courtyard or make something together at The Art Project, a studio where kids can follow step-by-step craft ideas or use a treasure of supplies and recycled materials toward DIY creations.
Overton Square Performing Arts District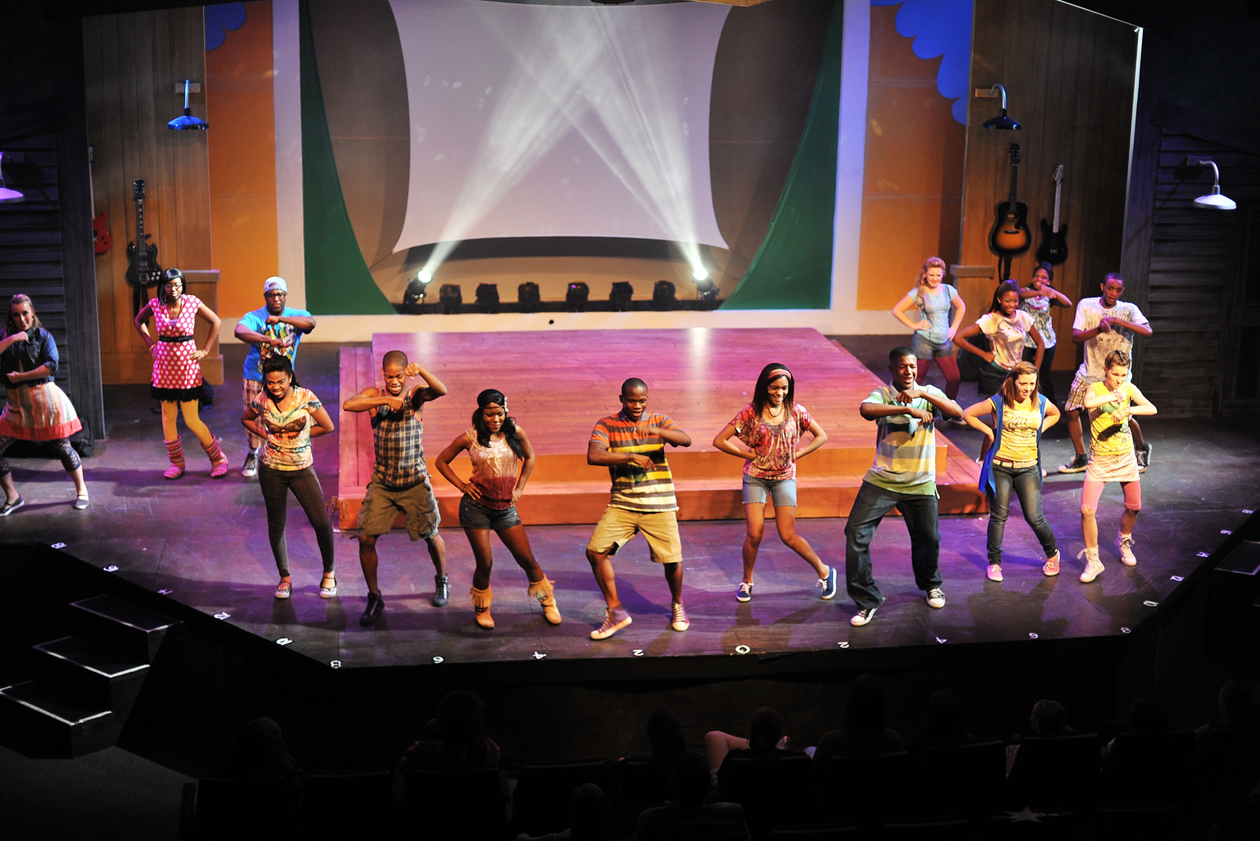 Calling all theater lovers — Overton Square forms the heart of Memphis' theater district, where you can see everything from hit Broadway musicals and plays to all-new productions and original performances.
Visit Hattiloo Theater, Memphis' only freestanding Black repertory theatre, to appreciate the diversity and culture of Black theater. This 501(c)3, non-profit organization works to provide opportunities to Black artists, performers and directors. Look out for original productions by Tony-nominated Memphian Katori Hall and Hattiloo founder Ekundayo Bandele.
Playhouse on the Square is the flagship theater of Circuit Playhouse, Inc., the city's largest professional theater company.  See large-production Broadway and off-Broadway plays and musicals, like "Million Dollar Quartet" and "Memphis," at this 350-seat theater.
You can't pass Ballet Memphis's perforated copper wall without checking out the light-filled glass corridor and one of the company's creative seasonal dance performances.
And don't miss shows at Circuit Playhouse, Inc.'s other two venues: Circuit Playhouse and TheaterWorks @ The Square. Circuit Playhouse, a once-popular movie theater that Elvis Presley used to frequent, is an intimate, 218-seat theater, while TheaterWorks is a "black box" venue featuring original productions and a national playwriting competition.
You could also time your visit around the annual Indie Memphis Film Festival in October to celebrate the local, national and international indie film communities.
Live Music
Remember that earlier bit about Billy Joel? The venue was Lafayette's Music Room, and it was reincarnated as part of Overton Square's recent revival. The venue now hosts nightly concerts (daily ones too, on weekends) by local, regional and national touring musicians. The wrought-iron second-story balcony will charm you, but head inside for the intimate performances Lafayette's is legendary for. Weekend brunch is perfect for chilling out to Memphis sounds—bluesy Susan Marshall, the funky instrumentals of Joe Restivo . . . These lower-volume shows are particularly family-friendly. (At Boscos' Sunday Brunch, living-legend Joyce Cobb performs.)
Without kids, gather any night around the piano at Zebra Lounge, where local singing pianists show what they've got. Too, keep an ear out for music coming from the Square's Tower Courtyard—including the Midtown Opera Festival in April and free "Bluesday Tuesday" concerts throughout the summer. 
Shopping
The Square has a strong cluster of small, yet well-curated, boutiques for clothing, shoes, and accessories. Try The Ivory Closet or CrazyBeautiful for lacy frocks, cool clutches and playful rompers. For active travelers, Breakaway Running and Delta Groove Yoga's pocket-sized retail shop are spot-on. 
Nearby
Home to the Overton Park Shell and Old Forest Arboretum (many trees are over 300 years old), Overton Park is 184 acres of public parkland including a nine-hole golf course, two play areas, a dog park and a 2.5 mile winding and paved shared use path. Use Google Maps to explore the shaded paths and scope out a place to have a picnic in the park.
If You Go: 
Keep an eye out for free street parking along Madison Avenue and in lots that front Madison or Cooper. If you're in and out by 6 p.m., parking is also free in the garage at 2100 Monroe Ave. After 6 p.m., a flat fee of $3 covers your whole evening, and a mobile-app payment option adds convenience.