Every year in March, Graceland hosts its Ultimate Elvis Tribute Artist Weekend Showcase. It's a celebration of the King's greatest hits—four nights' worth—starring award-winning Elvis Tribute Artists. Stay tuned for the 2024 dates and get excited for the venue: the new Graceland Soundstage, right on the Graceland campus.
EXPERIENCE THE ULTIMATE ETA WEEKEND SHOWCASE 2022
The 2022 event will feature ETAs Shawn Klush, Brandon Bennett, Cody Slaughter, Dean Z, David Lee, Dwight Icenhower, Taylor Rodriguez and Patrick Dunn in a mix of concerts, conversations, photo ops, a gospel brunch and more. For a complete experience, there are even hotel packages that combine tickets to the Weekend Showcase with a stay at the luxurious Guest House at Graceland (also on-site).
If you're a fan, I'm speaking your language. But if you're new or dabbling in Elvis Presley fandom, you probably have a few questions (I know I did). So first things first:
What is an Elvis Tribute Artist (ETA)? 
According to Elvis Presley Enterprises, ETAs appeared on the scene while Elvis was still alive. Elvis himself was aware of them and, in a complimentary letter to one such artist, wrote that "mimicry is a sincere form of being a fan." In 2007, Elvis Presley Enterprises fully embraced the cultural phenomenon by hosting its first Ultimate Elvis Tribute Artist Contest during Elvis Week. If you're imagining donning a jumpsuit and shades to break into the field, consider this: There are thousands of ETAs around the world who compete in officially licensed preliminaries. Win a preliminary and you advance to the Elvis Week contest.
UK-based ETA Ben Thompson won the 2018 contest. While he'll tell you his win changed his life, Ben's journey goes much further back than Elvis Week '18. He shared some of it with me. 
 
Me: I saw that you "discovered" Elvis on YouTube growing up. How did you get from that to where you are today?  
 
Ben: [Growing up] I didn't really understand where it would go; I just wanted to entertain people because [Elvis'] was some of my favorite music. At 15, I got up at a local fest and performed three songs. My hair was blond and I didn't have a jumpsuit but I started to put much more effort into it and I never looked back.
 
Me: Now that you've honed your craft, what do you think makes a good ETA?
Ben: Moves, voice, looks . . . I think it's important to do your absolute best [but] there was only one Elvis Presley and he was perfect in every way. We're just the messengers. What we do is from a love of it. You've got to be a fan to do this. I'm probably one in a million people who say 'I'm Elvis' No. 1 fan,' but if you love something that much, you'll put more into it.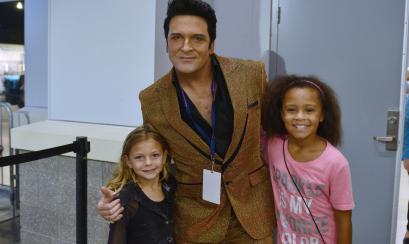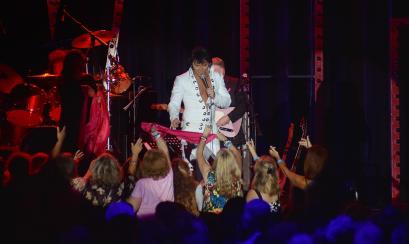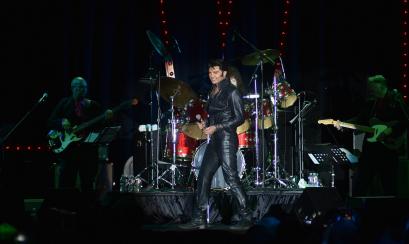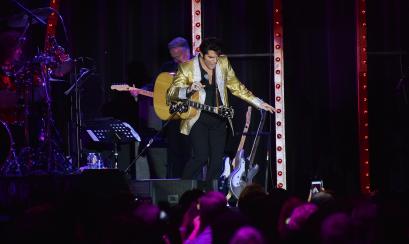 Me: Has visiting Memphis changed how you approach your craft?
Ben: One of the key things is getting to know the people who come to your performance—it was always that way for Elvis. When I first went to Memphis, I was so nervous. Over the years I've been going to Elvis Week, I've managed to make a lot of friends. We're all fans of Elvis; they come to our shows and the sense of family you get when you go to Memphis makes you feel more comfortable when you perform . . . the pure enjoyment of it. 
Me: Any other Memphis memories you like to share?
Ben: I've had some of the best times of my life in Memphis. Just walking through the front door of Graceland, standing there in awe—the tour guide told me 'you can come in' but I didn't hear him! And every time is like the first time. Paying my respects to Elvis at his grave is very special, but my favorite experience has to be the jumpsuits. Everyone says that, don't they? I spend hours in there [with other fans] discussing the costumes, the shows, the set lists . . . it surprises me how much I learn. Every time I go to Graceland, someone comes in and says, 'Did you know . . .?' and I don't think we know the extent of Elvis' creativity and generosity.
Me: Fans like to ask what your favorite Elvis song is. I want to know, too, but specifically, which recorded-in-Memphis song (or album) is your favorite?
Ben: I love his stuff in the Jungle Room. Now, toward the end of Elvis' career—not everyone looks to that. But if you listen to that for just a second, I hear Elvis completely. I could be sitting in a room and it's like he's in front of me singing. 
 
Me: How do you explain Elvis' appeal to people who are new or dabbling in the fandom?
Ben: There really isn't a country that isn't touched by [Elvis]. You're getting kids as young as babies in the audience; you're getting grandmothers. We remember a lot of singers, but Elvis is the man for every generation, someone who just wanted to be himself. Everything about him is unique to him. 
 
Me: What's the very best part about what you do?
Ben: [As ETAs] we're trying to help people relive a moment and if we can do that by wearing [something] or moving just so to give someone that second of wow, I believe that's important. 
Until the next Ultimate Elvis Tribute Artist event, check out 10 more exciting ways to experience Elvis' legacy.