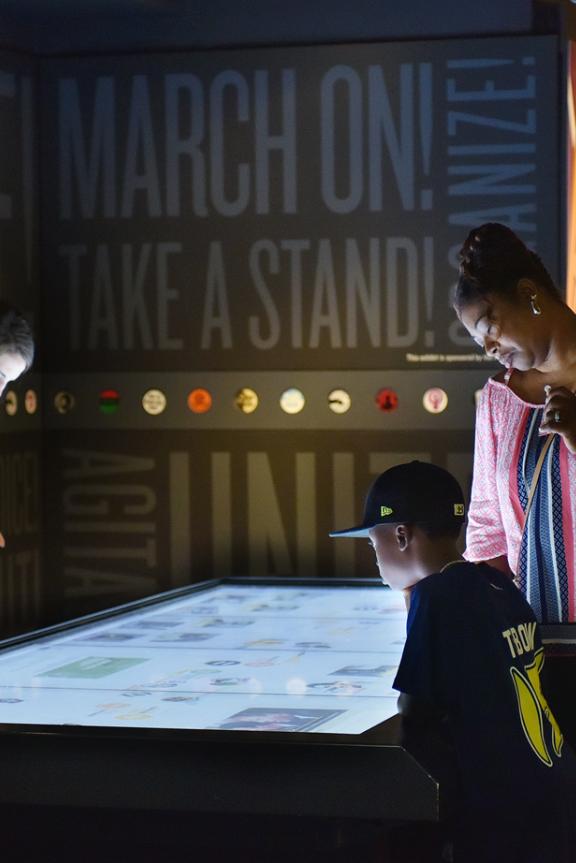 Visit the National Civil Rights Museum
As you walk towards the entrance of the National Civil Rights Museum at the Lorraine Motel, you'll immediately sense the power of this historic site. A wreath of flowers hangs on the motel's balcony marking the spot Dr. Martin Luther King Jr. last stood. It was here, on April 4, 1968, that the civil rights leader was assassinated. Today, visitors travel to the museum from all over the world to hear Dr. King's message and to learn about five centuries of civil rights and human rights history. 
Explore Five Centuries of History Through Interactive Exhibits
Serving as a living legacy for those who laid the foundation for freedom, justice and equality for future generations, this comprehensive museum details the American Civil rights story through more than 260 artifacts, 40 films, interactive exhibits and personal accounts.
Inside the atrium, you're greeted by Michael Pavlovsky's striking bronze sculpture "Movement to Overcome," a homage to all of those who steadily climbed upwards in the fight for equality.
You'll begin your civil rights journey with "A Culture of Resistance 1619-1861," which examines the Atlantic Slave Trade and its impact around the world. Working your way around this circular gallery, you'll learn about the number of people captured and sold into slavery, the goods cultivated through this oppression and individuals who fought for their freedom.
As you explore this gallery, you'll walk over a map of North and South America, Europe and Africa with routes and statistics of the Atlantic slave trade. Above you, you might notice a quote from the Declaration of Independence, "We hold these truths to be self-evident, that all men are created equal, that they are endowed by their Creator with certain unalienable Rights, that among these are Life, Liberty and the pursuit of Happiness," highlighting the fact that what was going on in our nation was in stark contrast to the beliefs on which it was built.
From here, you'll discover exhibits detailing that steady climb towards equality, from slavery to issues affecting us today.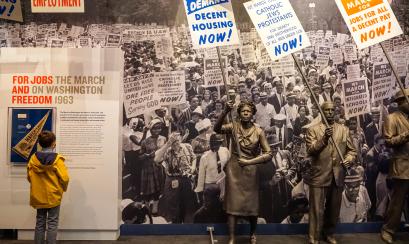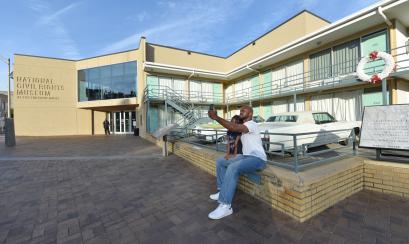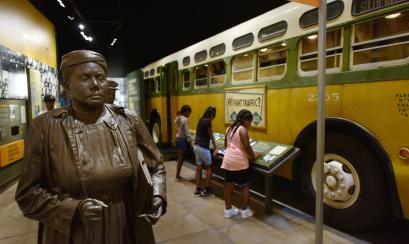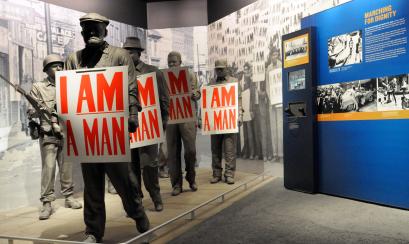 "Combating Jim Crow 1896-1954" examines life after the Civil War, an overview of rights granted to African Americans and the Jim Crow laws that curbed that progress. Through artifacts and interactive oral histories, you'll see what life was like for the Black community at the time and how they created sanctuaries in segregated spaces, including religion, education, the Black Press, arts and entertainment.
Step into a replica court room for "Separate is Not Equal." This exhibition details the legal battle to desegregate public schools, including the landmark Supreme Court decision in Brown v. Board of Education of Topeka, Kansas, which declared segregated schools to be unconstitutional. Watch a video retelling of this lengthy legal process before browsing displays on the psychology of segregation, on which the NAACP legal team based its case, and an interactive map displaying how desegregation, and the barriers to it, ensued across the nation.
You'll also find exhibits on the inspiring events of the 20th-century Civil Rights Movement. "The Year They Walked" describes the Montgomery Bus Boycott of 1955-1956. Climb aboard the exhibit's bus to see a three-dimensional reenactment of the bus driver shouting at Rosa Parks, who refused to vacate her seat. "Standing Up By Sitting Down" uses 3D figures sitting in at a lunch counter to demonstrate the student sit-ins of 1960. Beyond the display, a video details how these protesters used nonviolent direct action to peacefully object to segregation. "We are Prepared to Die" recounts the Freedom Rides of 1961 when peaceful activists organized in protest of segregation of the interstate bus system in the South. Visitors will see a bus ravaged by fire, depicting the Mother's Day bus bombing in Anniston, Alabama and the violent retaliation the Freedom Riders met in the South.   
Near the end of the museum, you'll make your way through the "I Am A Man: Memphis Sanitation Strike 1968" exhibit. Here, you'll see a garbage truck and 3D figures wearing the "I Am A Man" signs the strike, which brought Dr. King to Memphis several times, made iconic. It was here that King delivered his "Mountaintop" speech, which plays in the Mountaintop Theatre just beyond the exhibit.
Finally, you'll walk through "King's Last Hours," a reverent display showing visitors room 306, where Dr. King stayed at the Lorraine Motel, and accounts of what he did on the day leading to his assassination.
Through these exhibits and more, you'll experience the powerful stories of those who persevered during times of unspeakable cruelty, those who inspired others to join the movement against social injustices and those who worked tirelessly to accomplish extraordinary feats, even in the face of seemingly insurmountable adversity.
The Legacy Building Exhibits
Your museum ticket also gives you access to the Legacy Building. Head across the street to this former boarding house from which Dr. King's assassin allegedly fired to delve into the investigation and trial case against James Earl Ray. You'll see the bathroom window from which Ray fired, as well as a timeline detailing Ray's journey to Memphis and his whereabouts leading to Dr. King's murder. The museum also features artifacts from the investigation, as well as displays detailing popular conspiracy theories revolving around the case, motives behind Dr. King's assassination and the question as to whether Ray had accomplices. 
The museum recently announced the building, along with Founders Park, will soon undergo a renovation and expansion.
2023: A Year of Freedom
As the museum will commemorate multiple landmark anniversaries this year, 2023 is being called a Year of Freedom. Stay tuned to the events calendar as the museum plans to commemorate the 55th anniversary of Dr. Martin Luther King's assassination in April and the 60th anniversaries of The Children's March in May, the March on Washington in August and the 16th Street Baptist Church Bombing in September.
Workshops, Guest Speakers & Other Museum Events
The National Civil Rights Museum strives to educate and inspire future generations by examining how past civil rights issues compare to ongoing struggles today. Schedule your visit around an upcoming forum, book signing or an appearance by a renowned guest speaker. The museum also offers online resources for students and educators, including e-learning activities, teacher workshops and virtual education programs, to provide continued learning opportunities after your visit.  
Hours & Admission
Admission: $18 adults; $16 seniors; $15 ages 5-17; Free for children under 4 and active military.
Museum Hours: 9 a.m. – 5 p.m. Wednesday – Monday; closed on Tuesdays