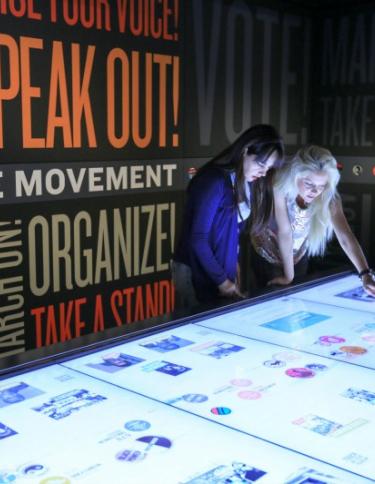 History comes to life within the walls of the National Civil Rights Museum in Memphis, Tenn., where personal stories, historical artifacts and multimedia exhibits explore five centuries of civil rights and human rights history. Poignantly located at the Lorraine Motel, where Reverend Martin Luther King Jr. was assassinated on April 4, 1968, this thought-provoking museum carries on the voices of past civil rights leaders, seeking to educate, inspire and provide insight for future generations to overcome today's obstacles. 
The museum showcases more than 260 artifacts and features compelling events, from moving performances to appearances by renowned authors and important freedom fighters connected to the Civil Rights Movement. Special and permanent exhibits span an array of significant epochs, from the time of slavery to the Civil War era and Reconstruction, to the rise of Jim Crow laws that declared "separate but equal" conditions. The exhibits also showcase pivotal events of the 20th century Civil Rights Movement, such as the student sit-ins of 1960, the Montgomery Bus Boycott of 1955 – 1956 and momentous speeches by Martin Luther King, Jr. 
Established in 1991, this premier heritage and cultural museum has been featured on all the major broadcast networks (NBC, CBS, ABC, Fox), the History Channel, MSNBC and CNN, as well as in the New York Times and USA Today. The museum served as the focus for the Academy Award-nominated documentary The Witness: From the Balcony of Room 306.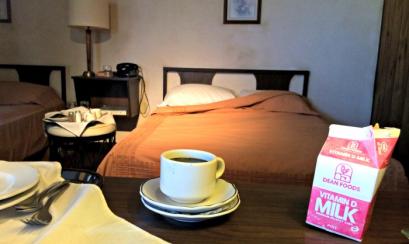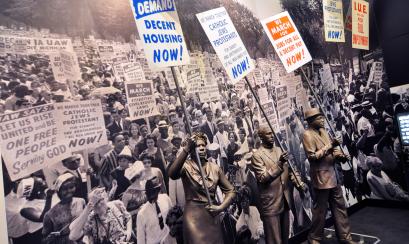 In 2013 and 2014, the National Civil Rights Museum underwent an extensive $27.5 million renovation, bringing to light more than 40 new films, insightful oral histories and interactive media exhibits in an inspiring, newly redesigned space. Walk up the spiral staircase in the light-filled grand lobby, and encircle the colossal 7,000-pound bronze statue by fine art sculptor Michael Pavlovsky, Movement to Overcome, signifying progress against obstacles. Head across the street to the Legacy Building, a former boarding house where Dr. King's assassin allegedly fired, to delve into the investigation and trial case against James Earl Ray. Or, learn more about important social and human rights issues affecting us today, from war and poverty to women's rights and integration.
At the National Civil Rights Museum, visitors will experience the powerful stories of those who persevered during times of unspeakable cruelty, those who inspired others to join the movement against social injustices and those who worked tirelessly to accomplish extraordinary feats, even in the face of seemingly insurmountable adversity. The museum serves as a living legacy for those laid the foundation for freedom, justice and equality for future generations.
Visit the National Civil Rights Museum: 
Admission: $17 adults; $15 seniors; $14 ages 5–17; Free for children under 4 and active military.
Museum Hours: 9am – 5pm Fri. - Mon., Tues. - Wed. Closed
This article was sponsored by the National Civil Rights Museum.