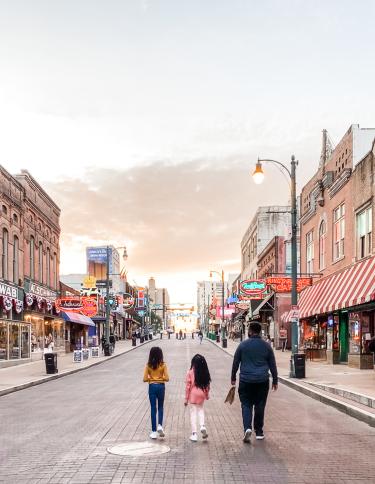 Ask any Memphian what they love about this city. The answers will be numerous and diverse, but you can bet they'll have one thing in common—a history rooted in Blackness. Not just a history, however, but an exciting present and a bright future. Memphis is proud of its rich heritage and diverse culture, and you can feel that pride in our food, music, and community spaces. All over town, you'll find Black-owned businesses, from restaurants and shops to art galleries and dance clubs, that add to the Memphis experience. Here are some highlights you should work into your next Memphis getaway.
Attractions
Take a "Walk Through History" with Elaine Turner at Slave Haven Underground Railroad Museum. Visits to this historic site examine Memphis' role in slavery and the anti-slavery movement of the mid-1800s. While you're there, notice the iconic magnolia tree out front (a conspicuous landmark for enslaved people traveling the Underground Railroad) and stand in the cellar marked with trapdoors and secret pathways. The property vibrates with the anxiety, exhaustion, and fear of those who hid there, but also the hope they felt as they ran away to freedom.
Visit the National Civil Rights Museum at The Lorraine Motel, the site of Dr. Martin Luther King, Jr.'s assassination. Your tour will include interactive exhibits and representations of monumental events from civil rights history. Permanent exhibits let you take a seat at the lunch counter sit-ins of the 1960s alongside life-sized figures of protesters, or peer into the remains of a firebombed Greyhound bus, a replica from the 1961 Freedom Ride.
Located next to historic Clayborn Temple, I Am A Man Plaza honors the sanitation workers who took part in the historic 1968 Memphis Sanitation Strike. Stop by to take in this powerful monument honoring brave protesters. Dr. Martin Luther King Jr. Reflection Park sits one block west of the I Am A Man Plaza. Constructed in 2018, this park celebrates Dr. King's life and invites us to reflect on his legacy and how it can influence us to act towards justice today. 
Sneak a Peek at Memphis Attractions
National Civil Rights Museum
Stax Museum of American Soul Music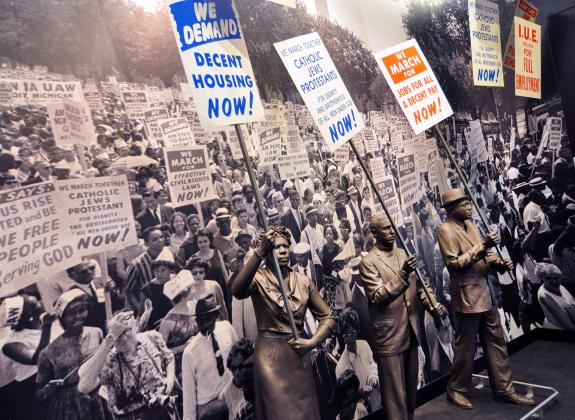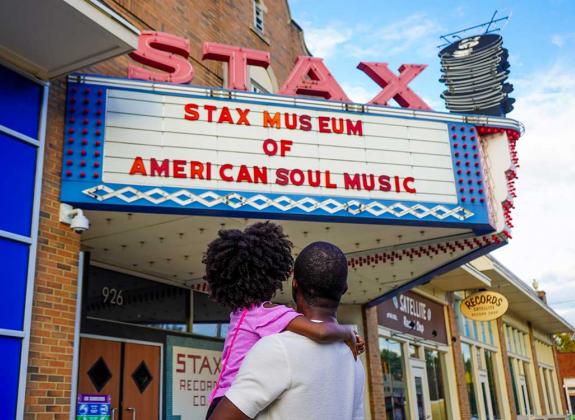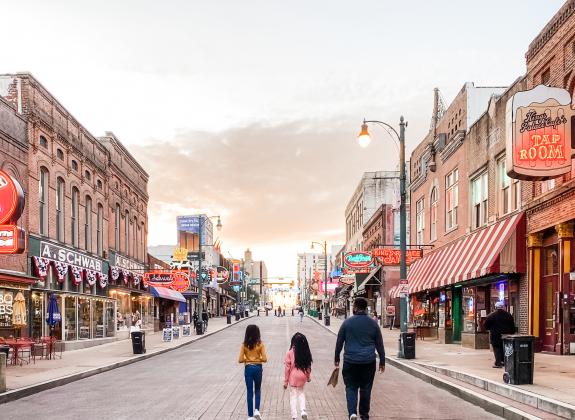 The Beale Street Entertainment District has always been a hub for Black culture and heritage. As home of the blues, Beale Street pays homage to W.C. Handy, B.B. King, Bobby "Blue" Bland and the other legendary musicians that changed music history. Be sure to stop in the Memphis Music Hall of Fame and the Rock 'n' Soul Museum (both located on or just off of Beale) to learn about Memphis' incredible music history, and if you're looking for a more personal experience, be sure to take the Beale Street Walking Tour from Backbeat Tours. Narrated by local legend Henry Nelson, the tour paints a picture of what Beale was like when it thrived as Memphis' Black Main Street. Along with music history, you'll find delicious food and fantastic live music in Beale Street's bars and clubs. 
TOURS
From the Civil Rights Movement to music legends, Carolyn Michael-Banks' A Tour of Possibilities focuses on how African American heritage has shaped the city of Memphis and continues to influence it today. While on the drive, you'll get to know Carolyn as "Queen", since she won't tolerate anyone using her "government name" during the tour. The energetic guides approach Memphis landmarks with that same good-humored firmness, which makes for an unforgettable experience that's both solemn and enjoyable. The tour takes you through Downtown, Uptown, The Pinch, South Memphis, and Soulsville as Queen shares facts about often overlooked historical sites like the Old Shelby County Jail and Robert R. Church Park, but also gives a spotlight to today's Black-owned businesses like Memphis Rox and Alcenia's.
For a self-guided discovery, follow the Roots of Memphis Music, starting on the plaza of FedExForum on Beale Street. Each of the two dozen colorful bollards that decorates the plaza tells the story of a different facet of Memphis music through art and a QR code that leads to related sites around the city, whether you want to learn more about soul, blues, hip-hop or other genres. 
Foodie? Book one of Cristina McCarter's City Tasting Tours, where you can sample bites from some of Memphis' favorite local restaurants. If you're short on time, you can also have a taste of Memphis' culinary scene shipped to your home with McCarter's all-new City Tasting Box.
Soul Food
BJ Chester-Tamayo will welcome you into her restaurant Alcenia's with a warm hug, just before sitting you down to some mouthwatering soul food. Chester-Tamayo's recipes are derived from the cooking of the restaurant's namesake, her mother Alcenia. With dishes like fried chicken, meatloaf and smothered pork chops, you'll be coming back to this newly renovated spot every time you're in town. Also check out Chester-Tamayo's signature preserves like apple butter, peach, spiced pear and more.
Historic soul food spot the Four Way Grill has been serving Memphians since 1946. Popular among celebrities like Dr. Martin Luther King, Jr., B.B. King, Aretha Franklin and Penny Hardaway, the Four Way specializes in "Meat and 3" options from pork chops and fried catfish to black-eyed peas and cornbread dressing. Be sure to try the lemon meringue pie or cobblers before you leave. 
If you're looking for a more modern take on soul food and southern cooking, look no further than Chef Tam's Underground Café. Renowned Chef Tamara Patterson brings you classic southern cooking favorites with a twist. At Chef Tam's you can get dishes like chicken & waffle sliders, "Kiss My Grits" shrimp and grits and deep fried ribs to go along with sides such as sweet potato fries, honey corn and the  "Muddy Water Mac & Cheese" with crawfish, crab and shrimp. And you can't possibly leave without trying Chef Tam's unique dessert creations. From peach cobbler nachos to Limoncello cheesecake to the cake of the day, these options are sure to please any sweet tooth.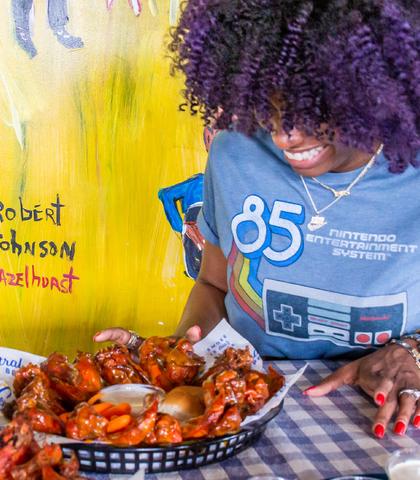 Barbecue & Wings
No trip to Memphis is complete without sampling the best barbecue in the world. Payne's BBQ, A&R BBQ, BBQ Shop, and Cozy Corner are a few of the most popular Black-owned barbecue spots in town. At these locations, you can get all of the signature Memphis barbecue dishes like pulled pork, smoked sausage, ribs, and BBQ bologna. We recommend trying them all. No two barbecue restaurants in town are the same.  
Memphis hot wings might be just as popular as our barbecue. All around town, you'll find must-try hot wing joints. Ching's Wings and The Wing Guru are up there with the best. Ching's offers party wings, whole wings and tenders in nine delicious flavors and spices. We recommend Memphis' signature sweet and savory Honey Gold sauce. The Wing Guru is one of the newest local wing chains in town and it's all the buzz, featuring 22 classic and original flavors like lemon pepper, mild, Cajun, Honey Suicide, the 901 and Garlic Sriracha. No matter how you like your wings – party, whole or boneless –  get them tossed in any of these tasty flavors.
Dessert
Looking for something sweet? With dozens of ice cream flavors, ice cream cakes and even warm ice cream donuts, Margie's 901 is a must for ice cream lovers. Renowned Designer Chocolatier Phillip Ashley Rix, of Phillip Ashley Chocolates, is one of the finest confectioners in the country. Stop by his store in the Medical Arts District to sample all sorts of designer chocolates. If you love cookies, then you have to try Makeda's Cookies. This local cookie shop features classic cookie selections like chocolate chip, oatmeal, sugar and the "best butter cookies in the world."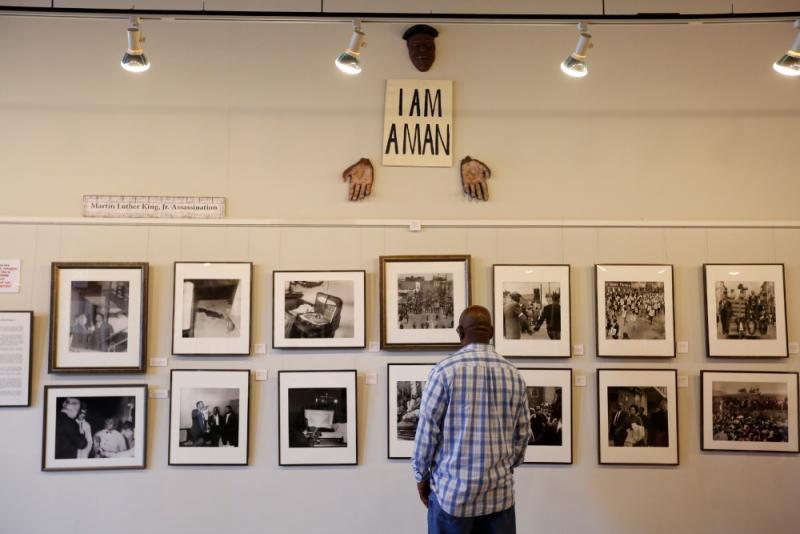 Visual Art
Tone is a nonprofit organization founded by Victoria Jones committed to promoting Black artists, connecting them with the people and resources necessary to make a living, and showcasing their works throughout the city of Memphis. Within Tone's space in Orange Mound, you can tour an art gallery, see live music or meet an artist in residency.
  
Browse Urevbu Contemporary. This gallery promotes contemporary artwork from international artists, especially those whose work explores the themes of diversity and culture. Those works frequently include paintings by gallery owner Ephraim Urevbu, who came to Memphis from Nigeria to study Fine Art. 
The Withers Collection Museum and Gallery is another must-stop on Beale Street. Examine the incredible photography of Dr. Ernest Withers. The collection features breathtaking images of the Civil Rights Movement, iconic musicians, athletes, and celebrities like B.B. King and Dr. Martin Luther King, Jr. Book your tour now! 
Nightlife
For many Memphians and visitors looking for evening fun, the night begins and ends on Beale Street. Even if strong pours aren't your thing, there's still plenty to do on America's most iconic street. Just make sure everyone in your party is over 21 if you plan on going after 11 p.m. But Beale Street isn't the only location for nightlife in Memphis—enjoy a drink, dancing, and music at these Black-owned clubs as well.
What appears to be an ordinary tailor shop, "The Pocket " at Tailors Union is actually one of Memphis' most popular speakeasies. This lounge offers craft cocktails, delicious bites – we recommend the Cajun crab cakes or duck tacos – and fantastic live music.
There is no place quite like Paula & Raiford's Disco. You must experience it to believe it. This unique dance club features a mix of disco tracks and retro jams from the '70s, '80s and '90s. Add in a fog machine and excellent drink prices and you'll want to dance all night.  
 
Visit the city's largest cigar lounge, Havana Mix Cigar Emporium. With over 50,000 cigars, from unique exclusives, like the Beale Street Cigar, to world renowned brands, Havana Mix has the best selection in town.