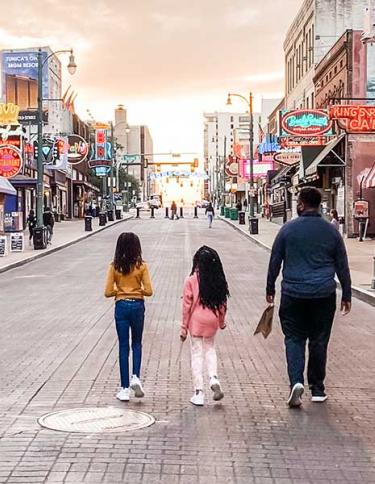 When people think of Beale Street, often they think of the booze, dancing and general debauchery that takes place on Memphis' most famous street. But before the sun sets on the Bluff City, there's a whole other world of food, fun and culture to take in that doesn't have a minimum age requirement of 21. Here are some of our favorite things to do, along with a helpful tip: Get there before they start carding, usually around sunset on weekends. (Despite all-ages venues and events, it can be hard to get near your destination once carding begins.)
1. A. Schwab trading co.
Established in 1876, A. Schwab is an authentic Memphis mercantile experience complete with an old-fashioned soda fountain. 
3. MEMPHIS ROCK 'N' SOUL MUSEUM 
5. HARD ROCK CAFE
7. B.B. KING'S BLUES CLUB & GRILL
9. SILKY O'SULLIVANS
11. DYER'S BURGERS
2. MEMPHIS MUSIC RECORD SHOP
4. beale street flippers
6. BEALE SWEETS SUGAR SHACK 
8. THE ORPHEUM THEATRE
12. FEDEXFORUM