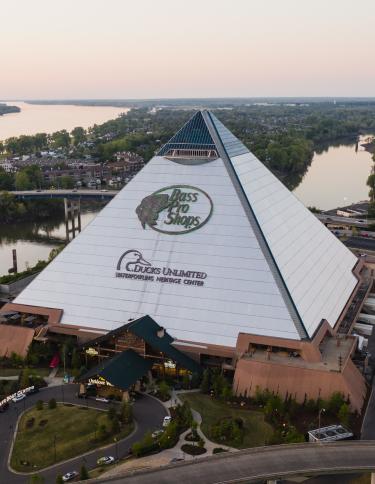 Calling all anglers — Memphis and its surrounding area have all kinds of waterways prime for fishing, from forested lakes to the Mighty Mississippi River. You may also be wondering what's up with the giant pyramid on our riverfront and what that means for catching bass and more in this capital of the Delta. Here's your guide to fishing in Memphis.
The Legend of Bass Pro Shops at the Pyramid
In 2005, Bass Pro Shops founder Johnny Morris and legendary Tennessee fisherman Bill Dance made a bet. While fishing on the Mississippi River in the shadow of the Memphis skyline, the pair of close friends decided that they would build a Bass Pro Shops inside of the city's vacant, 322-foot-tall pyramid—but only if they caught a giant catfish. 
Shortly after, Morris's line grew tight and a hulking Mississippi River catfish rose to the surface, cementing the foundations of what would become the world's largest fishing tackle store. 
Today, Bass Pro Shops At The Pyramid on Memphis' downtown riverfront attracts hundreds of thousands of visitors each year, all clamoring to explore its aquariums, museums, restaurants and viewing deck. True to its origins, though; the pyramid does sell fishing tackle. New rods and reels line the aisles beneath waterfalls. So, too, do lures and lines. 
But once you've got shiny, new fishing tackle…where do you take it? Fortunately, there are plenty of quality places to fish in Memphis if you know where to look.
Poplar Tree Lake
Less than 30 minutes north of the pyramid, this 125-acre lake is surrounded by the meadows and groves of Meeman-Shelby Forest State Park. A fishing dock is available at the boat ramp, as are boat and canoe rentals to reach bluegill and crappie beds in the lake's coves. Anglers here can even walk the bank to the dam, where largemouth bass are a common catch. 
Shelby Farms Park LAKES AND PONDS
If you need a place to take kids fishing, novice anglers can learn the fundamentals of fishing at Catch 'Em Lake, a stocked fishing pond located just off of Walnut Grove Road in East Memphis, less than 30 minutes from downtown. However, Shelby Farms also offers 20 lakes and ponds that are open to fishing. Dance himself says the remote lakes on the southern side of Walnut Grove, between the thoroughfare and the Wolf River, are worth a visit. Meanwhile, a paved path around Patriot Lake offers easy access to all. 
McKellAr Lake
Once home to a bustling beach and waterskiing area, McKellar Lake is a fantastic venue for advanced anglers to try their luck. Technically a slough of the Mississippi River, the lake sits just minutes from downtown Memphis in a heavily industrialized part of town near Presidents Island. The proliferation of docks and pylons makes for excellent fish habitat. Ramp from Martin Luther King, Jr. Riverside Park costs just $8.00. 
That means you should not eat anything you catch here….excellent fish habitat for catch-and-release.
I.H. Managerial Park LAKE
This 65-acre park sits about 40 minutes northeast of downtown Memphis in Lakeland, Tennessee. Along with walking and hiking trails, I.H. Managerial Park features a five-acre fishing lake perfect for a tranquil outing.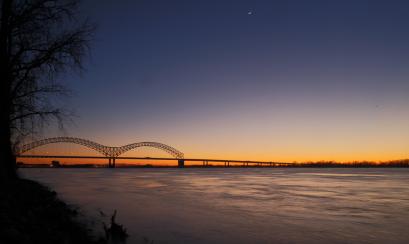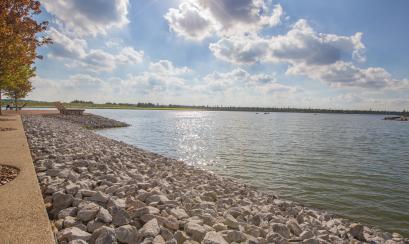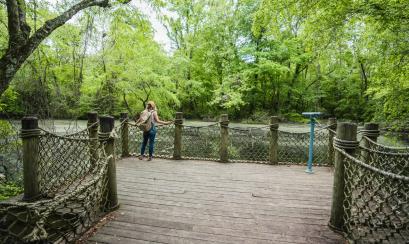 Mound City Chute
Technically in Arkansas but still just 12 minutes from the parking lot of the Memphis Pyramid, Mound City is another Mississippi River slough. This tree-lined chute northwest of downtown Memphis has been completely closed to the river, outside of flood periods, for more than a century. A healthy population of crappie, catfish, bluegill and largemouth bass are easy to catch for those that beat the bank with a boat.
Wolf River
While casual anglers might be seen at the mouth of the Wolf River on the north end of downtown Memphis' Mud Island, the best place to fish this Memphis waterway is actually in the suburbs. Consider launching a canoe or kayak at Houston Levee Road and floating to Walnut Grove, around 30 minutes east of downtown Memphis, while dropping a line near any lying timber or muddy banks along the way. The float can take most of a day depending on water levels. 
Herb Parsons LAKE
Herb Parsons Lake may be the premier fishing destination in the Memphis area. This 177-acre lake sits barely over the Shelby County line in neighboring Fayette County, about 40 minutes northeast of downtown Memphis. In July 2022, the Tennessee Wildlife Resources Agency announced that Herb Parsons will become a Bill Dance Signature Lake, which makes sense given that this is probably the closest significant waterway to Dance's home in rural Shelby County. 
Plans are already in progress to enlarge the lake's boat ramp, add courtesy piers and boat slips, increase bank angler access and improve navigation and fish habitat.
O'Neal Lake
The crown jewel of the nearly 12,000-acre Hatchie National Wildlife Refuge, O'Neal Lake features lily pad fields, cypress groves and floating grass beds that all provide habitat for largemouth bass, crappie, bream, pickerel and even the prehistoric bowfin. Located about 50 minutes east of Memphis, this is a day trip well worth the investment—especially for boat owners or kayakers who can take advantage of the lake's well-maintained launch ramp. 
Wapanocca Lake
Another nearby Arkansas gem, Wapanocca Lake is a quiet, beautiful fishery featuring reed-lined flats and dense cypress swamps. Kayak and boat access ramps are both available, and while the lake sits about 30 minutes northwest of Memphis, boat traffic is typically light. This is a great morning or afternoon option for Memphians who want to get away from the city and hone angling skills they can put to use on the region's larger bodies of water—like Pickwick Lake or Kentucky Lake—when they have more time.
Mississippi River
Memphis sits on the banks of the Mighty Mississippi River, a world-class fishery for catfish. Blue catfish weighing more than 100 pounds have been caught in its depths. However, due to the river's nature as a busy maritime waterway with fast-flowing currents and a shifty, sandy bottom, the best way to fish here is to book a guided trip with an expert. Like Johnny Morris, the right day on this river can result in the catch of a lifetime.