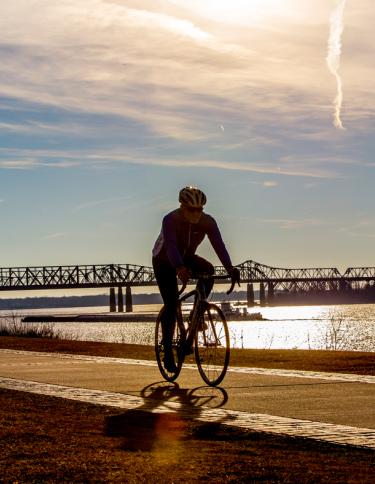 Skyline sunsets, leaf-lined forest paths and adrenaline pumping switchbacks abound in Memphis, Tennessee, where 400 miles of bicycle paths and trails have cemented cycling as a part of the city's culture. Here, cycling is a success story. What began as a modest rails-to-trails project in 2010 quickly transformed an entire region into a hotbed of public and private cycling paths perfect for casual riders to experienced cyclists alike. These are the best places to go biking in Memphis.
Road Biking
Wolf River Greenway
The city's newest paved trail project, the Wolf River Greenway slices through urban forest from the Mississippi River to an ultimate connection with the Shelby Farms Greenline. As of 2022, the Greenway, which starts about 30 minutes east of downtown Memphis, isn't fully complete, but with 26 miles already finished—including a spectacular new, 270-foot bridge crossing through the Lucius Burch State Natural Area—it's worth the ride.
Shelby Farms Greenline
The Shelby Farms Greenline kicked off a Memphis cycling renaissance in 2010 and this rails-to-trails project is still the most popular cycling path in town. The 10.65-mile paved pedestrian and biking trail connects the heart of Midtown to Shelby Farms and Germantown. The trail is flat, smooth, quiet and offers shade on most of the route. Hop on the Greenline at a number of access points starting at Tillman Street or access from downtown via North Parkway, Overton Park and the Hampline. With the brand new Heart of the Park improvements, you can now stop and have lunch at Coastal Fish Company and enjoy the views of the canoers and kayakers enjoying the lake.
Mississippi River Trail
For longer rides, the Mississippi River Trail takes riders on a 32-mile segment that passes through Shelby County, including Meeman-Shelby Forest and Downtown Memphis. The route has mercifully ditched a dated I-55 river crossing for the resplendent new Big River Crossing and will carry cyclists all the way to the Gulf Coast if they so choose. This is the perfect trail to explore if you're in Downtown Memphis.
Mountain Biking
Tour de Wolf
Punchy climbs, swooping downhill single track and mellow switchbacks highlight the city's preeminent mountain biking trail, the Tour de Wolf. This 5.6-mile loop sits less than 30 minutes from Downtown Memphis and cuts through the heart of Shelby Farms Park, passing by a bustling dog park, the rusting remnants of a former homestead and a pair of mysterious tombstones. More than two decades after the trail was first completed, it remains a favorite for Memphis mountain bikers and trail runners. 
Wolf River Trails
Not to be confused with its busier cousin, the Wolf River Trails sit opposite Walnut Grove Road from the more developed portions of Shelby Farms, about 25 minutes from Downtown Memphis. The trails offer a labyrinth of interweaving single track loops ranging from sandy cliffs to packed bottomland dirt jumps and log obstacles. Blue and yellow are the most popular trails here, and connecting them can add up to more than 12.5 miles of mountain biking.
For an added challenge, seek out the White Trail and Banjo Trail, which both detour off of the primary loops. Cyclists here often park off of Humphreys Boulevard or on a service road alongside Walnut Grove just past the Walnut Grove bridge. 
Stanky Creek
Colloquially dubbed Stanky Creek, Nesbit Park has a legendary reputation among area mountain bikers. The most technical trail in Memphis, this 9.0-mile loop holds ramps, jumps and a secluded BMX park all waiting for experienced riders to try their hand at navigating tricky single track sections littered with roots and poisonous plants. Expect creek crossings and hairpin turns on this challenging but rewarding trail in central Shelby County about 25 minutes northeast of downtown.
Shelby Forest
Just 30 minutes from downtown, Meeman-Shelby Forest State Park has a 5-mile intermediate trail that offers a little bit of everything: flat areas, smooth pavement, switchbacks and great turns. The trail is short, but has good elevation gain without ever getting too steep (unlike some of the park's epic hiking trails!). Beginner and intermediate riders will feel right at home on this accessible but beautiful trail.
Lakeland
I.H. Managerial Park in Lakeland sits just 30 minutes from the Memphis city limits. This 3.0-mile loop is packed with creek crossings, fast-paced descents and steep climbs that keep mountain bikers coming back for more. Along with Stanky Creek, the trails at Lakeland feature exposed roots that will challenge intermediate riders; but little foot or bike traffic makes this park perfect for continuous loops.
Casual Rides
Overton Park
Put the pedal to the pavement in midtown's Overton Park. Overton Park, which is only 15 minutes from Beale Street, has nearly 200 acres of public parkland, a 2.5 mile winding and shaded shared-use path, two play areas and a dog park set amidst one of Tennessee's last old growth forests. 
Shelby Farms
In East Memphis, Shelby Farms Park's woodland trail is a 2.75 mile paved path, just 25 minutes from Beale Street, meandering through pines, hardwood forests and wetlands. You'll share the path with runners and walkers, but it's a great outing for the family.
Big River Crossing
Offering sweeping views of the Downtown Memphis skyline, The Big River Crossing, spans the Mississippi River and gives bikers and pedestrians the opportunity to cross Old Man River from Downtown Memphis. The trail here leads to an additional seven miles of paved path in Arkansas' Ducks Unlimited Park.
The Hampline
At just under 2.0 miles long, The Hampline may not be the most strenuous route in Memphis; but it is one of the most significant. The Hampline connects Overton Park and the Shelby Farms Greenline through the emerging Broad Avenue Arts District and Binghampton, around 15 minutes from downtown. It's also home to not one, but two breweries. Both Wiseacre and Hampline Brewing Co. call the path home turf, along with a cornucopia of restaurants and Victory Bicycle Studio for those in need of emergency repairs.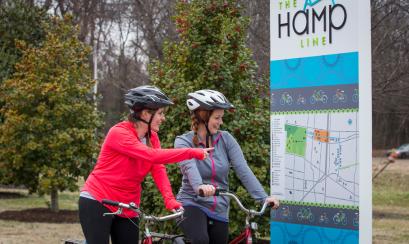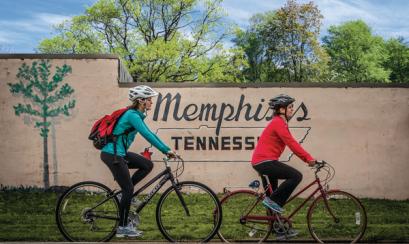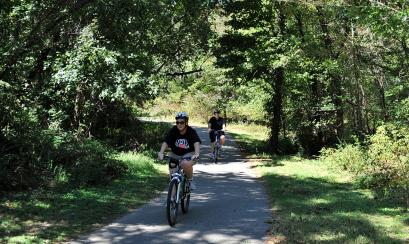 Bike Rentals
EXPLORE BIKE SHARE
With 80 locations spread around town, Explore Bike Share is the easiest way to get your hands on a bike. These city cruisers are well-suited for casual rides and convenient transit around town. Download that app and find a bike close to you with ease.
HYDE LAKE WHEEL HOUSE
Hyde Lake Wheel House offers both cruiser and mountain bike rentals conveniently located within Shelby Farms. Online bookings are available, as are eBikes in partnership with Explore Bike Share.
Bike Shops & Service
BIKES PLUS 
901-385-8788
For five years in a row, Bikes Plus has been named one of America's Best Bicycle Shops by the National Bicycle Dealers Association earning a Gold Level Bicycle Friendly Business award from the League of American Bicyclists. 
901-755-2271
For more than 40 years, Outdoors Inc. has provided gear for all sorts of outdoor enthusiasts. They carry bike tires, drivetrains, helmets, camping gear and a full range of clothing. Every June, Outdoors Inc. hosts a canoe and kayak race on the Mississippi River and every fall, they host the longest-running cyclocross race in the nation. With three locations, the Cordova location can be the hub for all the information you need. 
901-746-8466
Renowned for their professional fitting services and wide-range of knowledge, Victory offers a premier menu of bicycles, top shelf apparel and bike accessories. Find Victory Bicycle Studio in the Broad Avenue Arts District, not far from Overton Park and Wiseacre Brewing. 
ALL ABOUT BIKES
901-767-6240
From beginner to expert, All About Bikes offers bicycle service and repair in-house and a full line of accessories. All About Bikes is located in East Memphis at Poplar and Mendenhall, not far from East Memphis hotels and businesses. If you'd like to have your bike shipped, they will professionally pack it for you in your own bike box for $45. 
REVOLUTIONS BICYCLE COOPERATIVE
Revolutions Bicycle Cooperative offers tune ups, servicing and used bikes from a base inside First Congregational Church UCC in Cooper-Young. Hours are limited to Thursday through Sunday during limited afternoon time slots. 
TREK BICYCLE EAST MEMPHIS AND GERMANTOWN
Beloved local bike shop The Peddler was recently acquired by Trek Bicycle. The Wisconsin-based bike manufacturer runs two locations in Memphis. The East Memphis location is located near the University of Memphis campus while the Germantown location is not far from Shelby Farms.
Bike Parking and Safety
We want to help make your bike trip in Memphis a safe one. No matter where you are riding, keep these tips in mind for a safe and fun bike ride.  
 
Always wear your helmet and obey traffic signals and stop signs.
Ride with traffic. When sharing the road with cars, please keep to the right of the road.
Think ahead. Watch for turning vehicles and parked cars. Signal your turns and check behind you before changing lanes. 
Look ahead for debris, road hazards and potholes. 
Make sure your tires are full of air, brakes are in working order and your chain runs smoothly. 
Bike racks are provided throughout Memphis at various restaurants, entertainment areas, attractions and hotels. Some Memphis hotels may even provide bicycle-friendly covered parking. When booking your hotel, it's best to call ahead and ask the front desk staff.