In town looking for some fun for you and your crew? Why not stop by one of Memphis' unique hotels? Memphis is home to some of the best hotels in the area and many offer much more than a cushy place to rest your head. The best part – you don't need to be a guest to enjoy these outstanding amenities. Here are some of our favorite offerings from hotels around town:

 
TALK SHOP AT CAPTION
As if it isn't exciting enough that Hyatt is debuting its newest global hotel concept in Memphis, we're hearing that Caption by Hyatt Beale Street Memphis will be home to Talk Shop, a coffee bar plus bar plus market featuring local ingredients, brews and artisanal food products. Just off the river near Beale Street and the South Main Historic Arts District in downtown Memphis, the hotel's architecture repurposes a 19th-century machine shop that locals will recognize, making this a spot where Memphians and visitors alike will want to gather. 
Drinks, Music, Dining and...Yoga?
At The Central Station Memphis, dine at Bishop, the newest restaurant from renowned local chefs Andrew Ticer and Michael Hudman. Bishop's Southern-inspired French cuisine is all the buzz around town. While you wait for your reservation, stop in to Eight & Sand music room for a cocktail and tunes. Every detail is designed for the ultimate listening experience and a nod to style: The DJ booth is built from a vintage church organ (call ahead or check social media to see if there's a live DJ set happening the night of your visit). The listening studio behind the bar features Memphis-crafted Egglestonworks speakers, some of the best in the world, in a room designed for impeccable acoustics. Most importantly: What's spinning? With 500 vinyl records in its collection, all with Memphis ties, you're sure to get an earful of the Memphis sound. Eight and Sand also features a new patio that's perfect for enjoying sips and scenic views — and be sure to check their events calendar for live music and even yoga classes from Mind Body Haus out on the patio. 
Craft Cocktails and Vibrant Hangout Spaces
Head over to MOXY Memphis Downtown and grab a beer or cocktail to go along with your choice of flatbread from BAR MOXY. Then retreat to one of the hotel's excellent hangout spaces. Sporting a mixed modern and retro vibe, these vibrant community spaces are equipped with arcade games like pinball and foosball.
All-Day Breakfast at King & Union Bar Grocery
Stop by King & Union Bar Grocery at DoubleTree Memphis Downtown for chicken and waffles or pork belly French toast. This all day breakfast joint also offers lunch and dinner options like sandwiches, steak and catfish, as well as a full bar with craft cocktails and local beers. Don't forget to grab a signature warm DoubleTree cookie from the lobby on your way out. 
Rooftop Views, Relaxing Spa Visits, Afternoon Tea & Exquisite Dining 
"The South's Grand Hotel" offers so much more than a luxurious place to stay. Begin your visit to the Peabody Hotel with a bit of relaxation at Feathers Spa. This full-service resort-style spa offers a variety of spa and salon treatments, including massages, manicures and pedicures, wax treatments and the Feathers Spa signature Ashiatsu Barefoot Massage. 
Then, head to Chez Philippe restaurant, the only spot in town that offers a traditional English afternoon tea. Enjoy a three-course menu of sandwiches, sweets and a variety of teas.
Chez Phillipe also offers breakfast and dinner with exquisite menu items like sausage croissants, cinnamon challah French Toast and pancakes in the morning, and catfish arrabbiata, BBQ salmon rolls and wild mushroom ravioli in the evenings. 
After your meal, head up to the Peabody Rooftop for scenic views of downtown Memphis.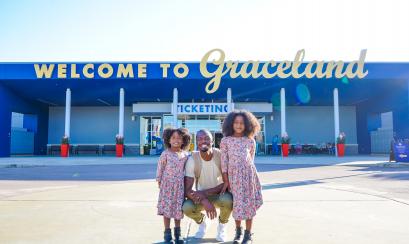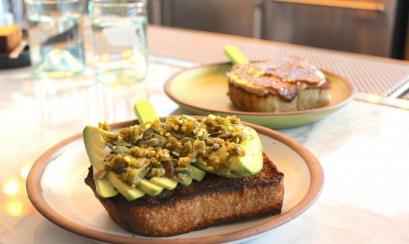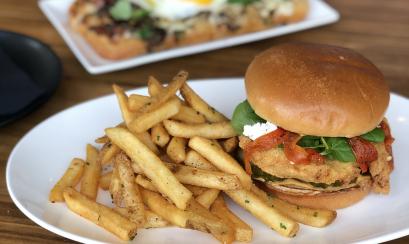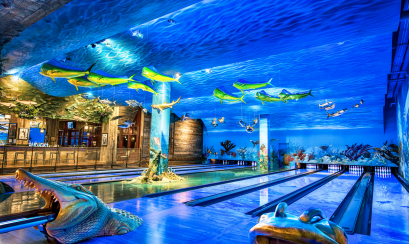 Hustle & Dough at Arrive Memphis Hotel
From almond butter toast to mushroom & shallot scones to brown butter brownies, Hustle & Dough offers fresh-baked breads and pastries that pair perfectly with their artisanal house brews, courtesy of local roaster Vice & Virtue, at Arrive Memphis Hotel. 
Explore Elvis Presley's Memphis
If you plan on visiting Elvis Presley's Graceland, why not stay the night? Current packages allow you to stay overnight at The Guest House at Graceland and tour Graceland like never before. Along with your stay at The Guest House, packages include audio-guided tours of the mansion, self-guided tours of Elvis' custom jets and full access to Elvis Presley's Memphis Entertainment Complex with all new immersive augmented and virtual reality exhibits. 
New Hotel Bar PatioS
The Curfew at Canopy Hotel, a new hybrid sports bar and American tavern, features a wrap-around patio overlooking AutoZone Park. This is the perfect hangout space to unwind with craft cocktails, local beers, shared plates and tapas-style dishes. 
The Greyhound at Hilton Garden Inn, the first "gin bar" in Memphis, also features an excellent patio space across from AutoZone Park. Enjoy the downtown atmosphere while sampling flatbreads, sandwiches and all sorts of apps, as well as a wide a variety of gin drinks and other cocktails.
Great Food, Scenic Views & Bowling at the Pyramid
Explore the immersive Bass Pro Shops at the Pyramid. Grab lunch and go bowling at Uncle Buck's Fishbowl and Grill.  Ride the world's tallest free standing elevator to The Lookout observation deck, giving you unbelievable views of downtown Memphis and the Mighty Mississippi River. Then head out to the new patio hangout space Mississippi Terrace at The Pyramid. This is the perfect spot to sit back, relax and enjoy the sights and sounds of downtown Memphis. Order your favorite cocktail or beer from the bar, pull up an over-sized chair around one of the fire pits and enjoy live music and small plate appetizers. 
Rooftop Fun on America's Most Iconic Street
What better way to end a night out on the town than enjoying a nightcap with sprawling views of the city skyline and the Mississippi River? That's exactly what you'll find at Hyatt Centric Beale Street Memphis' posh rooftop lounge, Beck & Call. Downtown Memphis' newest hotel also features Latin-American inspired CIMAS Restaurant, where you can enjoy breakfast, lunch, dinner and weekend brunch on the patio with the hotel pool and Mighty Mississippi as your backdrop. 
Want to Stay Awhile?
With all these exciting activities and hip hangout spots, you might be inspired to stay overnight.  Check out these special offers and deals if you feel like sticking around.