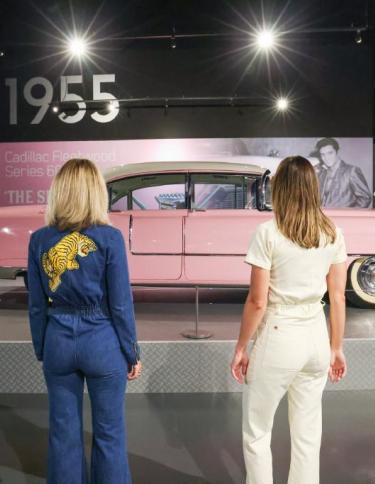 Roll your cuffs and shine that pompadour for a rockabilly-themed romp around Memphis, Tennessee. Along the way, we'll catch live music in that retro style, hit legendary attractions like Sun Studio and Elvis Presley's Graceland, and celebrate "chrome culture" with tours, Bike Night on Beale Street and more.
Rock out to live retro music
You can hear live music every night of the week in Memphis, but for rockabilly-twinged tunes, listen for John Paul Keith, Brad Birkedahl and Brandon Cunning. Performing originals and covers, these artists channel Memphis' rockabilly era — and look the part, too. Beale Street bars and clubs are a good place to find them.  
You can also time your visit with the 8th annual Ameripolitan Music Awards (Feb. 17-19, 2023). The Ameripolitan Awards celebrate contemporary artists creating rockabilly, honky tonk, Western swing and outlaw music, so you know the awards show's going to be a kick. Bonus: The Guest House at Graceland and Hernando's Hide-A-Way are hosting and amplifying that mid-century swagger.
Hit legendary music attractions — and hidden gems nearby
Speaking of Graceland, you're going to want to tour the mansion Elvis purchased in 1957. Add access to Elvis Presley's Memphis entertainment complex just across the street for an eyeful of the King's car collection — including his pink Cadillac — inside the Presley Motors Automobile Museum.
Elvis — and rockabilly pioneers Carl Perkins, Johnny Cash, Jerry Lee Lewis and others — launched their careers from Sun Studio at the edge of Downtown Memphis. Tour the studio, then explore the surrounding neighborhood. Known a century ago as Auto Row, the neighborhood is now called "The Edge" and nods to its revved-up history inside The Edge Motor Museum. The museum showcases beefy cars symbolic of America's post-war era.
Looking for tours that hit multiple music hotspots? Join Classic Memphis Tours to learn all about Memphis music history. On the Rock 'N' Roll Music Walking or Car Tour, you'll stop by Beale Street, Sun Studio, The Orpheum Theatre and more historic sites that tie into Memphis' musical heritage. For Elvis fans, try the Red, Hot & Blue Elvis Walking/Car Tour to see the "King of Rock and Roll's" old stomping grounds.
Celebrate "chrome culture" on Beale
Whether Harleys or hot rods are your speed, Beale Street has a theme night for you. Bike Night on Beale (most Wednesday nights from April through September) packs one of America's most iconic streets with thousands of bikes and enthusiasts. Park your ride or just come and gawk.
During Hot Rods on Beale (fourth Tuesdays monthly from April through October), local car clubs park eye-popping models up and down the street. Parking is by permit only, but all are welcome to enjoy the free event.
If you're heading to Beale, be sure to check out the Memphis Music Hall of Fame and the Memphis Rock 'N' Soul Museum for more on Memphis' storied musical heritage. Then, stop into Lansky Bros., located inside The Peabody Memphis just off Beale Street. The clothing boutique known for dressing Elvis and other Sun Records stars continues to sell bold, retro-inspired fashions today.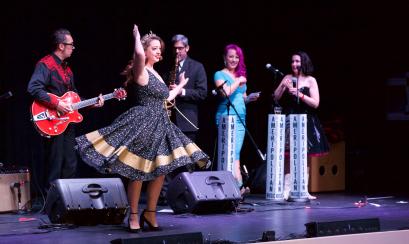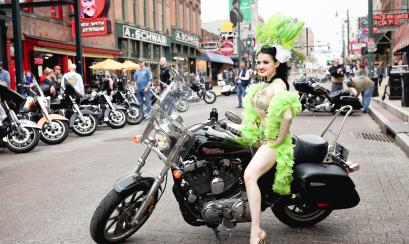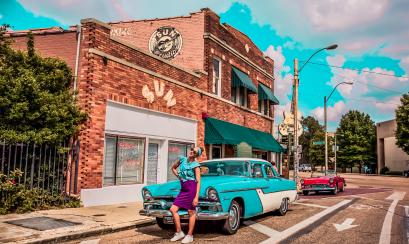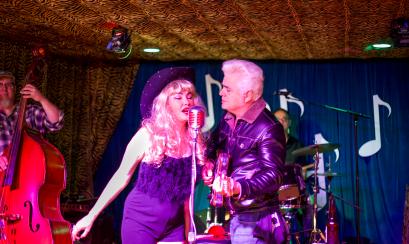 Chances are, you'll drive through the Cooper-Young Historic District. Don't miss the Johnny Cash statue outside the church where Cash played his first paid gig, and if you're hungry or thirsty, pop into the Beauty Shop. The local favorite for eclectic food and drinks preserves elements of its former life — as a salon where Priscilla Presley had her bouffants done.
STEP BACK IN TIME ON SOUTH MAIN
In Memphis' South Main Historic Arts District, preserved buildings — especially from the early-to mid-20th century — give a frozen-in-time feel. The Arcade, Memphis' oldest café, is as beloved for its hearty breakfasts and Southern-style lunch specials as it is for its retro décor. Be sure to ask about the "Elvis" booth, as he was a regular here.