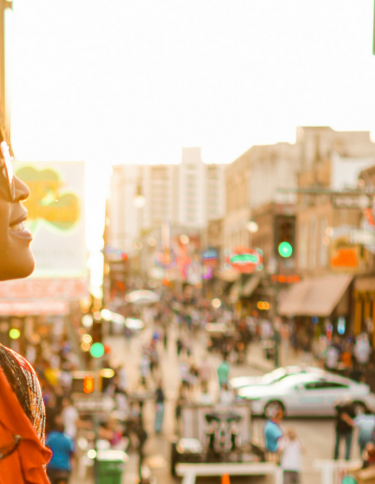 So, you're visiting Memphis for the first time? Welcome! With so much to see and do, we put together this handy guide to help ensure that your visit to Memphis will be the first of many trips. (Repeat visitor? You might want to skip over here, our rundown of what's new to see and do.) 
CIVIL RIGHTS History
Explore civil rights history in Memphis through powerful, interactive sites that will educate and inspire you. Downtown Memphis is home to the The National Civil Rights Museum at the Lorraine Motel. The museum helps us reflect on civil rights struggles from around the world and the continued efforts for equality. Visiting the NCRM is a must do, and depending on your interest, can take anywhere from 1-4 hours, so plan ahead. (They are closed on Tuesdays.)
You'll find several new memorials not far from the museum: I Am a Man Plaza next to Clayborn Temple (a key rallying point for the historic 1968 Memphis sanitation strike that brought Dr. Martin Luther King Jr. to town) and the MLK Reflection Park (on the northwest corner of Dr. Martin Luther King Jr. Boulevard and South Second Street).
Just a few feet away is historic Beale Street and inside Ernest Withers' last working studio (333 Beale) is the Withers Collection Museum and Gallery. Ernest Withers was a photojournalist who captured over 60 years of Memphis history, from music to sports to civil rights. The musuem is a labor of love, curated from the 1.8 million images Withers took in his lifetime.
MUSIC HISTORY
Memphis is also rich in musical history, so much so, that you may not get to tour all of the hot spots on your first visit to Memphis. (More reason to come back!). The Memphis Rock 'n' Soul Museum and Memphis Music Hall of Fame are great places to start because they tell the complete story of the blues, soul and the birth of rock 'n' roll.
Of course Graceland is the obvious stop for Elvis fans, and it is especially fun during Elvis Week every August. The Candlelight Vigil during Elvis Week is definitely something to add to your bucket list whether you are a diehard fan or not.
Music fans should also visit Sun Studio, the Stax Museum of American Soul Music and The Blues Foundation's Blues Hall of Fame. There are several tour companies that can give you an overview of the scene and allow you to visit the spots you like best. For a truly one of a kind experience, book Tad Pierson's American Dream Safari which takes place in the comfort of his '55 Cadillac.
LIVE MUSIC
After exploring our musical history, see what the current Memphis music scene is like. For the blues, Beale Street is the place to go. B.B. King's is the most upscale, Blues City Cafe is usually the most festive, and the Blues Hall most approximates a juke joint vibe. Speaking of, head to Wild Bill's on Friday and Saturday nights to experience one of our last surviving juke joints. Earnestine & Hazel's always has jazz on Sundays. Down in Overton Square, Lafayette's books live music acts of all flavors every single night of the week. The Hi-Tone, Growlers, and Bar DKDC are the places to go for late night, indie acts. The Overton Park Shell in Overton Park hosts free concerts Thursday through Sunday in summer and fall and is family-friendly. Take a blanket or chairs. You can also bring your own food and drinks, or buy some there. Nearby, check what's playing at either of the venues at Crosstown Concourse; its Green Room and Crosstown Theatre host a solid line-up of touring and local musicians.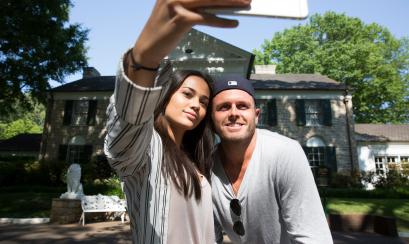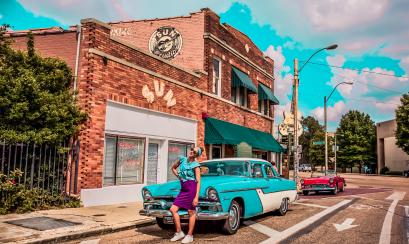 MEMPHIS FOR FOODIES (BARBECUE FIRST!)
Chances are you have come seeking barbeque, and Memphis will not disappoint. It's best to attack the barbeque scene knowing exactly what you want to try. Dry ribs? Go to the Rendezvous. Wet ribs? Nachos? Wings? Head on over to one of Central BBQ's locations. A pulled pork sandwich? The Bar-B-Q Shop or Interstate will fix you up. Looking for something a little more adventurous? Cozy Corner is known for their Cornish hens. (And you'd be doing yourself a favor to leave with an order of rib ends for snacking on back in your room.) Payne's is the place locals like to keep a secret, but they will welcome you with many fine offerings including a grilled bologna sandwich. They are also known for their mustard-based, rather than mayo-based, slaw. (The answer to "Do you want slaw on that?" is always "Yes!") And finally, if you are in a rush, or just want one more taste before you leave town, pop into a Top's and get a cheeseburger with pulled pork, barbeque sauce, and yes, slaw, added.
SAMPLE FINE DINING TO SOUL FOOD NEXT
Once you get your barbecue craving under control, explore some of the many other great dining experiences the city has to offer. You will definitely want to visit at least one of the James Beard-nominated restaurants from local chefs Andrew Ticer and Michael Hudman (Andrew/Michael Italian Kitchen, Hog & Hominy, Catherine & Mary's, Bishop). Crosstown Concourse, Cooper-Young, Overton Square, and downtown Memphis' Main Street all offer a multitude of restaurants within walking distance for those who want to try several things in succession. City Tasting Tours can introduce you to five locally owned restaurants in one afternoon.
If you want to leave Memphis with serious bragging rights, start the day with some Gibson's Donuts, move directly onto Gus's Fried Chicken, cool off with a sno cone supreme at Jerry's, score some lemongrass tofu at Pho Hoa Binh, and then have a soul burger at Earnestine & Hazel's before crashing for the night.
Top picks for coffee hounds: City & State, French Truck, Hustle & Dough and Edge Alley.
GET OUTSIDE 
If you take advantage of our great outdoor spaces, you're guaranteed to have fun, plus burning off a few calories can't hurt after all that barbecue. The Mississippi River is by far our greatest natural attraction, and there are many ways to enjoy it including cruising down the river itself on a paddlewheeler for a sightseeing or dinner cruise by Memphis Riverboats. Grab an Explore Bike Share bike or a Bird Scooter and cruise through our riverside parks (Tom Lee, Beale Street Landing, Fourth Bluff, Mud Island and River Garden). Walking is just fine too! Big River Crossing will take you from Memphis to West Memphis, Arkansas, in just a matter of minutes and it offers up the greatest views of the Mighty Mississippi. (After the sun goes down, don't miss Mighty Lights, a nightly light show that illuminates Big River Crossing and the neighboring "M Bridge.")
Shelby Farms Park features running/hiking/biking trails, paddleboard and kayak rentals, paintball, laser tag, zip lines, horseback riding, fishing and a world class playground. It's also accessible from the heart of the city as well as the suburbs via the Shelby Farms Park Greenline. Meeman-Shelby Forest State Park has campgrounds, canoeing and trails. Overton Park is in the heart of the city and is known for its old growth forest, friendly golf course, dog park and a "yard" big enough for everyone called the Greensward. Overton Park also has two playgrounds.
FAMILY FUN
There's not much listed so far that the kids can't enjoy, but we do have a few things to do and places to go where the kids can definitely be the center of attention. Explore downtown Memphis on vintage trolleys along the Main Street line with fares starting at $1. The Children's Museum of Memphis is a great place to let the little ones run free, and the whole family will want to ride the recently restored Grand Carousel. Memphis Botanic Garden's "My Big Backyard" is another great space for the children to roam. The Japanese Gardens here are also a hit, thanks to some very hungry koi fish.
The Museum of Science and History - MOSH has a CTI 3D movie screen, a planetarium and fun natural history exhibits. Finally, you must go to the Peabody Hotel to watch the famous March of the Peabody Ducks.