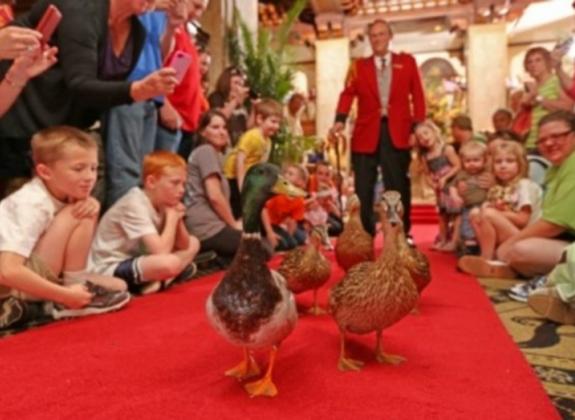 The Peabody is probably best known around the world for a custom dating back to the 1930s. The General Manager of the time, Frank Schutt, had just returned from a weekend hunting trip in Arkansas. He and his friends found it amusing to leave their live decoy ducks in the hotel fountain. The guests loved the idea, and since then, ducks have played in the fountain every day.
EXPERIENCE:The Peabody's famed ambassadors are housed in the "Duck Palace" on the hotel roof. Every day at 11 a.m., they are led by the Duckmaster down the elevator to the Italian travertine marble fountain in the Peabody Grand Lobby. A red carpet is unrolled and the ducks march through crowds of admiring spectators to the tune of John Philip Sousa's King Cotton March. The ceremony is reversed at 5 p.m., when the ducks retire for the evening to their palace on the roof of the hotel.
HISTORY:Back in 1933 Frank Schutt, General Manager of the Peabody, and a friend, Chip Barwick, returned from a weekend hunting trip to Arkansas. The men had a little too much Jack Daniel's Tennessee sippin' whiskey, and thought it would be funny to place some of their live duck decoys (legal at that time) in the beautiful Peabody fountain. Three small English call ducks were selected as "guinea pigs," and the reaction was nothing short of enthusiastic. Soon, five North American Mallard ducks would replace the original ducks.
The ducks have appeared on The Tonight Show with Johnny Carson, Sesame Street, when Bert and Ernie celebrated Rubber Ducky Day, The Oprah Winfrey Show, and in People magazine and the Sports Illustrated Swimsuit Issue. In addition, they were once a question on Jeopardy.
In 1940, Bellman Edward Pembroke, a former circus animal trainer, offered to help with delivering the ducks to the fountain each day and taught them the now-famous Peabody Duck March. Mr. Pembroke became the Peabody Duckmaster, serving in that capacity for 50 years until his retirement in 1991.
Honorary Duckmasters include Patrick Swayze, Oprah Winfrey and Gayle King, Florence Henderson, Emeril Lagasse, Joan Collins, Molly Ringwald, Chris Matthews, Paula Deen, Larry King, and Kevin Bacon.
INSIDERS TIP:The Peabody's famed ambassadors are five Mallard ducks – one drake with his white collar and green head, and four hens with less colorful plumage. The ducks are raised by a local farmer and a friend of the hotel. Each team lives in the hotel for only three months before being retired from their Peabody duties and returned to the farm to live out the remainder of their days as wild ducks.
OTHER INFO:Check out the Duck merchandise at the Peabody Hotel gift shops.
Amenities ▲
Facility Amenities
General Information

Accessible
Family-Friendly
Free Admission
Hours of Operation
Duck march at 11 a.m. and 5 p.m. each day

Group Information
Neighborhoods
Parking