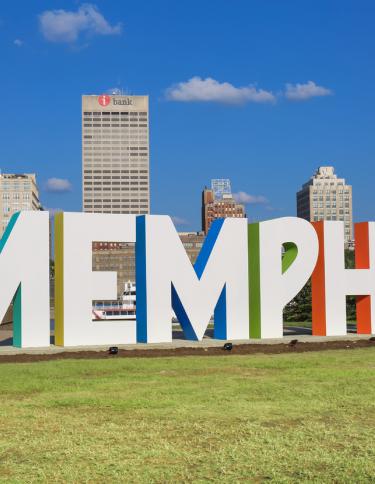 What's new in Memphis in 2021? Stylish hotels, outdoor venues for live music, restaurants and breweries you'll want to try, a fully transformed convention center and new experiences at attractions you already know and love. 
1. Meet Ja Raffe
Welcome the newest member of the Memphis Zoo menagerie, Ja Raffe. The baby giraffe, born Nov. 10, 2020, was named after Memphis Grizzlies' phenom point guard and NBA Rookie of the Year, Ja Morant. Visit the Memphis Zoo today to meet baby Ja, feed the other giraffes in his herd and see thousands of other species at one of the nation's most highly rated zoos. 
2. Check out Graceland's New Interactive Experiences 
At Elvis Presley's Memphis, the entertainment complex across the street from Graceland, you'll find 10 new interactive experiences powered by augmented and virtual reality. You might take the LED dance floor quiz, get an augmented-reality serenade from the king or superimpose yourself on your favorite Elvis album cover. Anticipate laughs, plus shareable photos and videos.
3. Enjoy The Grove at GPAC
Germantown Performing Arts Center recently unveiled its all-new outdoor entertainment venue, The Grove at GPAC. The Grove includes the TruGreen Lawn, an outdoor space equipped with a stage for live performances, movie showings and more, as well as the welcoming First Horizon Foundation Plaza. Guests can expect a unique, upscale outdoor venue, perfect for enjoying local musicians, national headliners, favorite films and more.
4. Shop Local
Cheryl Pesce The Lifestyle Store is your go-to for handcrafted jewelry, home décor, clothing, luxury bath and body products . . . and she has a new location in East Memphis' Laurelwood Shopping Center. Shop home goods, candles, self-care products and indoor plants at Golden Hour Memphis. You can shop (or swap) plants at Terra Cotta on Summer Avenue. While you're there, browse a variety of locally made goods including soaps, tea and jewelry. The popular South Main boutique Stock & Belle recently opened a second location in Overton Square. At both locations, you can shop clothing, home goods and more from local artisans and makers. And as long as you're in Midtown, stop by Ounce of Hope. The new spot uses aquaponics to craft high-quality CBD products including, oils, soft gels, creams and salves. 
5. Then, Eat Local
Dine at Curfew, the new upscale sports bar and tavern at Canopy Hotel, for anything from wings to black-eyed pea hummus. King & Union Bar Grocery, located inside the DoubleTree Downtown Memphis Hotel, serves Southern fare and all-day breakfast. Grab a cup of coffee and a bite to eat while enjoying a friendly chess match at Memphis Chess Club. Downtown's newest coffee shop features house-roasted coffee, delicious bites (we suggest the loaded croissant) and chessboards galore. If you're in East Memphis, try Magnolia & May. The "country brasserie" features a variety of global dishes with Southern-inspired twists and touches of French technique. In Cooper Young, try Hazel's Lucky Dice Delicatessen for pastrami, corned beef and matzo ball soup. Love Italian? Try Cocozza American Italian. From the team who brought you The Majestic Grille, Cocozza is a brand new concept on Main Street, featuring comforting American-Italian favorites.
6. Jam Out in Handy Park
Maybe you've stopped here to take a selfie with the statue of blues legend W.C. Handy. Maybe you've been lucky enough to catch a concert or intimate blues show on-site. Maybe you've just day-dreamed about visiting. Whatever the case, the next time you visit, Handy Park may look a little spiffier: Renovations are currently underway to enhance the popular outdoor spot's seating, landscaping and lighting.
7. Train (Or Cheer) for Ironman
One of the biggest sporting events worldwide, the Ironman Triathlon, is making its way to the Bluff City. The inaugural St. Jude Ironman 70.3 Memphis will take place Oct. 2, 2021. Cheerlead or dare to be one of nearly 3,000 competitors who will endure a 1.2-mile swim, 56-mile bike race and 13.1-mile run in and around Shelby Farms Park, one of the country's largest urban green spaces. Sign up today on the Ironman website.  
8. Toast on Bass Pro's Mississippi Terrace
Grab hand-crafted cocktails and small-plate appetizers while enjoying incredible river views here. (Pro tip: Time your visit with sunset and watch the Mighty Lights nightly light show unfold while you eat and drink.) Bass Pro Shops at the Pyramid's newest attraction, this patio hang-out features firepits, oversized furniture and a full bar. Grab a friend (or a few friends), order some plates to share and enjoy the view.
9. Stay in Style
Book your stay in the heart of downtown Memphis at Canopy by Hilton. Located across from AutoZone Park, this just-opened property offers a stylish stay within an easy walk of some of Memphis' biggest attractions, including Beale Street, the Mississippi River, FedExForum and more. In Midtown Memphis, The Memphian is scheduled to open in 2021, rising above the restaurants, shops, live music venues and theatres of Overton Square. Of course, we're still excited about the boutique hotels debuted in recent memory, including Central Station Memphis, Arrive Hotel, Moxy and Hotel Indigo. Find deals on Memphis hotels here.
 
10. Bottoms Up to New Breweries & Taprooms
Consider yourself a craft beer connoisseur? Then you're in luck! Memphis just welcomed a few new breweries to its craft beer scene. Head to Grind City Brewing Company's North Memphis taproom to try a variety of delicious craft beers, like Soulbier nitro lager, Viva Las Lager honey lager, and The Godhopper hazy IPA. Beale Street Brewing Company hopped onto the scene in early 2020. You can sample a variety of their craft beers at area bars, liquor stores and other beer distributors around town. Hampline Brewing Company is set to open around New Year's. The brewery will open its taproom in the Binghampton neighborhood (584 South Tillman). Be sure to check back here for more updates on this highly anticipated brewery. Nationally acclaimed Wiseacre Brewing Company recently opened their second taproom in Memphis. Located in the South Main Arts District (at the corner of Vance and B.B. King Boulevard), "Wiseacre HQ" is the perfect place to enjoy a selection of creative craft beer and hang a while. You never know when you might encounter a live music event, and the art on-site is notable too. More on that next slide . . . 
11. Snap Instagram-Worthy Shots of Public Art
Memphis' bold new public art in inspiring. In the fall of 2020, Paint Memphis took over Uptown, just north of Downtown Memphis. Artists from around the country brought the area to life with murals and public art, so seek it out for photo ops. Sip craft beer while taking in the public art at Wiseacre's new taproom. Sculptures and artwork can be found inside and out, including wallpaper inspired by the brewing company's extravagant beer labels. The newly modernized Renasant Convention Center is also teeming with works by local artists. Start in the atrium of the newly renovated facility, where a 30-foot-tall sculpture by Ben Butler is suspended from the ceiling.
12. Find More to Love (and Eat and Shop) at Crosstown
While the vertical urban village known as Crosstown Concourse opened in 2017, it hasn't stopped making news and regularly adding new restaurants, venues and hot programming. Browse a gallery at Crosstown Arts. Take in live music at the black-box Crosstown Theater or an intimate show in the Green Room. Enjoy a cocktail at Art Bar. Hungry? Grab a slice of authentic Neapolitan pizza at newly opened Pizzeria Trasimeno or head across the street to The Doughouzz, a new hot dog joint in the Crosstown neighborhood – which is also booming with new shops and businesses. Just around the corner, shop apparel, jewelry, candles, handcrafted bath products and other Memphis-made goods at Ixora. Next door, Oothoon's offers more locally made items, but the real magic comes from their metaphysical supplies, like essential oils, candles, incense and tarot cards. Across the street, Bad Timing offers all kinds of vintage t-shirts, featuring everything from bands and sports teams to movies and tv shows. Plus, while you're in town, tune in to Crosstown Radio WYXR 91.7 for music, culture and news updates. 
The Renasant Convention Center is Ready for You
New Hotels
Aloft Hotel under construction
The Memphian at Overton Square under construction
Hyatt on One Beale under construction
The Inn at Beale Street under construction
Loews Hotel planning
Homewood Suites planning
Vib Hotel planning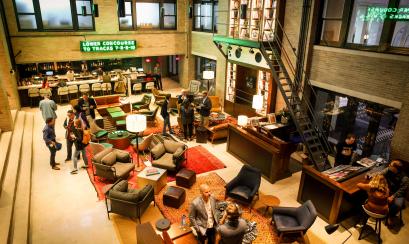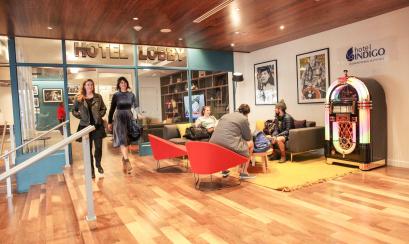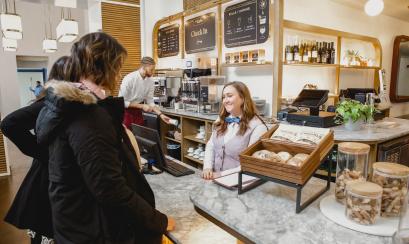 coming soon
One Beale
Imagine a series of multi-story developments creating hotel, residential, restaurant, retail and office space rising near the corner of Beale Street and Riverside Drive. That's One Beale, which broke ground in summer 2019.
READ MORE
Union Row
This mixed-use development is still in a proposal stage, but it's already grabbing attention. A game-changer for downtown Memphis to the tune of $950 million, it envisions a boutique hotel overlooking AutoZone Park, restaurants and green spaces. 
READ MORE
Pinch District
A $1.1 billion development is planned for downtown Memphis' Pinch District. The two-phase project will feature 1,528 residential units, 2 hotels, 217,000 square feet of retail and 752,000 square feet of office space—all nestled between Bass Pro Shops at the Pyramid and St. Jude Children's Research Hospital.
READ MORE
The Snuff District
Revitalization and a reimagining of north Memphis' Snuff District is in the works, as local developers plan to turn the former industrial area into a mixed-use neighborhood. The multi-million-dollar development will feature retail, office space, an event venue and single-family homes, as well as over 500 new apartments and an improved walking trail along the Wolf River.
READ MORE
The Clipper
A new mixed-use development located at the corner of Dr. M.L.K. Jr. Avenue and South B.B. King Boulevard. Situated just steps from Beale Street and across from the new FedEx Logistics headquarters, The Clipper is an eight-story, 250,000-square-foot office tower with 50,000 square feet of ground-floor retail space for high-end restaurants, a grocer and boutiques. The remaining 200,000 square feet will be modern, Class A office space.
READ MORE
LIBERTY PARK
The Memphis Fairgrounds – home to the Children's Museum of Memphis, Kroc Center Memphis, Liberty Bowl Memorial Stadium and Tiger Lane – is getting a major makeover. Development of the iconic property, dubbed Liberty Park, will include the addition of a new sports complex, the Memphis Sports + Events Center, as well as a new mixed-use development that will include retail, dining and two hotels. Check back for updates.