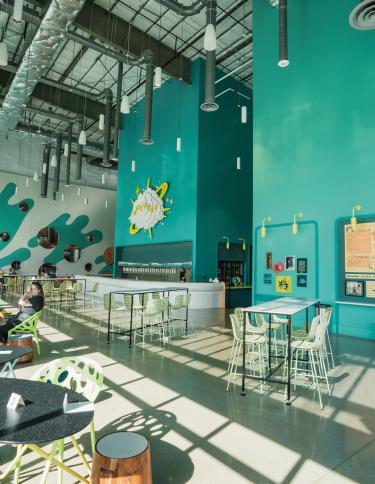 What's new in Memphis in 2022? Stylish hotels, an art-filled concourse at Memphis International Airport, an inaugural Viking river cruise, restaurants and breweries you'll want to try, a major sports and entertainment development and new experiences at attractions you already know and love. 
1. See What's New at the Memphis Zoo
When you step foot into the Memphis Zoo, you'll be transported around the world at various exhibits and attractions, including Ancient Grounds, the zoo's new Moroccan treehouse-themed coffee shop. AquiFUR, an Egyptian-themed splash pad, is set to open this spring.
2. Celebrate Elvis Week 45
Mark your calendar for Elvis Week (Aug. 9-17, 2022), which will mark the 45th anniversary of Elvis' passing. Honor the life and legacy of the King with concerts, the celebrity appearances and panel discussions from Elvis' family and friends—along with the Ultimate Elvis Tribute Artist Contest and the annual Candlelight Vigil. Plus, fans can purchase Elvis 45: The Sapphire Collection, which includes a 2022 Graceland Annual Pass and exclusive collector's items like limited edition records and collectibles case.
3. Rediscover the Cannon Center
From ballet to opera to concerts of all genres, the 2,072-seat Cannon Center for the Performing Arts, home of Memphis Symphony Orchestra, offers all kinds of incredible programming in state-of-the-art facilities. Browse the event calendar and buy tickets here. 
4. Shop Local
Heading into 2022, more Memphis makers and shopkeepers are offering goods that you'll love. Calling all cheese lovers: Grey's Fine Cheese & Entertaining offers a variety of artisan cheeses, jams, crackers and more to help you craft the perfect cheeseboard. Is self-care high on your New Year's resolutions? Stop into Lucyja Hygge for holistic health items and metaphysical gifts, like candles, European teas and treats, crystals, herbs, incense and more. Shop cozy, feminine styles at Silk N Honey. Find all your stationary needs, including paper goods, books and personalized gifts, at Mrs. Post. Be sure to stop by their sister shop London & York, just next door, to browse children's clothing, toys and more.
5. Eat Local
There's a lot to look forward to in Memphis' culinary scene in 2022. Award-winning chef Kelly English's fine dining favorite, Restaurant Iris, is set to open in its new location in Laurelwood Shopping Center this spring. English has transformed the former Midtown location into Panta, a Catalan-inspired restaurant with delicious gin and tonics and an excellent patio. The owners of Taconganas food truck will soon open a "higher end" Mexican concept in Thornwood in Germantown. In the meantime, stop by the food truck for some of the best street tacos in Memphis. Try Latin-inspired fare, including daily brunch (think breakfast tacos and corn flake-crusted French toast – yum!), at CIMAS inside Hyatt Centric Beale Street Memphis. The popular Wolf River Brisket recently brought its delicious smoked meats to Memphis' vertical urban village, Crosstown Concourse. No one is cooking up Southern delights quite like Felicia Willett-Schuchardt at Felicia Suzanne's. Sample favorite dishes like the BLFGT salad at her new location just down the street on South Main. Find more info on new and upcoming restaurants here.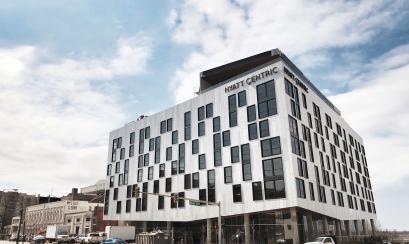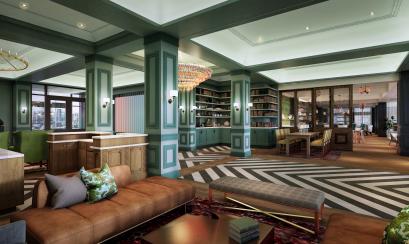 6. Jam Out in Handy Park
Maybe you've stopped here to take a selfie with the statue of blues legend W.C. Handy. Maybe you've been lucky enough to catch a concert or intimate blues show on-site. Maybe you've just day-dreamed about visiting. Whatever the case, the next time you visit, Handy Park will look a little spiffier. The park was recently renovated to enhance the popular outdoor spot's seating, landscaping and lighting.
7. Train (or Cheer) for Ironman
One of the biggest sporting events worldwide, the Ironman Triathlon, is back for a second year in the Bluff City. The St. Jude Ironman 70.3 Memphis will take place Oct. 1, 2022. Cheerlead or dare to be one of nearly 3,000 competitors who will endure a 1.2-mile swim, 56-mile bike race and 13.1-mile run in and around Shelby Farms Park, one of the country's largest urban green spaces. Sign up today on the Ironman website.  
8. Dine at the Pyramid at Wahlburgers Wild
Head over to Bass Pro Shops at the Pyramid and grab a bite at Wahlburgers Wild. The first Wahlburgers location in Tennessee features wild game recipes like venison chili and bison burgers, as well as their famous beef burgers.
9. Stay in Style
Hyatt is debuting its newest global lifestyle-hotel brand in Memphis in 2022. Book now at Caption by Hyatt Beale Street Memphis for a boutique feel, on-site bar/market/coffee shop featuring local food artisans, mobile check-in and proximity to Beale Street, the South Main Historic Arts District and the river. Or, book your stay at the only hotel located on historic Beale Street at Hyatt Centric Beale Street. The property features the Latin-inspired Cimas restaurant, as well as rooftop bar Beck & Call overlooking the Mighty Mississippi. The Memphian recently opened in Midtown Memphis. Sip your favorite cocktail above the restaurants, shops, live music venues and theaters of Overton Square at the property's rooftop bar Tiger & Peacock. Of course, we're still excited about the boutique hotels debuted in recent memory, including Central Station Memphis, Canopy by Hilton, Arrive Hotel, Moxy and Hotel Indigo. Find deals on Memphis hotels here.
10. Explore Alice's Adventures at the Garden
Stop by Memphis Botanic Garden and experience Alice's Adventures at the Garden, a new seasonal exhibit that will run from May through December 2022. Kids and adults alike will be delighted at the literary-themed "mosaiculture" on display. These giant topiary-like sculptures will take the shape of characters from "Alice's Adventures in Wonderland" — imagine a larger-than-life Queen of Hearts made of greenery and bright annual bedding plants, and other imaginative creations. Be sure to check back for more info on activities and events scheduled around the exhibit, including the annual Holiday Wonders at the Garden. 
11. Experience Memphis' Craft Brew Scene
Consider yourself a craft beer connoisseur? Check out Memphis' growing craft beer scene.  Hampline Brewing Company opened its taproom in the Binghampton neighborhood (584 South Tillman) just last year. Stop by for delicious brews, like Meemaw's Secret coffee porter, Grodzilla Polish grodziskie and Bockseat Driver doppelbock. A couple of Memphis' favorite breweries recently opened their second taprooms in Memphis: Nationally acclaimed Wiseacre Brewing Company opened its second taproom, located in the South Main Arts District (at the corner of Vance and B.B. King Boulevard), while Ghost River Brewery opened its second taproom, located on iconic Beale Street.  
12. Fly into Memphis International Airport
Travelers can expect a shiny new concourse modernization at Memphis International Airport (MEM). The redesigned, 23-gate B concourse underwent a $245M modernization to upgrade the traveler experience with amenities such as a children's play area, more seating and charging areas and new vendors and restaurants. Along with these upgrades, MEM recently welcomed Spirit Airlines with direct flights to Las Vegas, Orlando and Los Angeles beginning in the spring and summer, and a new direct flight to Boston via American Airlines.
13. Gear Up For Liberty Park
The Memphis Fairgrounds – home to the Children's Museum of Memphis, Kroc Center Memphis, Liberty Bowl Memorial Stadium and Tiger Lane – is getting a major makeover. Development of the iconic property, dubbed Liberty Park, will include the addition of a new sports complex, the Memphis Sports + Events Center, as well as a new mixed-use development that will include retail, dining and two hotels.
14. Revisit the Memphis Railroad & Trolley Museum
If you've been to Memphis before, you might remember this pocket-sized museum housed inside Central Station, still a working rail station and now home to a boutique hotel, restaurant and bar. While Central Station underwent renovations, the Memphis Railroad & Trolley Museum went on a break, but the attraction is back and charming as ever with model railroads and exhibits on Memphis' transportation history.
15. Take Viking's inaugural river cruise out of Memphis 
Viking is debuting a new river ship in 2022, the Viking Mississippi, and will introduce three riverboat cruises on the Mississippi River that feature Memphis as a port. The cruises will infuse the musical sounds and culinary stylings of Memphis with the romance of river travel plus city sightseeing tours. Viking will be the third riverboat company to offer multi-day, overnight cruises on the Mississippi River featuring Memphis, and classic Memphis sightseeing tours and dinner cruises are almost always available.
16. Check out what's coming to Liberty Stadium
Liberty Stadium, home to University of Memphis Tiger football, the AutoZone Liberty Bowl and the Southern Heritage Classic, is getting a $200M transformation. This video shows renderings of what fans can expect when the Liberty Stadium transformation is complete.
17. Aerial Adventures at Mud Island River Park
An aerial adventure course and zip line are part of a recently announced $10M development for Mud Island River Park. The private investment is still in the planning stages, but will provide an exciting year-round experience for visitors. Read more about the park's upcoming additions here.
coming soon
One Beale
Imagine a series of multi-story developments creating hotel, residential, restaurant, retail and office space rising near the corner of Beale Street and Riverside Drive. That's One Beale, which broke ground in summer 2019.
The Walk on Union
This mixed-use development is still in a proposal stage, but it's already grabbing attention. A game-changer for downtown Memphis to the tune of $950 million, it envisions a boutique hotel overlooking AutoZone Park, restaurants and green spaces. 
Pinch District
A $1.1 billion development is planned for downtown Memphis' Pinch District. The two-phase project will feature 1,528 residential units, 2 hotels, 217,000 square feet of retail and 752,000 square feet of office space—all nestled between Bass Pro Shops at the Pyramid and St. Jude Children's Research Hospital.
The Snuff District
Revitalization and a reimagining of north Memphis' Snuff District is in the works, as local developers plan to turn the former industrial area into a mixed-use neighborhood. The multi-million-dollar development will feature retail, office space, an event venue and single-family homes, as well as over 500 new apartments and an improved walking trail along the Wolf River.
Tom Lee PArk
Memphis' riverfront is undergoing a major revitalization at Tom Lee Park to give visitors a brand new Mississippi River experience. The park will be divided into four zones: The Civic Plaza, featuring a new entry plaza from Beale Street and Vance Avenue; The Active Core, featuring a play area, covered recreational space and cafe pavilions; The Community Batture, a forested area featuring meditative paths and a peace walk; and Habitat Terraces, featuring a canopy walk, sound gardens and an outdoor classroom.
READ MORE