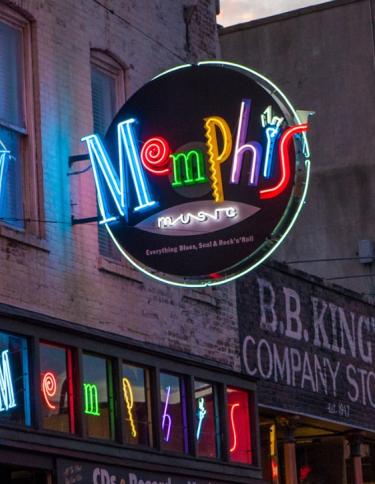 Hello, 2024! The new year brings all kinds of new attractions, restaurants and experiences to the Bluff City. Read on to discover what else is new in Memphis in 2024, from developments at Liberty Park to a new exhibit at Elvis Presley's Graceland.
1. Experience the Riverfront at the Revitalized Tom Lee Park
Memphis' riverfront recently underwent a major revitalization at Tom Lee Park to give visitors a brand-new Mississippi River experience. The park features a new entry plaza from Beale Street and Vance Avenue, a state-of-the-art river-themed playground, a fitness zone, the Sunset Canopy for basketball, yoga and more community events, concession stands, meditative walking paths, sound gardens and unrivaled views of the Mighty Mississippi. Read all about the new experience at Tom Lee Park.
2. A New-Look Memphis In May
Memphis' biggest tradition, Memphis in May, is going to look a little bit different this year. The World Championship Barbecue Cooking Contest will be held at Liberty Park instead of on the riverfront, while Beale Street Music Fest will be paused for 2024.
But Tom Lee Park will still hold big events this coming May! Brought to you by the folks behind Mempho Music Fest, a brand-new music festival and barbecue competition will be held at the park in May 2024. Hold tight for more details. We'll post them here as soon as we know more!
3. Take a Swing at Topgolf Memphis
Calling all golf lovers – Topgolf recently opened its Memphis location late 2023! Book your bay at the popular driving range attraction today!