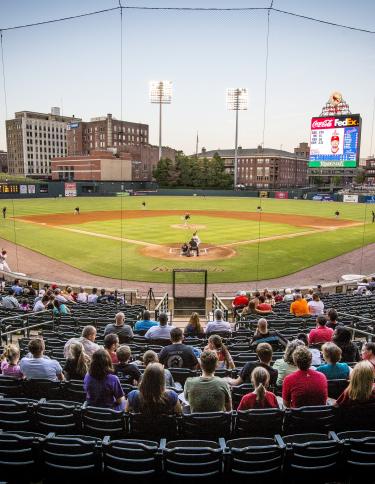 Fan's Guide to Memphis Redbirds Baseball
Baseball season in Memphis is back! From schedules and giveaways to food and must-see players, we've got everything you need to know to make this Memphis Redbirds season a success. 
Best Ballpark Food
Sure we've got hot dogs and pretzels, but the one concession food that you must try (and you'll only find in Memphis) is barbecue nachos – a mound of pulled barbecue pork (or chicken) layered over nacho chips and covered with flowing cheese. Wash it all down with ice cold adult beverage like a frozen margarita or speciality beer. 
Fans with dietary restrictions will love the addition of vegetarian specialties like black bean burgers and fresh fruit and salad bowls. Great grub like this is one of the main reasons why AutoZone Park was named a Top 10 Vegetarian-Friendly Ballparks .
AutoZone Park 
Located in Downtown Memphis across from the DoubleTree Hotel and within easy walking distance of Beale Street Entertainment District, AutoZone Park sports some of most exciting action in all of the city. The park has drawn rave reviews from fans and media alike. Sports Illustrated loves it and Baseball America called AutoZone Park "one of America's 10 Best Ball Park Vacation Destinations." 
In an effort to improve the overall fan experience and get you closer to the game, the Redbirds have been hard at work this winter.  A new state-of-the-art LED scoreboard has been added to left field, a BBQ-themed free-standing food area was constructed on the outfield concourse in right field, two new grass "bluffs" were created in the main seating bowl and suites were removed to make room for AutoZone Park's first all-inclusive club in right field. This is in addition to one of the largest (60' x 60') videoboards in minor league baseball that was added in recent years. 
Tickets
Single game tickets and ticket packages are now on sale online or at the box office. The AutoZone box office, located at 200 Union Ave. in Downtown Memphis, is open on non gamedays Monday - Friday 9 a.m - 6 p.m. and Saturdays 10 a.m. - 3 p.m. During gamedays, the box offices opens at 10 a.m. Fans can purchase tickets online at www.memphisredbirds.com/tickets or over the phone at 901-721-6000.
Individual game tickets for the Memphis Redbirds are at fan-friendly prices too. Grab tickets on the bluff for as low as $6 or roost in the Redbirds club for only $55.  
Children three (3) years old and over require a ticket for admission to the ballpark. Children two (2) years of age and under do not need a ticket for entry into AutoZone Park. However, they must sit on the lap of an accompanying adult.
Gates at AutoZone Park open one hour prior to game times, except on Fridays when they open at 5 p.m. 
Click here for purchase tickets online or for more information. 
Kid-friendly Activities
A Memphis Redbirds game is family-friendly and fun for kids of all ages. Bring your blanket and grab a spot on the left field hill as the Memphis sun sets over the Mississippi River. Kids love chasing down a home run ball that lands in that area. 
If your kids tend to get antsy, keep their attention with carnival games on the Boardwalk, pictures with Rockey the Redbird (join his Kid's Club for special ticket deals and activities) and the opportunity to run the bases after the game. 
Coming Soon: USL Soccer 
Autozone Park will transform from baseball to soccer field to become home to Memphis' newest professional sports team, beginning play in the United Soccer League in 2019.